April 27, 2011 · Posted in Uncategorized ·
Comment
In Memory Of A Mentor: 'So Long,' William Maxwell
By William Lychack
April 27, 2011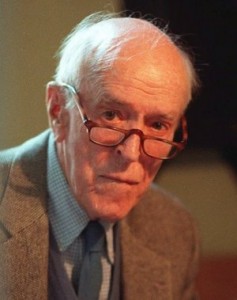 William Maxwell was in his 80s when I first wrote to him. An award-winning novelist and short story writer, he'd also been an editor at The New Yorker for 40 years, had worked with everyone from Nabokov to Welty, had once sat on the porch of his house as Salinger read a draft of The Catcher in the Rye to him. Thank goodness I never stopped to appreciate any of this at the time. I was in my early 20s, had just started to write, and I remember Maxwell's advanced age gave me a sense of urgency and permission to tell him everything I felt about his novel, So Long, See You Tomorrow.
I still feel it's the perfect book. A winter morning in the 1920s, a pistol shot on a farm in Illinois, a man named Lloyd Wilson killed while milking cows, and a pair of boys who lose each other as friends. Fifty years later, one of the boys tries to unfold the passions that led to the murder. He'll find himself drawn to his lost friend Cletus, who was the son of Wilson's killer, just as he'll find himself drawn to his own lost mother, who had died during the influenza pandemic of 1918.
The narrator of So Long, See You Tomorrow might want to make amends for the tragedy of another boy, and he might need to lay to rest the boyhood loss of his own mother, but it's the feeling underneath the novel that pulls me, the sense that something of great value is being offered by the author.
It's a story about loss and forgiveness — Maxwell lost his own mother when he was 10 — and every page is touched by care, like rooms of a beautiful house. I often think about the book the way the narrator describes a neighbor's home from childhood. "When I dream about it," he says, "the proportions are so satisfying to the eye and the rooms so bright, so charming and full of character that I feel I must somehow give up my present life and go live in that house: that nothing else will make me happy."
Maxwell and I exchanged a dozen letters over the last decade of his life. At some point I unloaded all the doubts and difficulties I was having with my novel. My parents separated when I was 2, my father died when I was 10, and I was writing a book in which a boy tries to find a place in his father's heart, only to find he's creating a place for a father in his own heart.
I told this to Maxwell, how the story kept disappearing on me, and he wrote that I should be more forgiving of myself, that there's really no model for what I was trying to do, and that makes me lose confidence. "Probably," he wrote, "you are thinking that you don't know enough about your father, about the facts of his life. This is not true, or if true, beside the point. There is so much that we know that we don't know we know. Try to listen to your feelings as you would to the sound in a seashell, and then put them down on paper."
So Long, See You Tomorrow might have showed me what I aspired to, but Maxwell, the man who spoke so vividly in those letters, taught me something much bigger than writing. He showed me what it is to be generous, to be forgiving, and to care and keep caring. Or at least what it's like to try.
You Must Read This is produced and edited by Ellen Silva with production assistance from Rose Friedman and Lena Moses-Schmitt. [Copyright 2011 National Public Radio]
source 
THE ASSOCIATED PRESS
Published: 5:35 p.m. Tuesday, April 26, 2011
Hubert "Hub" Schlafly, a key member of the team that invented the teleprompter and rescued decades' worth of soap opera actors, newscasters and politicians from the embarrassment of stumbling over their words on live television, has died. He was 91.
Schlafly died April 20 at Stamford Hospital after a brief illness, according the Leo P. Gallagher & Son Funeral Home, which handled the arrangements. A funeral was held Tuesday at St. Mary Parish in Greenwich, where he was a longtime resident.
He did not use a teleprompter himself until he was 88, while rehearsing his speech for induction into the Cable Television Hall of Fame, said Thomas Gallagher, a close friend.
Schlafly helped start the TelePrompTer Corp., eventually becoming its president and accepting an Emmy Award for the company in 1999 — a few years after winning one himself 1992 for his work in developing the first cable system permitting subscribers to order special programs. He held 16 patents, Gallagher said.
"Hub Schlafly was the cable industry's most innovative engineer and, at the same time, one of its ablest executives," Charles Dolen, the chairman of Cablevision, said in a statement Tuesday. "Whether you were his friend or competitor, he was always congenial and supportive and probably had more friends than anyone."
Schlafly was born Aug. 14, 1919, in St. Louis. He graduated from Notre Dame University, where he studied electrical engineering. He worked for General Electric and the MIT Radiation Laboratory before joining 20th Century Fox in New York City in 1947.
Actor Fred Barton Jr. wanted a way to remember his lines and approached his friend Schlafly, said Laurie Brown, author of the book "The Teleprompter Manual." Schafly conjured an idea and took it to Irving Berlin Kahn, nephew of composer Irving Berlin and vice president of radio and television at 20th Century Fox.
The result — a monitor facing the person appearing on screen and rolling a script at reading speed — was named the TelePrompTer, which made its debut in 1950 on the soap opera "The First Hundred Years," Brown said.
"It revolutionized television and improved the quality of on-air performers," said Jim Dufek, a professor of mass media at Southeast Missouri State University. "It also made the politicians look smarter because they were looking right into the camera."
Herbert Hoover became the first politician to use a teleprompter in 1952, when the former president gave the keynote speech at the Republican National Convention in Chicago.
Every president since then has used the device — now also such a staple of television news that occasional technical glitches can turn a news report into unintentional comedy.
In the 1970s, TelePrompTer Corp. owned cable franchises in 140 markets and served about 1.4 million customers.
A graveside service for Schlafly is planned Thursday in Louisville, N.Y.
___
April 26, 2011 06:35 PM EDT
Copyright 2011, The Associated Press. All rights reserved. This material may not be published, broadcast, rewritten or redistributed.
Enlarge
Fox Photos/Getty ImagesA Remington International, circa 1961.
Way back when we first got into the reporting business, an editor (or perhaps several), said that you'd better be absolutely, positively sure if you ever use phrases like "best ever" or "last ever" or "only one in the world."
You're almost surely going to be proved wrong, the crusty old newshounds would say.
Well, when we saw the Daily Mail headline declaring that the "Last Typewriter Factory Left In The World Closes Its Doors," we were suspicious.
And there was this nagging feeling that we knew that wasn't right.
Well, we certainly should have known. The Daily Mail focused on the end of typewriter production by India's Godrej and Boyce. But as this Two-Way post from July 2009 shows, New Jersey's Swintec has been doing a very good business in typewriters for quite a few years now. Convicts and cops are among their best customers.
And you don't have to look too far on the Web to find other typewriters, from companies such as Brother International.
Where the Daily Mail may be right, though we haven't been able to confirm as of yet, is that Godrej and Boyce was producingmanual typewriters — as in non-electronic models, like the one that this blogger learned how to type on back in the early '70s.
So, folks, here's the question: Does anyone know of another company that's currently producing manual typewriters? Please tell us in the comments thread.
by William D. Welge
For nearly twenty years certain groups of Cherokees split off from the western band due to the ever increasing number of white settlers encroaching upon lands set aside for the tribe by the federal government. However, the government didn't abide by it's commitment to remove the white intruders as specified by treaty. Consequently, individuals such as The Bowl and Richard Fields gathered up several groups of like-minded tribal members and moved south of the Red River in to Spanish Texas.
As early as 1807, a small party of Cherokees visited Texas with the prospect of possibly relocating there. (See: The Texas Cherokees: A People Between Two Fires, 1819-1840, by Dianna Everett).
With constanst warfare on-going between the Osage and Cherokee tribes, an influx of whites settling on to lands in western Arkansas, and the profound inaction of an indifferent federal bureaucracy, The Bowl with his followers left the Cherokee Nation – West for Texas around 1819.
All this now sets the stage for what transpires over the next two decades that changes the lives of thousands of Cherokees both east and west of the Mississppi River.
in full Catherine Elizabeth Middleton ( April 25, 2011)
Socialite. Fiancee of Britain's Prince William. Born January 9, 1982, in Berkshire, England, to pilot Michael and flight attendant Carole Middleton. In 1987, the Middletons founded their own party goods company, which helped to make them millionaires. Kate, the oldest of three children, has a younger sister, Philippa ("Pippa") and a younger brother, James. Middleton attended the exclusive St. Andrew's Prep School until she was 13 and then Marlborough College, where she passed 11 GCSEs and three A-level exams.
Like Prince William, Kate Middleton was a student at the University of St. Andrews in Fife, Scotland, where she graduated in 2005 with a bachelor's degree in art history. In 2001, while in her second year at the University of St. Andrews, Middleton met Prince William of Wales. Since 2003, she and the prince have been in an on-again-off-again relationship that has been the subject of intense media scrutiny.
In February 2006, it was announced that Middleton would receive her own 24-hour security detail from the Royalty and Diplomatic Protection Department. This led to rumors that Middleton was being groomed for a position of royalty. In 2007, however, the couple publicly split. Media reports said otherwise, as Middleton had been spotted at several royal events accompanied by the prince, and other rumors indicated that the couple had been living together. Both parties denied the rumors.
In November 2006, Middleton accepted a position as an assistant accessories buyer with the British clothing chain Jigsaw, but it was reported that she left the company in order to study portrait photography. In 2010, it was revealed that Kate Middleton had been working on plans to start a new bakery business with her brother, James. Since 2007, James Middleton has been running The Cake Kit Company, with the goal of encouraging kids to cook and making the baking of party cakes easier.
On November 16, 2010, it was announced that Prince William and Kate Middleton were engaged after the prince proposed during a vacation to Kenya. The wedding is scheduled for April 29, 2011, at Westminster Abbey in London. The couple made plans to live in North Wales, where Prince William is stationed with the Royal Air Force, after their marriage.
© 2011 A&E Television Networks. All rights reserved.
Twenty-six-year-old Booth was one of the most famous actors in the country when he shot Lincoln during a performance at Ford's Theater in Washington, D.C., on the night of April 14. Booth was a Maryland native and a strong supporter of the Confederacy. As the war entered its final stages, Booth hatched a conspiracy to kidnap the president. He enlisted the aid of several associates, but the opportunity never presented itself. After the surrender of Robert E. Lee's Confederate army at Appomattox Court House, Virginia, on April 9, Booth changed the plan to a simultaneous assassination of Lincoln, Vice President Andrew Johnson, and Secretary of State William Seward. Only Lincoln was actually killed, however. Seward was stabbed by Lewis Paine but survived, while the man assigned to kill Johnson did not carry out his assignment.
After shooting Lincoln, Booth jumped to the stage below Lincoln's box seat. He landed hard, breaking his leg, before escaping to a waiting horse behind the theater. Many in the audience recognized Booth, so the army was soon hot on his trail. Booth and his accomplice, David Herold, made their way across the Anacostia River and headed toward southern Maryland. The pair stopped at Dr. Samuel Mudd's home, and Mudd treated Booth's leg. This earned Mudd a life sentence in prison when he was implicated as part of the conspiracy, but the sentence was later commuted. Booth found refuge for several days at the home of Thomas A. Jones, a Confederate agent, before securing a boat to row across the Potomac to Virginia.
After receiving aid from several Confederate sympathizers, Booth's luck finally ran out. The countryside was swarming with military units looking for Booth, although few shared information since there was a $20,000 reward. While staying at the farm of Richard Garrett, Federal troops arrived on their search but soon rode on. The unsuspecting Garrett allowed his suspicious guests to sleep in his barn, but he instructed his son to lock the barn from the outside to prevent the strangers from stealing his horses. A tip led the Union soldiers back to the Garrett farm, where they discovered Booth and Herold in the barn. Herold came out, but Booth refused. The building was set on fire to flush Booth, but he was shot while still inside. He lived for three hours before gazing at his hands, muttering "Useless, useless," as he died.