by William D. Welge
For nearly twenty years certain groups of Cherokees split off from the western band due to the ever increasing number of white settlers encroaching upon lands set aside for the tribe by the federal government. However, the government didn't abide by it's commitment to remove the white intruders as specified by treaty. Consequently, individuals such as The Bowl and Richard Fields gathered up several groups of like-minded tribal members and moved south of the Red River in to Spanish Texas.
As early as 1807, a small party of Cherokees visited Texas with the prospect of possibly relocating there. (See: The Texas Cherokees: A People Between Two Fires, 1819-1840, by Dianna Everett).
With constanst warfare on-going between the Osage and Cherokee tribes, an influx of whites settling on to lands in western Arkansas, and the profound inaction of an indifferent federal bureaucracy, The Bowl with his followers left the Cherokee Nation – West for Texas around 1819.
All this now sets the stage for what transpires over the next two decades that changes the lives of thousands of Cherokees both east and west of the Mississppi River.
in full Catherine Elizabeth Middleton ( April 25, 2011)
Socialite. Fiancee of Britain's Prince William. Born January 9, 1982, in Berkshire, England, to pilot Michael and flight attendant Carole Middleton. In 1987, the Middletons founded their own party goods company, which helped to make them millionaires. Kate, the oldest of three children, has a younger sister, Philippa ("Pippa") and a younger brother, James. Middleton attended the exclusive St. Andrew's Prep School until she was 13 and then Marlborough College, where she passed 11 GCSEs and three A-level exams.
Like Prince William, Kate Middleton was a student at the University of St. Andrews in Fife, Scotland, where she graduated in 2005 with a bachelor's degree in art history. In 2001, while in her second year at the University of St. Andrews, Middleton met Prince William of Wales. Since 2003, she and the prince have been in an on-again-off-again relationship that has been the subject of intense media scrutiny.
In February 2006, it was announced that Middleton would receive her own 24-hour security detail from the Royalty and Diplomatic Protection Department. This led to rumors that Middleton was being groomed for a position of royalty. In 2007, however, the couple publicly split. Media reports said otherwise, as Middleton had been spotted at several royal events accompanied by the prince, and other rumors indicated that the couple had been living together. Both parties denied the rumors.
In November 2006, Middleton accepted a position as an assistant accessories buyer with the British clothing chain Jigsaw, but it was reported that she left the company in order to study portrait photography. In 2010, it was revealed that Kate Middleton had been working on plans to start a new bakery business with her brother, James. Since 2007, James Middleton has been running The Cake Kit Company, with the goal of encouraging kids to cook and making the baking of party cakes easier.
On November 16, 2010, it was announced that Prince William and Kate Middleton were engaged after the prince proposed during a vacation to Kenya. The wedding is scheduled for April 29, 2011, at Westminster Abbey in London. The couple made plans to live in North Wales, where Prince William is stationed with the Royal Air Force, after their marriage.
© 2011 A&E Television Networks. All rights reserved.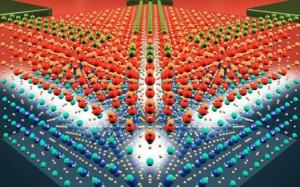 An atomic-scale depiction of the SketchSET shows three wires (green bars) converging on the central island (center green area), which can house up to two electrons. Electrons tunnel from one wire to another through the island. Conditions on the third wire can result in distinct conductive properties. Credit: U. Pittsburgh
A University of Pittsburgh-led team has created a single-electron transistor that provides a building block for new, more powerful computer memories, advanced electronic materials, and the basic components of quantum computers.
The researchers report in Nature Nanotechnology that the transistor's central component—an island only 1.5 nanometers in diameter—operates with the addition of only one or two electrons. That capability would make the transistor important to a range of computational applications, from ultradense memories to quantum processors, powerful devices that promise to solve problems so complex that all of the world's computers working together for billions of years could not crack them.
In addition, the tiny central island could be used as an artificial atom for developing new classes of artificial electronic materials, such as exotic superconductors with properties not found in natural materials, explained lead researcher Jeremy Levy, a professor of physics and astronomy in Pitt's School of Arts and Sciences. Levy worked with lead author and Pitt physics and astronomy graduate student Guanglei Cheng, as well as with Pitt physics and astronomy researchers Feng Bi, Daniela Bogorin, and Cheng Cen. The Pitt researchers worked with a team from the University of Wisconsin at Madison led by materials science and engineering professor Chang-Beom Eom, including research associates Chung Wun Bark, Jae-Wan Park, and Chad Folkman. Also part of the team were Gilberto Medeiros-Ribeiro, of HP Labs, and Pablo F. Siles, a doctoral student at the State University of Campinas in Brazil.
Levy and his colleagues named their device SketchSET, or sketch-based single-electron transistor, after a technique developed in Levy's lab in 2008 that works like a microscopic Etch A SketchTM, the drawing toy that inspired the idea. Using the sharp conducting probe of an atomic force microscope, Levy can create such electronic devices as wires and transistors of nanometer dimensions at the interface of a crystal of strontium titanate and a 1.2 nanometer thick layer of lanthanum aluminate. The electronic devices can then be erased and the interface used anew.
The SketchSET—which is the first single-electron transistor made entirely of oxide-based materials—consists of an island formation that can house up to two electrons. The number of electrons on the island—which can be only zero, one, or two—results in distinct conductive properties. Wires extending from the transistor carry additional electrons across the island.
One virtue of a single-electron transistor is its extreme sensitivity to an electric charge, Levy explained. Another property of these oxide materials is ferroelectricity, which allows the transistor to act as a solid-state memory. The ferroelectric state can, in the absence of external power, control the number of electrons on the island, which in turn can be used to represent the 1 or 0 state of a memory element. A computer memory based on this property would be able to retain information even when the processor itself is powered down, Levy said. The ferroelectric state also is expected to be sensitive to small pressure changes at nanometer scales, making this device potentially useful as a nanoscale charge and force sensor.
Since August 2010, Levy has led a $7.5 million, multi-institutional project to construct a semiconductor with properties similar to SketchSET, he said. Funded by the U.S. Air Force Office of Scientific Research's Multi-University Research Initiative (MURI) program, the five-year effort is intended to overcome some of the most significant challenges related to the development of quantum information technology. Levy works on that project with researchers from Cornell, Stanford, the University of California at Santa Barbara, the University of Michigan, and UW-Madison.
Provided by University of Pittsburgh
"Researchers create super-small transistor, artificial atom powered by single electrons." April 18th, 2011. http://www.physorg.com/news/2011-04-super-small-transistor-artificial-atom-powered.html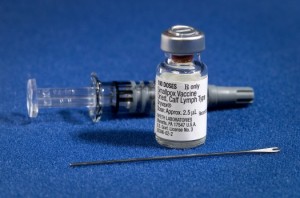 Smallpox Vaccine Wikimedia Commons
By Rebecca BoylePosted 04.13.2011 at 12:00 pm
Humanity's worst scourge, the smallpox virus, may finally wind up on death row in May if health officials decide to destroy the last known samples. The virus was eliminated in human populations more than 30 years ago, but several international groups want to kill any remaining virus samples stored in test tubes on two continents.
Destruction of the smallpox virus, which was eradicated in the 1970s, has been mulled since 1980, but World Health Organization officials renewed debate about the matter earlier this year and will decide the viruses' fate at an upcoming meeting.
Two labs possess the last known live samples of the variola virus — the Centers for Disease Control and Prevention in Atlanta, and a Russian facility in Siberia. Officials in developing nations, where smallpox is more likely to spread should it resurface, have been pushing for their destruction since 1980. The World Health Assembly decided to kill the samples in 1996, but they have been granted stays of execution in the decade and a half since, with the United States, Russia and others arguing the virus samples could seed new vaccines and potential treatments for infected patients.
In January, WHO officials again started discussions about whether to destroy the samples. The World Health Assembly will decide in May. LiveScience reviews the controversy here.
Epidemiologists believe smallpox has killed about one-third of those it has infected throughout history, accounting for hundreds of millions of victims dating back to ancient Egypt. A decade-long global vaccination effort eliminated the virus from human populations; the last natural case was found in October 1977 in Somalia. The elimination of Rinderpest, a cattle plague, will be only the second such disease eradication story in human history.
Officials in the U.S. and Russia have said they will fight efforts to set a destruction date, arguing the viruses are needed for research and to guard against bioterrorism. Some fear nations like North Korea or Iran may possess secret samples, although those countries deny it.
[LiveScience]