On January 30, 1933 Adolph Hitler was appointed chancellor of Germany. Twelve years from his appointment Hitler committed  suicide on April 30, 1945 in Berlin, Germany, but not before using his power to enact the "Final Solution".
The Final Solution is a benign sounding name for an unspeakably evil contemplation. This "solution" as Hitler and the Nazis called it, based on Nazi ideology, resulted in the horrific elimination of millions upon millions of innocent, human lives who were helpless to defend themselves. We must remember this atrocity, the Holocaust,  lest we ever forget.
"The genocide of the Jews  was the culmination of a decade of German policy under Nazi rule and the realization of a core goal of the Nazi dictator, Adolf Hitler. "
"Adolf Hitler, the Führer (Leader) of the Nazi party, formulated and articulated the ideas that came to be known as Nazi ideology. He thought of himself as a deep and profound thinker, convinced that he had found the key to understanding an extraordinarily complex world. "
Source for numbers of deaths: The Holocaust Chronicle
December 7, 2014 · Posted in
World War II
·
Comments Off

on 73rd Anniversary of Pearl Harbor
It was Dec. 7, 1941 when the Japanese bombed Pearl Harbor. Eye Witness Account from 91 years old Aaron Chabin.
The Intrepid museum is honoring the anniversary with a special ceremony.
Pearl Harbor attack facts: Time was 7:48 a.m. Hawaii time ; place was U.S. Naval base on the island of Oahu, Hawaii, west of Honolulu;
The Battleships:
Arizona exploded; total loss. 1,177 dead.
Oklahoma: five torpedoes, capsized; total loss. 429 dead. Refloated November 1943;capsized and lost while under tow to the mainland May 1947.
West Virginia: hit by two bombs, seven torpedoes, sunk; returned to service July 1944. 106 dead.
California: hit by two bombs, two torpedoes, sunk; returned to service January 1944. 100 dead.
Nevada: hit by six bombs, one torpedo, beached; returned to service October 1942. 60 dead.
Tennessee: hit by two bombs; returned to service February 1942. 5 dead.
Maryland: hit by two bombs; returned to service February 1942. 4 dead (including floatplane pilot shot down).
Pennsylvania (Kimmel's flagship):[111] in drydock with Cassin and Downes, hit by one bomb, debris from USS Cassin; remained in service. 9 dead.
Ex-battleship (target/AA training ship)
Utah: hit by two torpedoes, capsized; total loss. 64 dead.
More than 2,400 Americans died in the attack, and another 1,178 were wounded.
March 14, 2014 · Posted in
World War II
·
Comments Off

on End of War Kiss
Glenn Edward McDuffie, a U.S. Navy sailor in World War II and  believed to be the man in the famous kiss picture taken by photographer Alfred Eisenstaedt, died today March 3, 2014.
It was decades ago  on Aug. 14, 1945 in Times Square when McDuffie and a nurse celebrated the end of the war in an embracing kiss that is an iconic image in American history.
JUN 19, 2011 |
The years leading up to the declaration of war between the Axis and Allied powers in 1939 were tumultuous times for people across the globe. The Great Depression had started a decade before, leaving much of the world unemployed and desperate. Nationalism was sweeping through Germany, and it chafed against the punitive measures of the Versailles Treaty that had ended World War I. China and the Empire of Japan had been at war since Japanese troops invaded Manchuria in 1931. Germany, Italy, and Japan were testing the newly founded League of Nations with multiple invasions and occupations of nearby countries, and felt emboldened when they encountered no meaningful consequences. The Spanish Civil War broke out in 1936, becoming a rehearsal of sorts for the upcoming World War — Germany and Italy supported the nationalist rebels led by General Francisco Franco, and some 40,000 foreign nationals traveled to Spain to fight in what they saw as the larger war against fascism. In the last few pre-war years, Nazi Germany blazed the path to conflict — rearming, signing a non-aggression treaty with the USSR, annexing Austria, and invading Czechoslovakia. Meanwhile, the United States passed several Neutrality Acts, trying to avoid foreign entanglements as it reeled from the Depression and the Dust Bowl years. Below is a glimpse of just some of these events leading up to World War II. (This entry isPart 1 of a weekly 20-part retrospective of World War II) [45 photos]
Adolf Hitler, age 35, on his release from Landesberg Prison, on December 20, 1924. Hitler had been convicted of treason for his role in an attempted coup in 1923 called the Beer Hall Putsch. This photograph was taken shortly after he finished dictating "Mein Kampf" to deputy Rudolf Hess. Eight years later, Hitler would be sworn in as Chancellor of Germany, in 1933. (Library of Congress) 
2
A Japanese soldier stands guard over part of the captured Great Wall of China in 1937, during the Second Sino-Japanese War. The Empire of Japan and the Republic of China had been at war intermittently since 1931, but the conflict escalated in 1937. (LOC) #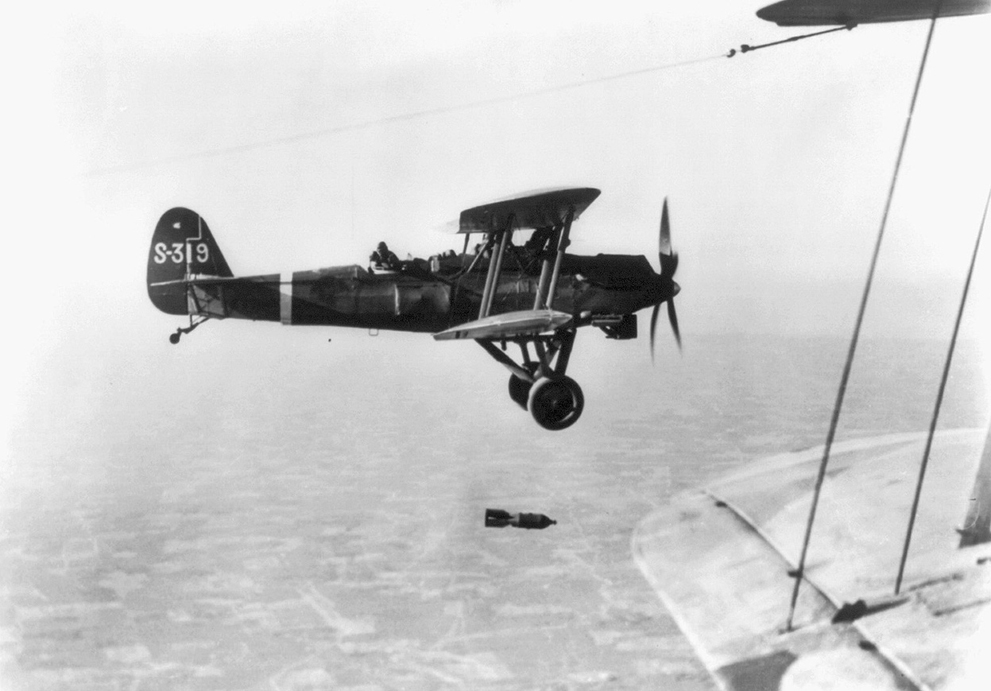 3
Japanese aircraft carry out a bombing run over targets in China in 1937. (LOC) #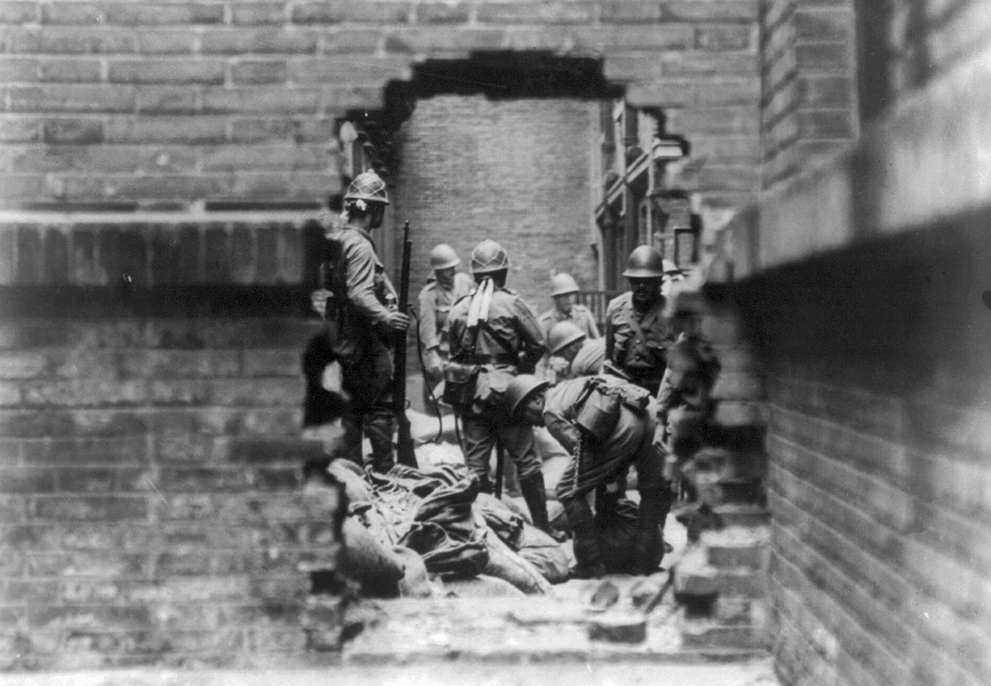 4
Japanese soldiers involved in street fighting in Shanghai, China in 1937. The battle of Shanghai lasted from August through November of 1937, eventually involving nearly one million troops. In the end, Shanghai fell to the Japanese, after over 150,000 casualties combined.(LOC) #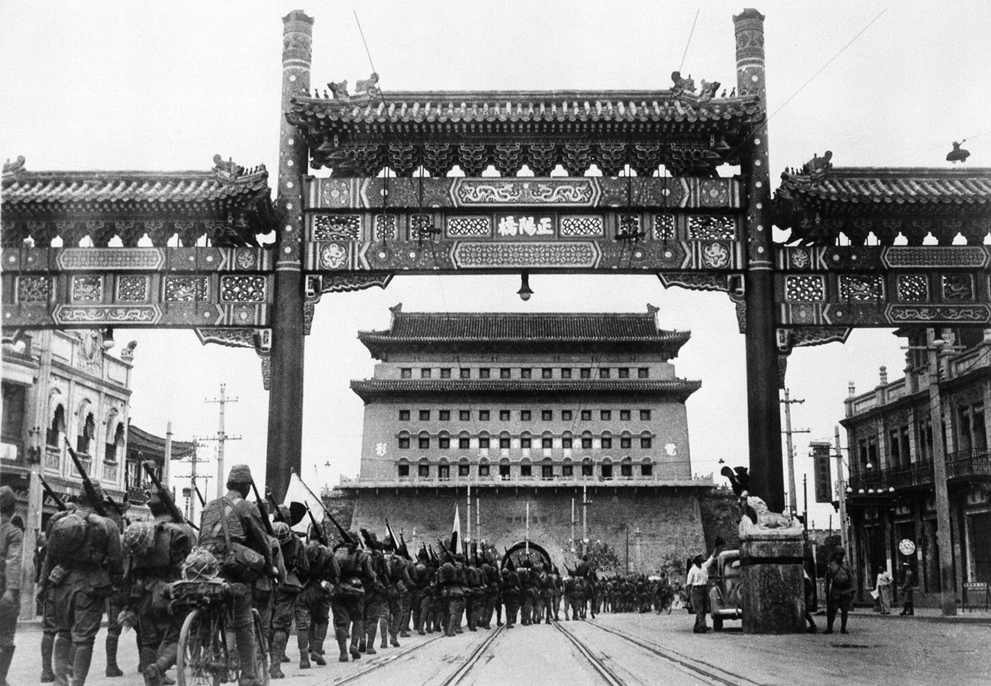 5
First pictures of the Japanese occupation of Peiping (Beijing) in China, on August 13, 1937. Under the banner of the rising sun, Japanese troops are shown passing from the Chinese City of Peiping into the Tartar City through Chen-men, the main gate leading onward to the palaces in the Forbidden City. Just a stone's throw away is the American Embassy, where American residents of Peiping flocked when Sino-Japanese hostilities were at their worst. (AP Photo) #
For the Entire Article at the Atlantic
On this day of April 30th in 1945, holed up in a bunker under his headquarters in Berlin, Adolf Hitler commits suicide by swallowing a cyanide capsule and shooting himself in the head. Soon after, Germany unconditionally surrendered to the Allied forces, ending Hitler's dreams of a "1,000-year" Reich.
Since at least 1943, it was becoming increasingly clear that Germany would fold under the pressure of the Allied forces. In February of that year, the German 6th Army, lured deep into the Soviet Union, was annihilated at the Battle of Stalingrad, and German hopes for a sustained offensive on both fronts evaporated. Then, in June 1944, the Western Allied armies landed at Normandy, France, and began systematically to push the Germans back toward Berlin. By July 1944, several German military commanders acknowledged their imminent defeat and plotted to remove Hitler from power so as to negotiate a more favorable peace. Their attempts to assassinate Hitler failed, however, and in his reprisals, Hitler executed over 4,000 fellow countrymen.
In January 1945, facing a siege of Berlin by the Soviets, Hitler withdrew to his bunker to live out his final days. Located 55 feet under the chancellery, the shelter contained 18 rooms and was fully self-sufficient, with its own water and electrical supply. Though he was growing increasingly mad, Hitler continued to give orders and meet with such close subordinates as Hermann Goering, Heinrich Himmler and Josef Goebbels. He also married his long-time mistress Eva Braun just two days before his suicide.
In his last will and testament, Hitler appointed Admiral Karl Donitz as head of state and Goebbels as chancellor. He then retired to his private quarters with Braun, where he and Braun poisoned themselves and their dogs, before Hitler then also shot himself with his service pistol.
Hitler and Braun's bodies were hastily cremated in the chancellery garden, as Soviet forces closed in on the building. When the Soviets reached the chancellery, they removed Hitler's ashes, continually changing their location so as to prevent Hitler devotees from creating a memorial at his final resting place. Only eight days later, on May 8, 1945, the German forces issued an unconditional surrender, leaving Germany to be carved up by the four Allied powers.