World War 1 began on July 28, 1914 and lasted until November 11, 1918. Differences in foreign policies were to blame, although the immediate cause was the assassination of Austria's Archduke Ferdinand.
The two main sides were the Allies, which included France, Great Britain and Russia; and Germany and Austria-Hungary. In total, 30 countries were involved in the conflict. Italy, once part of the Triple Alliance with Germany and Austria-Hungary, fought on the side of the Allies.
Soldiers fought largely in trenches during the war, and thousands suffered from stress, known as shell-shock. The British and French trenches were often squalid, whereas the German trenches were almost luxurious in comparison, with bunks and decent cooking facilities. (Click here to learn more about life in the trenches)
By the end of WW1, over 9 million soldiers had been killed, and another 21 million wounded. Over a million soldiers were killed in the infamous Battle of the Somme alone, including about 30,000 in just one day.
Around 11 percent of the population of France was killed or wounded during the war. About 116,000 Americans were killed, even though the US was only in the war for about 7 months.
World War 1
During World War 1, dogs were used to carry messages in capsules attached to their body. Dogs also carried and placed telegraph wires in important areas.
Pigeons were also used during the war. About 500,000 pigeons were regularly dropped into enemy lines by parachute, and then sent back with messages.
On Christmas Eve, 1914, both sides declared an unofficial truce and sung Christmas carols to each other. A football match was played in no-man's land (the area between the German and British) trenches, and German and British soldiers exchanged food and souvenirs. The following Christmas, sentries on both sides had orders to shoot any soldier who did this.
Cannons and artillery were often extremely loud. In 1917, the explosives used to destroy a bridge in France could be be heard over 130 miles away in London.
Many new weapons were invented or first used during World War 1. Big Bertha was one of the most famous; it was a 48 ton gun capable of firing a shell over 9 miles. It took 200 men several hours to assemble the gun.
Tanks were so called because of early attempts to disguise them as water tanks. They were also known as male and female tanks; male tanks had cannons and female tanks had machine guns.
1914
June 28th
Francis Ferdinand assassinated at Sarajevo
July 5th
Kaiser William II promised German support for Austria against Serbia
July 28th
Austria declared war on Serbia
August 1st
Germany declared war on Russia
August 3rd
Germany declared war on France and invaded Belgium. Germany had to implement the Schlieffen Plan.
August 4th
Britain declared war on Germany
August 23rd
The BEF started its retreat from Mons. Germany invaded France.
August 26th
Russian army defeated at Tannenburg and Masurian Lakes.
September 6th
Battle of the Marne started
October 18th
First Battle of Ypres
October 29th
Turkey entered the war on Germany's side. Trench warfare started to dominate the Western Front.
1915
January 19th
The first Zeppelin raid on Britain took place
February 19th
Britain bombarded Turkish forts in the Dardanelles
April 25th
Allied troops landed in Gallipoli
May 7th
The "Lusitania" was sunk by a German U-boat
May 23rd
Italy declared war on Germany and Austria
August 5th
The Germans captured Warsaw from the Russians
September 25th Start of the Battle of Loos
December 19th
The Allies started the evacuation of Gallipoli
1916
January 27th
Conscription introduced in Britain
February 21st
Start of the Battle of Verdun
April 29th
British forces surrendered to Turkish forces at Kut in Mesopotamia
May 31st
Battle of Jutland
June 4th
Start of the Brusilov Offensive
July 1st
Start of the Battle of the Somme
August 10th
End of the Brusilov Offensive
September 15th
First use en masse of tanks at the Somme
December 7th
Lloyd George becomes British Prime Minister
1917
February 1st
Germany's unrestricted submarine warfare campaign started
April 6th
USA declared war on Germany
April 16th
France launched an unsuccessful offensive on the Western Front
July 31st
Start of the Third Battle at Ypres
October 24th
Battle of Caporetto – the Italian Army was heavily defeated
November 6th
Britain launched a major offensive on the Western Front
November 20th
British tanks won a victory at Cambrai
December 5th
Armistice between Germany and Russia signed
December 9th
Britain captured Jerusalem from the Turks
1918
March 3rd
The Treaty of Brest-Litovsk was signed between Russia and Germany.
March 21st
Germany broke through on the Somme
March 29th
Marshall Foch was appointed Allied Commander on the Western Front
April 9th
Germany started an offensive in Flanders
July 15th
Second Battle of the Marne started. The start of the collapse of the German army
August 8th
The advance of the Allies was successful
September 19th
Turkish forces collapsed at Megiddo
October 4th
Germany asked the Allies for an armistice
October 29th
Germany's navy mutinied
October 30th
Turkey made peace
November 3rd
Austria made peace
November 9th
Kaiser William II abdicated
November 11th
Germany signed an armistice with the Allies – the official date of the end of World War One.
Post-war – 1919
January 4th
Peace conference met at Paris
June 21st
The surrendered German naval fleet at Scapa Flow was scuttled.
June 28th
The Treaty of Versailles was signed by the Germans
On July 28, 1914, Austria-Hungary declared war on Serbia. World War I began as declarations of war by other European nations quickly followed.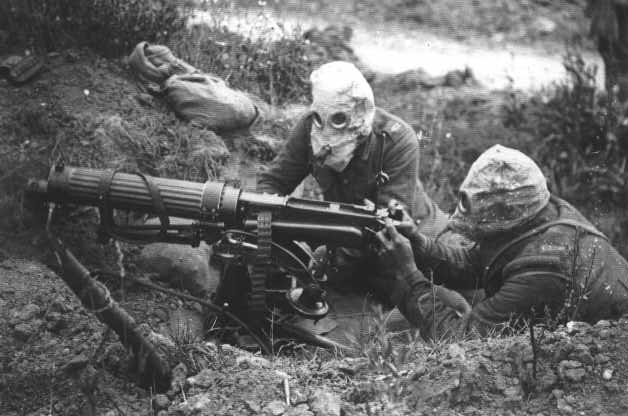 The 'Great War', which began on 28 July 1914 with Austria-Hungary's declaration of war with Serbia, was the first truly global war.  It began in Europe but quickly spread throughout the world.  Many countries became embroiled within the war's first month; others joined in the ensuing four years, with Honduras announcing hostilities with Germany as late as 19 July 1918 (with the record going to Romania, who entered the war – albeit for the second time – one day before it finished, on 10 November 1918).
Detailed below is a list of the nations who formally declared hostilities during World War One, along with their date of entrance.  Nations of the British Empire, e.g. Australia, Canada and New Zealand, automatically entered the war with Britain's decision to enter the fray on 4 August 1914.
Note that on numerous occasions hostilities were assumed without a formal declaration, e.g. Russia with Germany and Austria-Hungary in August 1914.
Australia
Entered war together with Britain on 4 August 1914
Austria-Hungary
Declared war with Serbia on 28 July 1914
Declared war with Russia on 6 August 1914
Declared war with Belgium on 28 August 1914
Declared war with Portugal on 15 March 1916
Belgium
Invaded by Germany on 3 August 1914
Bolivia
Severed relations with Germany on 13 April 1917
Brazil
Severed relations with Germany on 11 April 1917
Declared war with Germany on 26 October 1917
Bulgaria
Declared war with Serbia on 14 October 1915
Declared war with Romania on 1 September 1916
Canada
Entered war together with Britain on 4 August 1914
China
Severed relations with Germany on 14 March 1917
Declared war with Germany on 14 August 1917
Declared war with Austria-Hungary on 14 August 1917
Costa Rica
Severed relations with Germany on 21 September 1917
Declared war with Germany on 23 May 1918
Cuba
Declared war with Germany on 7 April 1917
Ecuador
Severed relations with Germany on 8 December 1917
France
Invaded by Germany on 2 August 1914
Declared war with Austria-Hungary on 12 August 1914
Declared war with Turkey on 5 November 1914
Declared war with Bulgaria on 16 October 1915
Germany
Declared war with Russia on 1 August 1914
Declared war with France on 3 August 1914
Declared war with Belgium on 4 August 1914
Declared war with Portugal on 9 March 1916
Greece
Declared war with Austria-Hungary on 27 June 1917
Declared war with Bulgaria on 27 June 1917
Declared war with Germany on 27 June 1917
Declared war with Turkey on 27 June 1917
Guatemala
Declared war with Germany on 23 April 1918
Haiti
Declared war with Germany on 12 July 1918
Honduras
Declared war with Germany on 19 July 1918
Italy
Declared war with Austria-Hungary on 23 May 1915
Declared war with Turkey on 21 August 1915
Declared war with Germany on 28 August 1915
Declared war with Bulgaria on 19 October 1915
Japan
Declared war with Germany on 23 August 1914
Declared war with Austria-Hungary on 25 August 1914
Liberia
Declared war with Germany on 4 August 1914
Montenegro
Declared war with Austria-Hungary on 5 August 1914
Declared war with Germany on 8 August 1914
Declared war with Bulgaria on 15 October 1915
New Zealand
Entered war together with Britain on 4 August 1914
Nicaragua
Declared war with Austria-Hungary on 8 May 1918
Declared war with Germany on 8 May 1918
Panama
Declared war with Germany on 7 April 1917
Declared war with Austria-Hungary on 10 December 1917
Peru
Severed relations with Germany on 6 October 1917
Portugal
Entered war against Germany on 9 March 1916
Entered war against Austria-Hungary on 15 March 1916
Romania
Declared war with Austria-Hungary on 27 August 1916
Exited war with Treaty of Bucharest on 7 May 1918
Re-entered the war on 10 November 1918
Russia
Declared war with Turkey on 2 November 1914
Declared war with Bulgaria on 19 October 1915
San Marino
Declared war with Austria-Hungary on 3 June 1915
Serbia
Declared war with Germany on 6 August 1914
Declared war with Turkey on 2 November 1914
Siam
Declared war with Austria-Hungary on 22 July 1917
Declared war with Germany on 22 July 1917
Turkey
Declared war with Romania on 30 August 1916
Severed relations with United States on 23 April 1917
United Kingdom
Declared war with Germany on 4 August 1914
Declared war with Austria-Hungary on 12 August 1914
Declared war with Turkey on 5 November 1914
Declared war with Bulgaria on 15 October 1915
United States of America
Declared war with Germany on 6 April 1917
Declared war with Austria-Hungary on 7 December 1917
Uruguay
Severed relations with Germany on 7 October 1917
Reference:
Funk & Wagnalls New Encyclopedia, Volume 27, Funk & Wagnall, 1983