| | | | | | |
| --- | --- | --- | --- | --- | --- |
| Rank | City | Date | Scale | Fatalities | Injuries |
| 1 | Woodward | 4/9/1947 | F5 | 116 | 782 |
| 2 | Snyder | 5/10/1905 | F5 | 97* | 58* |
| 3 | Peggs | 5/2/1920 | F4 | 71 | 100 |
| 4 | Antlers | 4/12/1945 | F5 | 69 | 353 |
| 5 | Pryor | 4/27/1942 | F4 | 52 | 350 |
| 6 | (Bridge Creek-Newcastle-Moore-Oklahoma City) | 5/3/1999 | F5 | 36 | 583 |
| 7 | Oklahoma City | 6/12/1942 | F4 | 35 | 100 |
| 8 | Cleveland County | 04/25/1893 | F4 | 33 | ~100 |
| 9 | (Newcastle-South Oklahoma City-Moore) | 5/20/2013 | EF5 | 24 | – |
| 10 | Bethany | 11/19/1930 | F4 | 23 | 150 |
Source: National Weather Service Weather Forecast Office, Norman, OK
I grew up in tornado alley, so many tornadoes have come and gone over me, beside me, yet thankfully, not through me, in my life. However, a typhoon, something you don't see when surrounded by plains land, was not something I had ever experienced until 2009. I was visiting Hong Kong at the time and ignorant of the danger, while walking along one of the streets located in Hong Kong's Central business district. Needless to say the winds were high, high enough to blow a large heavy sign off a business. We were almost hit. It was time to dash indoors of the large skyscraper hotel where we were staying.
The following morning brought calm and all was well. Evidence of the volatile weather the day before was published in the China Morning Post in an amazing photo taken by Hong Kong resident Michael Siward.
I saved that paper to remind myself that I had survived the September 13, 2009 typhoon.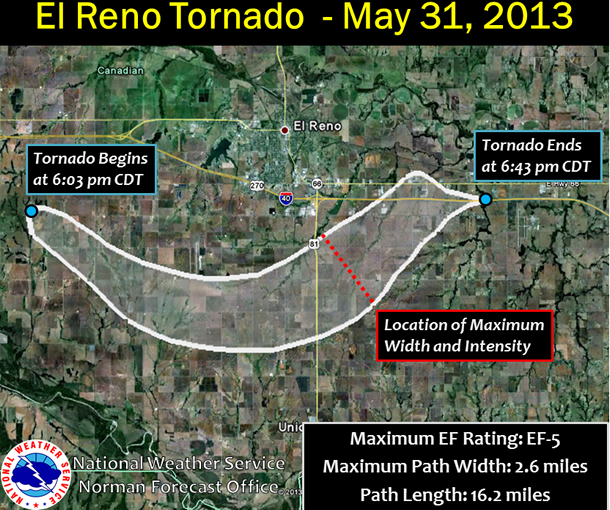 It has been confirmed that the Friday, May 31, 2013 tornado, that brought destruction and death to El Reno, OK, was the widest ever in recorded history. Per the National Weather Service and a leading researcher, Howard Bluestein, no other tornado has ever reached such a mammoth breadth. The El Reno tornado stretched a maximum width of 2.6 miles.
New York City has seen its share of major snowstorms. The largest occurred, according to NYC.gov, on February 11 and 12, 2006. Over a  16 hour time period 26.9 inches of snow accumulated across the city. This nor'easter had winds of about 20-30 mph, where 2,500 city deployed workers labored to do snow clean-up.
The second largest snowstorm was on Jan. 7-8, 1996 measuring 20 inches of snow in Central Park. This nor'easter's winds topped the first runner by hitting 50 mph gusts. It resulted in the closings, on January 8th, of Broadway shows, the public and parochial school systems and the Stock Market at mid-day.
Coming in as the third largest accumulation of snowfall was the March Blizzard of 1888. 21 inches fell in just a two day period. The gusts were so high at almost 75 mph that drifts reached 30 feet in some places.
45th Street and Grand Central Depot, New York, March 1888, Source: NOAA's National Weather Service Collection