September 17, 2013 · Posted in
Uncategorized
·
Comments Off

on Women of America: Anne Hutchinson
Anne Hutchinson and her family arrived in America on September 18, 1634 and settled in Cambridge, Massachusetts.  A controversial woman of religious fervor, she held meetings in her home for the women of Boston.  She taught that salvation was through faith only and not dictated by church attendance or by the laws of the church.
Her message was met with hostility and she stood trial in 1637.  Anne Hutchinson was found guilty of heresy against the Puritan tenet and banished from Massachusetts.  She, her family and 70 followers settled on the Island of Aquidneck, Rhode Island.
In 1642, she moved to Pelham Bay, New York with her children, where in 1643 she met her death in an Indian massacre.  Anna Hutchinson is noted in history as the first female religious leader of the American colonies.
You can learn more about Anne Hutchinson and the woman of America at  http://www.history.com/topics/anne-hutchinson.
Anne Hutchinson on trial: www.jssgallery.org/Other_Artists/Edwin_Austin_Abbey/Anne_Hutchinson_on_Trial.htm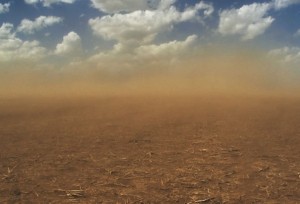 written by Laurie C. Brough
While waiting to checkout at the grocery store I overhear a man telling the cashier how dry it is in far Western Oklahoma. He said, "It is so dry the grasshoppers don't even bother to stop to take a nibble cause there's nothing to eat." Listening to their conversation took me back to one of my Mother's childhood stories about her days of growing up during the depression and the drought of the 1930's.
"Life was hard and my parents struggled to keep food on the table. In the morning, Daddy always got up first to tend the fire in the cook stove so Momma could start preparing breakfast before the heat of daylight hit.
After breakfast, my brothers and I would head out to school with our books and our lunch buckets. As we walked down the old dirt road to school we daydreamed of small breezes and cooler days, but then reality hit us in the face. The breeze was more like hot air blowing from a furnace that would sweep up the red Oklahoma dirt and pelt our faces and skin. The dirt found places in the crevices of our bodies to hide irritating our tender skin and rubbing us raw. When we got to school we had to wash off the dirt as best we could and settle down for class, but it was so hard to concentrate in the sweltering heat of the classroom.
As the day passed we began to dread the walk home, for as bad as the walk to school was the walk home was even worse. The sun was so unforgiving and the hot wind was higher and more torturous than in the morning. My brothers and I were so desperate for relief that we would run from cloud shade to cloud shade and from tree shade to tree shade, but those shade spots were far and few between. By the time we got home we were dripping with sweat and our bodies and clothes were covered in red dirt.
When we were not in school or doing our chores, we lain down on the ground and watched the sky in hope that we could spot a rain cloud. They would wisp by every now and then, and a small bit of excitement would catch in our throats, but we didn't dare shout for joy, because we never knew if Mother Nature was just teasing us or promising us rain. At lunchtime, Daddy would come in from the fields and lay on the floor for his afternoon nap. The floor was cool compared to everyplace else because of the crawl space under the house.
After supper, Daddy would pull the mattresses outside and put them on top of the house or on the ground so we would get the cooler air of the night. We would do anything to find some relief from the torment of heat. We lain under the stars and Daddy would say a prayer for the rains to come and for the depression to end and each day we awoke with hope that change was coming."
I relish the memories of my Mother's childhood stories and I love their historical relevance. As history repeats itself I think back on her stories and I realize this is only a rerun and we will prevail just as our ancestors before us.
The Dust Bowl. (2013). The History Channel website. Retrieved 12:02, September 12, 2013, from http://www.history.com/photos/the-dust-bowl.
---
The Nobel Peace Prize 1991
Aung San Suu Kyi
Biography*
1942:
September 6. Marriage of Aung San, commander of the Burma Independence Army, and Ma Khin Kyi (becoming Daw Khin Kyi), senior nurse of Rangoon General Hospital, where he had recovered from the rigours of the march into Burma.
1945:
June 19. Aung San Suu Kyi born in Rangoon, third child in family. "Aung San" for father, "Kyi" for mother, "Suu" for grandmother, also day of week of birth.
Favourite brother is to drown tragically at an early age. The older brother, will settle in San Diego, California, becoming United States citizen.
1947:
July 19. General Aung San assassinated. Suu Kyi is two years old. Daw Khin Kyi becomes a prominent public figure, heading social planning and social policy bodies.
1948:
January 4. The Independent Union of Burma is established.
1960:
Daw Khin Kyi appointed Burma's ambassador to India. Suu Kyi accompanies mother to New Delhi.
1960-64:
Suu Kyi at high school and Lady Shri Ram College in New Delhi.
1964-67:
Oxford University, B.A. in philosophy, politics and economics at St. Hugh's College (elected Honorary Fellow, 1990).
British "parents" are Lord Gore-Booth, former British ambassador to Burma and High Commissioner in India, and his wife, at whose home Suu Kyi meets Michael Aris, student of Tibetan civilisation.
1969-71:
She goes to New York for graduate study, staying with family friend Ma Than E, staff member at the United Nations, where U. Thant of Burma is Secretary-General. Postponing studies, Suu Kyi joins U.N. secretariat as Assistant Secretary, Advisory Committee on Administrative and Budgetary Questions. Evenings and weekends volunteers at hospital, helping indigent patients in programs of reading and companionship.
1972:
January 1. Marries Michael Aris, joins him in Himalayan kingdom of Bhutan, where he tutors royal family and heads Translation Department. She becomes Research Officer in the Royal Ministry of Foreign Affairs.
1973:
They return to England for birth of Alexander in London.
1974:
Michael assumes appointment in Tibetan and Himalayan studies at Oxford University.
1977:
Birth of second son, Kim at Oxford.
While raising her children, Suu Kyi begins writing, researches for biography of father, and assists Michael in Himalayan studies.
1984:
Publishes Aung San in Leaders of Asia series of University of Queensland Press. (See Freedom from Fear, pp. 3-38.)
1985:
For juvenile readers publishes Let's Visit Burma (see Freedom from Fear, pp. 39-81), also books on Nepal and Bhutan in same series for Burke Publishing Company, London.
1985-86:
Visiting Scholar, Center of Southeast Asian Studies, Kyoto University, researching father's time in Japan. Kim with her, Alexander with Michael, who has fellowship at Indian Institute of Advanced Studies at Simla in northern India.
1986:
On annual visit to grandmother in Rangoon, Alexander and Kim take part in traditional Buddhist ceremony of initiation into monkhood.
1987:
With fellowship at Indian Institute Suu Kyi, with Kim, joins Michael and Alexander in Simla. Travels to London when mother is there for cataract surgery.
Publishes "Socio-Political Currents in Burmese Literature, 1910-1940" in journal of Tokyo University. (See Freedom from Fear, pp. 140-164.) September. Family returns to Oxford. Suu Kyi enrolls at London School of Oriental and African Studies to work on advanced degree.
1988:
March 31. Informed by telephone of mother's severe stroke, she takes plane next day to Rangoon to help care for Daw Khin Kyi at hospital, then moves her to family home on University Avenue next to Inya Lake in Rangoon.
July 23. Resignation of General Ne Win, since 1962 military dictator of Burma. Popular demonstrations of protest continuing.
August 8. Mass uprising throughout country. Violent suppression by military kills thousands.
August 15. Suu Kyi, in first political action, sends open letter to government, asking for formation of independent consultative committee to prepare multi-party elections.
August 26. In first public speech, she addresses several hundred thousand people outside Shwedagon Pagoda, calling for democratic government. Michael and her two sons are there.
September 18. Military establishes State Law and Order Restoration Council (SLORC). Political gatherings of more than four persons banned. Arrests and sentencing without trial reaffirmed. Parliamentary elections to be held, but in expectation that multiplicity of parties will prevent clear result.
September 24. National League for Democracy (NLD) formed, with Suu Kyi general-secretary. Policy of non-violence and civil disobedience. October-December. Defying ban, Suu Kyi makes speech-making tour throughout country to large audiences.
December 27. Daw Khin Kyi dies at age of seventy-six.
1989:
January 2. Funeral of Daw Khin Kyi. Huge funeral procession. Suu Kyi vows that as her father and mother had served the people of Burma, so too would she, even unto death.
January-July. Suu Kyi continues campaign despite harassment, arrests and killings by soldiers.
February 17. Suu Kyi prohibited from standing for election.
April 5. Incident in Irawaddy Delta when Suu Kyi courageously walks toward rifles soldiers are aiming at her.
July 20. Suu Kyi placed under house arrest, without charge or trial. Sons already with her. Michael flies to Rangoon, finds her on third day of hunger strike, asking to be sent to prison to join students arrested at her home. Ends strike when good treatment of students is promised.
1990:
May 27. Despite detention of Suu Kyi, NLD wins election with 82% of parliamentary seats. SLORC refuses to recognise results.
October 12. Suu Kyi granted 1990 Rafto Human Rights Prize.
1991:
July 10. European Parliament awards Suu Kyi Sakharov human rights prize.
October 14. Norwegian Nobel Committee announces Suu Kyi is winner of 1991 Peace Prize.
1991:
December. Freedom from Fear published by Penguin in New York, England, Canada, Australia, New Zealand. Also in Norwegian, French, Spanish translations.
December 10. Alexander and Kim accept prize for mother in Oslo ceremony. Suu Kyi remains in detention, having rejected offer to free her if she will leave Burma and withdraw from politics. Worldwide appeal growing for her release.
1992:
Suu Kyi announces that she will use $1.3 million prize money to establish health and education trust for Burmese people.
1993:
Group of Nobel Peace Laureates, denied entry to Burma, visit Burmese refugees on Thailand border, call for Suu Kyi's release, Their appeal later repeated at UN Commission for Human Rights in Geneva.
1994:
February. First non-family visitors to Suu Kyi: UN representative, U.S. congressman, New York Times reporter.
September-October. SLORC leaders meet with Suu Kyi, who still asks for a public dialogue.
1995:
July 10. SLORC releases Suu Kyi from house arrest after six years of detention.
In the last four years her movements have still been restricted. While she has had some opportunities to telephone her family in England, she is regularly denounced in the government-controlled media, and there is concern for her personal safety. Efforts to revive any NLD party activities have been balked, and its members have been jailed and physically attacked. In the first months after detention was ended, she was able to speak to large gatherings of supporters outside her home, but this was stopped. Yet her popularity in the country has not diminished.
Internationally her voice has been heard not infrequently. Reporters with cameras and videotape have been able to interview her in person, and telephone interviews with the media outside Burma have also been published. Using video cassettes she has sent out statements, including the keynote address to the NGO Forum at the U.N. International Women's Conference in Beijing in August 1995.
There have been a number of visitors from abroad, including a member of the Norwegian Nobel Committee, whom she told that Norway will be the first country she will visit when free to travel. SLORC has changed its name to the State Peace and Development Council, but its repressive policies and violation of human rights continue unabated.
Suu Kyi discourages tourists from visiting Burma and businessmen from investing in the country until it is free. She finds hearing for such pleas among western nations, and the United States has applied economic sanctions against Burma, but Burma's neighbours follow their policy of not intervening in the internal affairs of other sovereign states, and Burma has been admitted into the Association of South Eastern Asian Nations.
On March 27, 1999, Michael Aris died of prostate cancer in London. He had petitioned the Burmese authorities to allow him to visit Suu Kyi one last time, but they had rejected his request. He had not seen her since a Christmas visit in 1995. The government always urged her to join her family abroad, but she knew that she would not be allowed to return. This separation she regarded as one of the sacrifices she had had to make in order to work for a free Burma.
Selected Bibliography
By Aung San Suu Kyi
Freedom from Fear and Other Writings. Edited with introduction by Michael Aris. 2nd ed., revised. New York and London: Penguin, 1995. (Includes essays by friends and scholars.)
Voice of Hope: Conversations. London: Penguin, 1997 and New York City: Seven Stories Press, 1997 (Conversations beginning in November 1995 with Alan Clements, the founder of the Burma Project in California who helped with the script for the film based on her life, "Beyond Rangoon".)
Other Sources
"Aung San Suu Kyi", in Current Biography, February 1992.
Clements, Alan and Leslie Kean. Burma's Revolution of the Spirit: The Struggle for Democratic Freedom and Dignity. New York: Aperture, 1994. (Many colour photographs with text, Includes essay by Aung San Suu Kyi.)
Clements, Alan. Burma: The Next Killing Fields. Tucson, Arizona; Odonian Press, 1992. (With a foreword by the Dalai Lama.)
Lintner, Bertil. Burma in Revolt: Opium and Insurgency since 1948. Boulder. Colorado: Westview, 1994. (By a well-informed Swedish journalist.)
Lintner, Bertil. Outrage: Burma's Struggle for Democracy. 2nd ed., Edinburgh: Kiscadale, 1995.
Mirante, Edith T. Burmese Looking Glass. A Human Rights Adventure and a Jungle Revolution. New York: Grove, 1993.
Smith, Martin J. Burma: Intrangency and the Politics of Ethnicity. London: Zed Books, 1991. (A detailed and well-organised account by a journalist of the violent conflict between the military government and the many minorities.)
Victor, Barbara. The Lady: Aung San Suu Kyi: Nobel Laureate and Burma's Prisoner. Boston and London: Faber & Faber, 1998. (A sympathetic account by a wellpublished author and journalist, whose research in Burma included interviews with government leaders.)
---
* Since no biography was printed in Les Prix Nobel 1991, this chronology has been assembled by the editor.
From Nobel Lectures, Peace 1991-1995, Editor Irwin Abrams, World Scientific Publishing Co., Singapore, 1999
This autobiography/biography was written at the time of the award and first published in the book series Les Prix Nobel. It was later edited and republished in Nobel Lectures. To cite this document, always state the source as shown above.
Copyright © The Nobel Foundation 1991
TO CITE THIS PAGE:
MLA style: "Aung San Suu Kyi – Biography". Nobelprize.org.2 Apr 2012
http://www.nobelprize.org/nobel_prizes/peace/laureates/1991/kyi-bio.html.
Copyright © Nobel Media AB 2012
Strong winds push massive dust cloud into Phoenix, reducing visibility and delaying flights
PHOENIX (AP) — A massive dust storm descended on the Phoenix area on Tuesday night, drastically reducing visibility and delaying flights as strong winds downed trees and caused power outages for thousands of residents.
The dust cloud that hit the valley had originated in an afternoon storm in the Tucson area before moving north across the desert, said National Weather Service meteorologist Paul Iniguez. Before bearing down on the Phoenix valley, radar data showed the storm's towering dust wall had reached as high as 8,000 to 10,000 feet, he said.
Once it neared the valley, the cloud had fallen to some 5,000 feet, according to the weather service. KSAZ-TV in Phoenix reported the storm appeared to be roughly 50 miles wide in some spots. It briefly blanketed the city's downtown at around nightfall.
"This was pretty significant," Iniguez told The Associated Press. "We heard from a lot of people who lived here for a number of storms and this was the worst they'd seen."
The storm was part of the Arizona monsoon season, which typically starts in mid-June and lasts through Sept. 30.
Did You Know?
Each year on Memorial Day a national moment of remembrance takes place at 3:00 p.m. local time.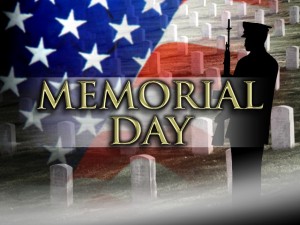 Memorial Day was originally known as Decoration Day because it was a time set aside to honor the nation's Civil War dead by decorating their graves. It was first widely observed on May 30, 1868, to honor the sacrifices of Civil War soldiers, by proclamation of General John A. Logan of the Grand Army of the Republic, an organization of former sailors and soldiers. On May 5, 1868, Logan declared in General Order No. 11 that:
The 30th of May, 1868, is designated for the purpose of strewing with flowers, or otherwise decorating the graves of comrades who died in defense of their country during the late rebellion, and whose bodies now lie in almost every city, village, and hamlet churchyard in the land. In this observance no form of ceremony is prescribed, but posts and comrades will in their own way arrange such fitting services and testimonials of respect as circumstances may permit.
During the first celebration of Decoration Day, General James Garfield made a speech at Arlington National Cemetery, after which 5,000 participants helped to decorate the graves of the more than 20,000 Union and Confederate soldiers buried in the cemetery.
This 1868 celebration was inspired by local observances of the day in several towns throughout America that had taken place in the three years since the Civil War. In fact, several Northern and Southern cities claim to be the birthplace of Memorial Day, including Columbus, Miss.; Macon, Ga.; Richmond, Va.; Boalsburg, Pa.; and Carbondale, Ill.
In 1966, the federal government, under the direction of President Lyndon Johnson, declared Waterloo, N.Y., the official birthplace of Memorial Day. They chose Waterloo—which had first celebrated the day on May 5, 1866—because the town had made Memorial Day an annual, community-wide event during which businesses closed and residents decorated the graves of soldiers with flowers and flags.
By the late 1800s, many communities across the country had begun to celebrate Memorial Day and, after World War I, observances also began to honor those who had died in all of America's wars. In 1971, Congress declared Memorial Day a national holiday to be celebrated the last Monday in May. (Veterans Day, a day set aside to honor all veterans, living and dead, is celebrated each year on November 11.)
Today, Memorial Day is celebrated at Arlington National Cemetery with a ceremony in which a small American flag is placed on each grave. Also, it is customary for the president or vice-president to give a speech honoring the contributions of the dead and lay a wreath at the Tomb of the Unknown Soldier. About 5,000 people attend the ceremony annually.
Several Southern states continue to set aside a special day for honoring the Confederate dead, which is usually called Confederate Memorial Day.
Memorial Day. (2011). The History Channel website. Retrieved 10:18, May 30, 2011, from http://www.history.com/topics/memorial-day-history.