George Bernard Shaw (26 July 1856 – 2 November 1950)
An exceptionally talented Irish playwright, who authored more than 60 plays in his lifetime. Shaw and his wife, Charlotte Payne-Townshend, settled in Ayot St. Lawrence in a house now called Shaw's Corner. He was preceeded in death by his wife and he lived on there, at Shaw's corner, until his death at age 94.
He was awarded the Nobel Prize for Literature (1925) and an Oscar in (1938).
One of his plays was about the life of Saint Joan of Arc. The play, which is in the public domain, can be accessed below in pdf format:
Play by George Bernard Shaw  via Feedbooks
September 29, 2012 · Posted in
Church History
·
Comments Off

on Saint Joan of Arc

ca. 1412
Domrémy, Duchy of Bar, Kingdom of France.
Died
30 May 1431 (aged 19)
Rouen, France
(then controlled by England)
Honored in
Roman Catholic Church
Anglican Communion
Beatified
18 April 1909, Notre Dame de Paris by Pope Pius X
Canonized
16 May 1920, St. Peter's Basilica, Rome by Pope Benedict XV
Feast
30 May
Patronage
Read More about Joan of Arc Biography
September 19, 2012 · Posted in
Church History
·
Comments Off

on The Gospel of Jesus' Wife
(CNN) – A newly revealed, centuries-old papyrus fragment suggests that some early Christians might have believed Jesus was married. The fragment, written in Coptic, a language used by Egyptian Christians, says in part, "Jesus said to them, 'My wife …"
Harvard Divinity School Professor Karen King announced the findings of the 1 1/2- by 3-inch honey-colored fragment on Tuesday in Rome at the International Association for Coptic Studies.
King has been quick to add this discovered text "does not, however, provide evidence that the historical Jesus was married," she wrote in a draft of her analysis of the fragment set to appear in the January edition of Harvard Theological Review. The divinity school has posted a draft of King's article to which AnneMarie Luijendijk, an associate professor of religion at Princeton University, contributed.
"This fragment, this new piece of papyrus evidence, does not prove that (Jesus) was married, nor does it prove that he was not married. The earliest reliable historical tradition is completely silent on that. So we're in the same position we were before it was found. We don't know if he was married or not," King said in a conference call with reporters.
"What I'm really quick to say is to cut off people who would say this is proof that Jesus was married because historically speaking, it's much too late to constitute historical evidence," she continued. "I'm not saying he was, I'm not saying he wasn't. I'm saying this doesn't help us with that question," she continued.
Follow the CNN Belief Blog on Twitter
In the accounts of Jesus' life in the Bible, there is no mention of his marital status, while the accounts do mention Jesus' mother, father and siblings. The four Gospels – Matthew, Mark, Luke and John – tell the story of Jesus' birth and early childhood then skip to his short, three-year ministry before detailing his death and resurrection.
The idea that Jesus was married is not a new one.
In other writings about the life of Jesus from antiquity suggest Jesus may have been married to Mary Magdalene, a disciple who was close to Jesus. Author Dan Brown also used the idea of Jesus being married as a jumping off point for the fictional novel "The Da Vinci Code." King dismissed that notion in her call with reporters.
"There's no indication we have that Jesus was married," said Darrell Bock, a senior research professor of New Testament studies at Dallas Theological Seminary. "One could say the text is silent on Jesus' marital status is because there was nothing to say."
Initial dating for the honey-colored fragment by the team of scholars puts the papyrus piece coming out of the middle of the second century.
King is referring to the fragment as the "The Gospel of Jesus' Wife" or "GosJesWife" as a short hand for reference, and noting that the abbreviation does not mean this scrap has the same historical weight as the canonical Gospels.
Biblical scholars often use the term gospel to refer to a genre of ancient writings featuring dialogue between Jesus and his disciples, King notes in her paper. The Gospel of Thomas, the Gospel of Mary and the Gospel of Judas are just a few of the ancient accounts about the life of Jesus that Christians do not consider canonical.
At the conference, King said another professor suggested the fragment could have come from the text of a homily, or sermon, where the writer was using this phrase as a literary device. She told reporters that while she will consider that as a possibility, the fragment is "probably a gospel. Probably from the second century and most close to the Gospels of Mary, Thomas and Philip."
Bock agreed with the notion that the text fragment shared similarities with those gospels, called the Gnostic Gospels, which were the writings of an early outlier sect of Christians. He said the text could be referring to a "gnostic rite of marriage that is a picture of the church and Jesus, not a real wife."
But he added, "it's a small text with very little context. We don't know what's wrapped around it to know what it's saying."
Bock said it's likely to be a gnostic text if it proves to be authentic. "The whole text needs vetting. She's doing the right thing to release it and let scholars take a look at," he said, adding "it's a little bit like trying to analyze the game in the first quarter."
"It's a historical curiosity but doesn't really tell us who Jesus was," Bock said. "It's one small speck of a text in a mountain of texts of about Jesus."
CNN's Belief Blog: The faith angles behind the biggest stories
The owner of the fragment has been identified by King as a private collector who has asked to stay anonymous. The owner brought the fragment to Harvard have King examine it in December 2011.
King then brought it to the Institute for the Study of the Ancient World at New York University. Roger Bagnall, the institute's director and an expert on papyrus, examined it and determined it to be authentic, Bangall confirmed to CNN.
Ariel Shisha-Halevy, professor of linguistics at Hebrew University, Jerusalem, who was asked to examine the authenticity, according to the draft of the article, told King via e-mail, "I believe – on the basis of language and grammar – the text is authentic. That is to say, all its grammatical 'noteworthy' features, separately or conjointly, do not warrant condemning it as forgery."
Little is known about the origin of the text. Because both sides of the fragment have writing on them, King said it could have come out of a book rather than a scroll.
"Just like most of the earliest papyri of the New Testament and other literary and documentary papyri, a fragment this damaged could have come from an ancient garbage heap," the King says building on prior research by Luijendijk.
King writes "the importance of the 'Gospel of Jesus' Wife' lies in supplying a new voice within the diverse chorus of early Christian traditions about Jesus that documents that some Christians depicted Jesus as married."
The Smithsonian Channel also announced Monday that it will air a special on King's findings on September 30.
How it All Happened
The basis for the Scopes trial was laid when the Tennessee State Legislature passed the Butler Act – which took effect on March 21st, 1925. The essence of the Act was that it made it illegal for anyone:"… to teach any theory that denies the story of the Divine Creation of man as taught in the Bible, and to teach instead that man has descended from a lower order of animals"in any state-funded educational institution. (For the full wording of the Butler Act seeThe Butler Did It)The ACLU (American Civil Liberties Union) were already aware that the Act was likely to become law because it had been passed by the lower house of the Tennessee legislature by a landslide (in January, 1925).
After a few false starts, the ACLU sent a press release to several Tennessee newspapers, such as the Chattanooga Daily Times, announcing that they would provide legal assistance, etc. for a school teacher in Tennessee who would be willing to stand trial for having taught evolution in a public school so that a test case could be mounted to challenge the constitutional validity of the Act.Encouraged by George Rappelyea, (a mining engineer who managed six local coal and iron mines owned by the Cumberland Coal Company), a group of leading citizens in the small town of Dayton* – the "drug store conspirators" – decided to accept the ACLU's offer, in the hope that the publicity surrounding the trial would help to reverse the town's declining fortunes.
On May 4th the group recruited John Scopes, football coach and algebra, chemistry and physics teacher employed, on a one year contract, by Rhea County High School as the subject for the test case, on the basis that he had taught from the section on evolution in Hunter's A Civic Biology – the State-approved textbook.(* Dayton is situated in the valley between the Cumberland Plateau and the Appalachian Mountains. It is just a few miles West of a line from Chattanooga (36 miles to the Sou' Sou' West) to Knoxville (79 miles to the North East).)Rappelyea sent a telegram to the ACLU's New York office.
The ACLU replied the next day, accepting his proposal. Scopes was charged with having taught evolution on April 24th, 1925. A preliminary hearing on May 9th bound him over pending a specially convened Grand Jury hearing on May 25th. The members of the Grand Jury, who were well aware of the true purpose of the charge against Scopes, handed down an indictment and Scopes was instructed to present himself at the Rhea County court house for trial on the morning of July 10th. At no time was Scopes held in jail on this charge which, by the way, was only classed as a "misdemeanor", not a "felony."
On hearing about the trial, from the leaders of the WCFA (World's Christian Fundamentals Association), on May 12th William Jennings Bryan volunteered his services to the prosecution. By the end of that week Clarence Darrow had contacted Scopes with an offer to appear pro bono for the defense. Darrow effectively became the leading defense counsel, though John Neal was technically chief counsel for the defense. Bryan, on the other hand, was only one of several assistant prosecutors under the leadership of Tom Stewart (Attorney General for the Eighteenth Judicial Circuit).
Who was Involved in these Events?
(Some characters appear in more than one group because they played multiple roles.)
The Judge:
The Honorable J.T. (John Tate) Raulston
(circuit judge for the 18th judicial district)
The Defendent:
John Thomas Scopes(sports coach and teacher at Rhea County High School)
The "Drug Store Conspirators": (See The Drug Store Conspiracyfor details)
Wallace Haggard
(local attorney)
Herbert Hicks
(local attorney)
Sue Hicks
(local attorney – brother of Herbert Hicks)
J.Gordon McKenzie
(County Judge)
W.E. Morgan
(local businessman)
George Rappelyea
(Mining company manager)
Frank E. "Mr Earle" Robinson(owner of Robinson's Drug Store and chairman of the Rhea County Board of Education Note: Robinson is frequently referred to as "Fred". I am indebted to Tom Davis of Bryan College for correcting me on this point.)
John Thomas Scopes
(co-opted)
Walter White
(Rhea County Superintendant of Schools)
Burt Wilber(constable)
Lawyers
For the Defense (The final line up – see For the Defensefor details)
Clarence Darrow
(pro bono volunteer – effective head of the defense team)
Arthur Garfield Hays
(ACLU – nominally manager of the defense team)
Dudley Field Malone
(pro bono volunteer)
Frank B. McElwee
(local attorney)
John R. Neal
(Dean of private law school in Knoxville and technically head of the defense team)
William T. Thomas(Darrow's legal associate)
For the Prosecution
(The final line up – see For the Prosecutionfor details)
William Jennings Bryan
(volunteer – assistant prosecutor)
William Jennings Bryan Jnr
(volunteer – assistant prosecutor, W.J. Bryan's son)
Wallace Haggard
(volunteer – assistant prosecutor)
Herbert Hicks
(volunteer – assistant prosecutor)
Sue Hicks
(volunteer – assistant prosecutor)
Ben McKenzie
(volunteer – assistant prosecutor, retired district attorney-general)
J. Gordon McKenzie
(volunteer – assistant prosecutor, Ben McKenzie's son)
Thomas A. "Tom" Stewart(Chief Prosecutor – Attorney-General for the 18th judicial district)
Witnesses
For the Prosecution (In the order in which they gave evidence)
Walter White
(School superintendent)
Howard Morgan
(student at Rhea County High School – claimed he was present when Scopes allegedly taught Darwin's theory of evolution)
Harry Shelton
(student at Rhea County High School – claimed he was present when Scopes allegedly taught Darwin's theory of evolution)
Frank E. Robinson(drug store owner and chairman of the school board)
Expert Witnesses for the Defense
(Only Maynard Metcalf and William Jennings Bryan gave evidence in person – see The Expert Witnesses – and Others for more on Maynard Metcalf) and Duel in the Shade for Darrow's questions to Bryan. Scientific:
Fay-Cooper Cole
(Professor of anthropology at the University of Chicago)
Winterton C. Curtis
(Professor of zoology, University of Missouri)
Charles Hubbard Judd
(Director of the School of Education, University of Chicago)
Jacob G. Lipman
(Director of the New Jersey agricultural Experiment Station at New Brunswick)
Kirtley F. Mather
(Chairman of the Geology department at Harvard University)
Maynard M. Metcalf
(Zoologist, researching at Johns Hopkins)
Wilbur A. Nelson
(State Geologist for Tennessee)
Horatio Hackett Newman
(Dean of the College of Science at the University of Chicago)
Theological:
William Jennings Bryan
(Politician, public speaker, assistant prosecutor)
Dr. Shailer Matthews
(Dean of the School of Divinity, University of Chicago)
Dr Herbert E. Murkett
(Pastor, First Methodist Church, Chattanooga)
Dr. Herman Rosenwasser
(Rabbi and linguist, San Fransisco)
Walter C. Whitaker(Rector of St. John's Episcopal Church, Knoxville)
The Jurors (The list covers everyone who was called as possible jurors for the trial, in the order they were called, It includes their occupation and religious affiliation, and (where relevant) the reason they were excused from jury service. Only those people with a number against their name actually served on the jury.)
1. W.F. Roberson
(farmer, no religious affiliation)
2. J.W. Dagley
(farmer, Methodist)
3. Jim Riley
(farmer. Religious affiliation, if any, not known)
J.P. Massingill
(minister – excused by Darrow on grounds of partiality)
J.H. Harrison
(excused at own request on grounds of age. He was 66)
4. W.D. Taylor
(farmer, described himself as "Methodist Episcopal, South" (Southern Methodist))
Tom Jackson
(farmer, Southern Methodist – excused by Darrow on grounds of partiality)
5. R.L. Gentry
((farmer, public school teacher, Baptist)
J.C. Dunlap
(After objection by J.G. McKenzie he was excused by judge on grounds of partiality)
W.A. Ault
(merchant, Baptist – excused by Darrow on grounds of partiality)
Will Weir
(teacher – excused by judge after he admitted that he was partial)
6. J.R. Thompson
(ex-US marshall, farm owner (not a farmer), Methodist)
7. W.B. Smith
(farmer, Baptist)
J.T. Leuty
(farmer, no religious affiliation, excused by J.G. McKenzie on grounds of partiality)
8. Jess Goodrich
(shipping clerk, Campbellite)
9. J.H. Bowman
(cabinet maker turned farmer, Methodist)
10. Bill Day
(farm owner. Rented his farm out or farmed it himself, Baptist)
H. A. Davis
(Was called but did not respond.)
F. S. Collins
(Was called but did not respond.)
11. R.L. West
(farmer, Baptist)
W.P. Ferguson
(farmer, Baptist – excused by Darrow on grounds of partiality)
Source/Read More
12. J.S. Wright(farmer, Baptist)
Apr 2, 2005
On this day in 2005, John Paul II, history's most well-traveled pope and the first non-Italian to hold the position since the 16th century, dies at his home in the Vatican. Six days later, two million people packed Vatican City for his funeral, said to be the biggest funeral in history.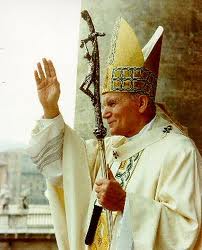 John Paul II was born Karol Jozef Wojtyla in Wadowice, Poland, 35 miles southwest of Krakow, in 1920. After high school, the future pope enrolled at Krakow's Jagiellonian University, where he studied philosophy and literature and performed in a theater group. During World War II, Nazis occupied Krakow and closed the university, forcing Wojtyla to seek work in a quarry and, later, a chemical factory. By 1941, his mother, father, and only brother had all died, leaving him the sole surviving member of his family.
Although Wojtyla had been involved in the church his whole life, it was not until 1942 that he began seminary training. When the war ended, he returned to school at Jagiellonian to study theology, becoming an ordained priest in 1946. He went on to complete two doctorates and became a professor of moral theology and social ethics. On July 4, 1958, at the age of 38, he was appointed auxiliary bishop of Krakow by Pope Pius XII. He later became the city s archbishop, where he spoke out for religious freedom while the church began the Second Vatican Council, which would revolutionize Catholicism. He was made a cardinal in 1967, taking on the challenges of living and working as a Catholic priest in communist Eastern Europe. Once asked if he feared retribution from communist leaders, he replied, "I m not afraid of them. They are afraid of me."
Wojtyla was quietly and slowly building a reputation as a powerful preacher and a man of both great intellect and charisma. Still, when Pope John Paul I died in 1978 after only a 34-day reign, few suspected Wojtyla would be chosen to replace him. But, after seven rounds of balloting, the Sacred College of Cardinals chose the 58-year-old, and he became the first-ever Slavic pope and the youngest to be chosen in 132 years.
A conservative pontiff, John Paul II s papacy was marked by his firm and unwavering opposition to communism and war, as well as abortion, contraception, capital punishment, and homosexual sex. He later came out against euthanasia, human cloning, and stem cell research. He traveled widely as pope, using the eight languages he spoke (Polish, Italian, French, German, English, Spanish, Portuguese, and Latin) and his well-known personal charm, to connect with the Catholic faithful, as well as many outside the fold.
On May 13, 1981, Pope John Paul II was shot in St. Peter s Square by a Turkish political extremist, Mehmet Ali Agca. After his release from the hospital, the pope famously visited his would-be assassin in prison, where he had begun serving a life sentence, and personally forgave him for his actions. The next year, another unsuccessful attempt was made on the pope s life, this time by a fanatical priest who opposed the reforms of Vatican II.
Although it was not confirmed by the Vatican until 2003, many believe Pope John Paul II began suffering from Parkinson s disease in the early 1990s. He began to develop slurred speech and had difficulty walking, though he continued to keep up a physically demanding travel schedule. In his final years, he was forced to delegate many of his official duties, but still found the strength to speak to the faithful from a window at the Vatican. In February 2005, the pope was hospitalized with complications from the flu. He died two months later.
Pope John Paul II is remembered for his successful efforts to end communism, as well as for building bridges with peoples of other faiths, and issuing the Catholic Church s first apology for its actions during World War II. He was succeeded by Joseph Cardinal Ratzinger, who became Pope Benedict XVI. Benedict XVI began the process to beatify John Paul II in May 2005.
Pope John Paul II Dies. (2012). The History Channel website. Retrieved 10:14, April 1, 2012, from http://www.history.com/this-day-in-history/pope-john-paul-ii-dies.