New York (CNN) — Before O.J. Simpson and Casey Anthony, before Scott Peterson, Amanda Knox and the cottage industry of cable news legal pundits, there was the shocking case of Jeffrey MacDonald.
Ten years after his pregnant wife and two young daughters were butchered in their home in Fort Bragg, North Carolina, MacDonald was convicted of the killings and sentenced to life in prison. While a jury was convinced beyond a reasonable doubt of MacDonald's guilt, many people were still left with one lingering question: Did he really do it?
The drama surrounding the heinous crimes and the subsequent trial fascinated the public for decades. It sparked controversial best-selling books, an immensely popular television miniseries and an explosive "60 Minutes" interview that was watched by tens of millions of viewers.
Today, more than 40 years after the murders, questions are still being raised about MacDonald's guilt.
"We've been sold a bill of goods about this case," said filmmaker Errol Morris. "It's as phony as a three dollar bill."
Morris, an Academy Award-winning documentary director whose acclaimed movies include "The Fog of War" and "The Thin Blue Line," has made that opinion the centerpiece of a new investigative book, "A Wilderness of Error: The Trials of Jeffrey MacDonald." At more than 500 pages, it aims to prove that an innocent man is in prison.
"The evidence is neither clear nor convincing," Morris told CNN. "There are many things about this case that rub me the wrong way, but principal among them was how the jury was asked to make decisions about his guilt or innocence with incomplete evidence, evidence that was withheld, corrupted and suppressed."
Flawed forensic analysis, a contaminated crime scene, damaged and destroyed evidence and an effort to bury a confession all contributed to a miscarriage of justice, according to Morris.
"This has nagged me for so many years, "Morris said. "I felt I should do something."
What is not in dispute is what happened at 544 Castle Drive in the early morning hours of February 17, 1970. Military police officers responding to a call from MacDonald found his wife, Colette, beaten and stabbed to death in the master bedroom; the couple's two daughters, Kimberly, 5, and Kristen, 3, were in their beds, also stabbed to death.
MacDonald, who was wounded with two stab wounds and a collapsed lung, told investigators that he was sleeping on the couch when he heard screaming. He said he awoke to find in his home three men and one woman, who he described as having blond hair and wearing a floppy hat. They were chanting "kill the pigs" and "acid's groovy" before attacking him, MacDonald told the investigators.
MacDonald and his claim of killer hippies made headlines around the country. They also turned him into a prime focus of the investigation.
"The story is so bizarre and unlikely and it might actually be true," said CNN senior legal analyst Jeffrey Toobin. "It seems too preposterous on its face that a smart guy might have come up with something better, which raises the possibility that it might actually be true."
What is absolutely certain is that a military inquiry into the murders recommended MacDonald not be court-martialed, citing a lack of evidence. MacDonald was granted an honorable discharge.
He moved to Southern California, where he practiced medicine. But the case against him was far from over. In 1975, a grand jury indicted MacDonald for the murders. He was ultimately convicted in 1979 and sentenced to life in prison.
"He is almost the definition of an unlikely murder suspect," said Toobin. "Princeton graduate, medical doctor, Green Beret, these are the kinds of credentials we associate with people at the top of the heap in this country, not convicted murderers."
Was MacDonald the victim of injustice or a manipulative, cold-blooded killer? "Fatal Vision," the 1983 book on the case by Joe McGinniss, portrayed MacDonald as a cunning sociopath.
Asked to comment on "Wilderness of Error," McGinniss issued the following statement to CNN:
"Jeffrey MacDonald was convicted of the murders of his wife and two young daughters in 1979. In all the years since, every court that has considered the case — including the United States Supreme Court — has upheld that verdict in every aspect. MacDonald is guilty not simply beyond a reasonable doubt, but beyond any doubt."
A key figure in Morris' bid to show MacDonald is innocent is Helena Stoeckley, the woman who confessed to being in the home the night of the murders. Stoeckley, who had a history of drug and alcohol abuse, and who died in 1983, testified that she had no involvement in the murders. Morris said she was encouraged by a prosecutor to alter her testimony.
"Stoeckley was crucial to the defense case because she gave us reason to believe that MacDonald was telling the truth," Morris said. "But if you cut her out of the story by pressuring her to change her story, you are going to change the outcome of the trial."
James Blackburn, the prosecutor who MacDonald said threatened Stoeckley, would not comment on the charge because of pending litigation.
"I was the prosecutor in the case, and I did that job to the best of my ability," Blackburn told CNN. "I did it in great reliance of the evidence the government had and we presented an honorable case and it was straightforward and it was based on good and competent evidence. And I agree with the jury's verdict."
Today, MacDonald, who will be 69 in October, still has his believers. In addition to Morris, they include Hammond A. Beale, who served as a legal adviser during the Fort Bragg military inquiry into the murders.
"I think those of us that are on the side that believes he is totally innocent can't believe this happened," Beale said. "This guy has not only lost his wife and kids but loses his career and ends up in prison for the rest of his life. That's horrendous."
"The army got it right, the federal courts royally screwed it up," Beale added. "I don't think this will ever go away until justice is done."
Morris doubts the conviction will be overturned. Still, he is hopeful MacDonald will one day be freed from custody.
"It's a principle of fairness," Morris said. "You don't want to convict an innocent man."
Author seeks to prove murderer is innocent/Source CNN  Read More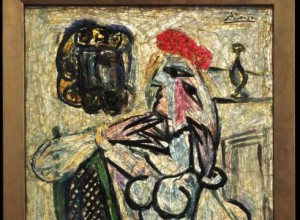 EVANSVILLE, Ind.–A call from a New York art dealer about a glass sculpture by Pablo Picasso to a museum in Evansville, Ind., led the museum to search its holdings and unravel a bizarre mystery of a hidden treasure.
•By Michael Wheatley, Evansville Museum of Arts, History and Science
Pablo Picasso's Seated Woman with Red Hat, a fired-glass piece kept in storage nearly 50 years, was only recently discovered to be genuine.
By Michael Wheatley, Evansville Museum of Arts, History and Science
Pablo Picasso's Seated Woman with Red Hat, a fired-glass piece kept in storage nearly 50 years, was only recently discovered to be genuine.
Arlan Ettinger, of the art broker/auctioneer Guernsey's, who had handled the sale of Jackie Kennedy's possessions and Princess Diana's things, among other celebrities' belongings, was the New Yorker. In February, he was researching rare, extremely valuable sculptures made of glass — the word for it is "gemmaux" — by Picasso. One of Ettinger's clients was considering selling some Picassos and was interested in their value. Ettinger tracked one to Evansville by perusing the papers of its original owner.
But old records of transactions involving art aren't always reliable. Ettinger hung up the phone figuring he'd reached a dead end.
In Evansville, the museum staffers, their curiosity piqued, soon were rummaging through their storage area. And inside a shipping crate that had arrived during the tail end of the Lyndon Johnson administration, there it was, 3 feet tall, a couple of feet across: Picasso's "Femme Assise au Chapeau Rouge" ("Seated Woman with Red Hat").
"I pretty much know the lay of the land here," said John Streetman, in his 38th year as the museum's executive director, "but this was a total surprise."
The cash value of such a piece can't be known until it's sold, but Ettinger puts it "in the range of $30 (million) or $40 million." Another Gemmaux expert said that estimate sounds high. But even half as much is a lot of money to Evansville's museum, whose entire endowment fund contains $6 million.
When Streetman got Ettinger on the phone with news of the Picasso's discovery, "you could almost hear champagne corks popping in the background," Ettinger said. "They were shocked. I don't know if 'embarrassed' is the right word, but maybe 'amazed,' 'thrilled.' "
Museum officials, like the occasional lottery winner that doesn't come forward right away, moved forward with caution. They debated what to do with their new-found masterpiece but kept the debate within the museum's walls.
By the time they spilled the beans in August, their plan was in place: "De-accession." That's museum-speak for: sell the piece, take the cash. Guernsey's Ettinger will handle the transaction via a private sale, not an auction. He said he has fielded some inquiries, but so far there's no deal.
Evansville's Picasso is surely the most spectacular artwork to ever come through town. But only a handful of museum insiders got so much as a peek at it. There was no public showing; the piece was not made available for media photographing. It may even be out of town already. All anyone in the know would say about the artwork is, "It's in a secure place."
"I wanted to show it," said Streetman, "but the president of our board came up with a list of good reasons not to."
Board President Steve Krohn is a businessman, a lawyer. "It would have cost too much money to insure and to adequately protect," he said. "We might have had to hire additional security and make changes to the physical plant that we couldn't justify for one item. We made the only prudent decision."
A Studebaker — and a showman
The story of "Femme Assise au Chapeau Rouge" begins in 1954 with the great Picasso traveling to Paris and producing several dozen glass sculptures, or les gemmaux, in a new and original way.
In 1957, a collection of gemmaux was shown in Paris and New York, and some very fancy people made purchases, including Nelson Rockefeller, the emperor of Japan and Raymond Loewy. Loewy picked out "Femme Assise au Chapeau Rouge."
Loewy today is largely forgotten. But back then, "the father of industrial design" was a ubiquitous celebrity. He designed locomotives, airplanes, tractors, the Lucky Strike cigarette package, the Schick electric razor, the Electrolux refrigerator and the Greyhound Scenicruiser.
Loewy liked to mingle with artists. He counted Salvador Dali a close friend. He collected art and gave it away.
In 1963, as the South Bend, Ind.-based carmaker Studebaker basked in the accolades for the look of its radical, grilleless, Loewy-designed Avanti sports car, Loewy agreed to give his Picasso to the Evansville museum.
Loewy died in 1986, but the decision makes no sense to his son-in-law, David Hagerman, who lives in Atlanta and manages the Loewy estate.
"Raymond Loewy had a great affinity for South Bend," Hagerman said, referring to the Studebaker connection. "I would have assumed if he'd have donated to a museum in Indiana, he'd have donated to a museum in the South Bend area."
It's possible Loewy never even set foot in Evansville, which is 300 miles from South Bend. But he did know Siegfried R. Weng, an artist and arts administrator who by all accounts was difficult to resist.
In the 1940s, Weng headed the art museum in Dayton, Ohio, where he curated a show of Loewy's art collection and probably got to know the great designer.
Weng moved to Evansville to run the museum in 1950 and took the organization to new heights, leading it to the construction of its first new museum building.
"Siegfried (Weng) was like P.T. Barnum," said Streetman. "A very unusual, wonderful man."
Philanthropists often make donations based on personal relations, which would explain Loewy's gift to Evansville. It's impossible to know for certain how that gift came to languish in storage for 44 years. But it's obvious that when Loewy's Picasso arrived, the Evansville museum wasn't paying attention. A staffer mislabeled it a work by "Gemmaux," said Mary Bowers, the current curator.
Some possible explanations for the mix-up: The piece arrived in 1968 (per the terms of Loewy's 1963 promise) just as Weng was retiring; the director as well as his staff may have been preoccupied with their own futures.
Besides, the piece itself wasn't the colossus it is today. Its appraised value, for Loewy's tax purposes, was just $20,000.
The value has increased considerably, but exactly how much isn't clear because as far as the art world knows, no similar work has changed hands for many years.
"There's no pre-established market," said Tina Oldknow, curator of modern glass at the Corning Museum of Glass in Corning, N.Y., which owns three Picasso gemmaux pieces. "We received them in the '90s, when no one really knew what they were," Oldknow said. (She declined to disclose their appraised value.). "But now there's an intense interest in the '50s, and everything from then is being re-evaluated."
Oldknow said she'd "rather not comment" on Ettinger's estimate, "but I think it's high."
Just what will the Evansville museum do with its windfall? There are no plans.
"We'll turn it over to the Finance Committee for their recommendations," said Krohn, the lawyer.
Some townsfolk are sorry to see the artwork go, even if they never saw it in the first place.
"Seems like if the museum needed the money that bad they should have looked through their basement sooner," said Brent Carroll, who manages River City Pawn, where people swap treasures for cash daily. "Something that's been there since '68, to right away take it to where no one's going to see it again? I'd say keep it and put it on display a year or two, then sell it. But that's just me." Indiana museum unravels mystery of Picasso sculpture
I am very saddened to learn of the passing of Neil Armstrong today. Neil and I trained together as technical partners but were also good friends who will always be connected through our participation in the mission of Apollo 11. Whenever I look at the moon it reminds me of the moment over four decades ago when I realized that even though we were farther away from earth than two humans had ever been, we were not alone.
Virtually the entire world took that memorable journey with us. I know I am joined by millions of others in mourning the passing of a true American hero and the best pilot I ever knew. My friend Neil took the small step but giant leap that changed the world and will forever be remembered as a landmark moment in human history. I had truly hoped that in 2019, we would be standing together along with our colleague Mike Collins to commemorate the 50th Anniversary of our moon landing. Regrettably, this is not to be. Neil will most certainly be there with us in spirit.
On behalf of the Aldrin family, we extend our deepest condolences to Carol and the entire Armstrong family. I will miss my friend Neil as I know our fellow citizens and people around world will miss this foremost aviation and space pioneer.
May he Rest in Peace
BUZZ ALDRIN
By Aaron Smith @CNNMoneyAugust 24, 2012: 2:25 PM ET
"But this is not another rant against email. Email is magic. It enables abundant, free communication. Consider how far we have come in less than a century: In 1915 — the year my grandfather was born — Alexander Graham Bell picked up a telephone in New York and made the country's first transcontinental call to San Francisco. Adjusting for inflation, the price of a 3-minute call back then was $440. Today, I video chat through my Gmail account with friends in Budapest or Tokyo — for free. Seriously, magic." Tech Fortune
Four basic periods Characterized by a principal technology used to solve the input, processing, output and communication problemsof the time:

Premechanical,
Mechanical,
Electromechanical, and
Electronic
A. The Premechanical Age: 3000 B.C. – 1450 A.D.
Writing and Alphabets–communication.

First humans communicated only through speaking and picture drawings.
3000 B.C., the Sumerians in Mesopotamia (what is today southern Iraq) devised cuniform
Around 2000 B.C., Phoenicians created symbols
The Greeks later adopted the Phoenician alphabet and added vowels; the Romans gave the letters Latin names to create the alphabet we use today.

Paper and Pens–input technologies.

Sumerians' input technology was a stylus that could scratch marks in wet clay.
About 2600 B.C., the Egyptians write on the papyrus plant
around 100 A.D., the Chinese made paper from rags, on which modern-day papermaking is based.

Books and Libraries: Permanent Storage Devices.

Religious leaders in Mesopotamia kept the earliest "books"
The Egyptians kept scrolls
Around 600 B.C., the Greeks began to fold sheets of papyrus vertically into leaves and bind them together.

The First Numbering Systems.

Egyptian system:

The numbers 1-9 as vertical lines, the number 10 as a U or circle, the number 100 as a coiled rope, and the number 1,000 as a lotus blossom.

The first numbering systems similar to those in use today were invented between 100 and 200 A.D. by Hindus in India who created a nine-digit numbering system.
Around 875 A.D., the concept of zero was developed.

The First Calculators: The Abacus. One of the very first information processors.
B. The Mechanical Age: 1450 – 1840
The First Information Explosion.

Johann Gutenberg (Mainz, Germany)

Invented the movable metal-type printing process in 1450.

The development of book indexes and the widespread use of page numbers.

The first general purpose "computers"

Actually people who held the job title "computer: one who works with numbers."

Slide Rules, the Pascaline and Leibniz's Machine.

Slide Rule. Early 1600s, William Oughtred, an English clergyman, invented the slide rule

Early example of an analog computer.

The Pascaline.Invented by Blaise Pascal (1623-62). The Pascaline (front) (rear view) Diagram of interior

One of the first mechanical computing machines, around 1642.

Leibniz's Machine. Gottfried Wilhelm von Leibniz (1646-1716), German mathematician and philosopher. The Reckoner (reconstruction)

Babbage's EnginesCharles Babbage (1792-1871), eccentric English mathematician

The Difference Engine.

Working model created in 1822.
The "method of differences".

The Analytical Engine.Joseph Marie Jacquard's loom.

Designed during the 1830s
Parts remarkably similar to modern-day computers.

The "store"
The "mill"
Punch cards.

Punch card idea picked up by Babbage from Joseph Marie Jacquard's (1752-1834)loom.

Introduced in 1801.
Binary logic
Fixed program that would operate in real time.

Augusta Ada Byron (1815-52).
The first programmer
C. The Electromechanical Age: 1840 – 1940.
The discovery of ways to harness electricity was the key advance made during this period. Knowledge and information could now be converted into electrical impulses.
The Beginnings of Telecommunication.

Voltaic Battery.
Telegraph.
Morse Code.

Developed in1835 by Samuel Morse
Dots and dashes.

Telephone and Radio.

Alexander Graham Bell.
1876

Followed by the discovery that electrical waves travel through space and can produce an effect far from the point at which they originated.
These two events led to the invention of the radio

Electromechanical Computing

Herman Hollerith and IBM.Herman Hollerith (1860-1929) in 1880. Census Machine. Early punch cards. Punch card workers.

By 1890
The International Business Machines Corporation (IBM).

Mark 1.Paper tape stored data and program instructions.

Howard Aiken, a Ph.D. student at Harvard University
Built the Mark I

Completed January 1942
8 feet tall, 51 feet long, 2 feet thick, weighed 5 tons, used about 750,000 parts
D. The Electronic Age: 1940 – Present.
First Tries.

Early 1940s
Electronic vacuum tubes.

Eckert and Mauchly.

The First High-Speed, General-Purpose Computer Using Vacuum Tubes: Electronic Numerical Integrator and Computer (ENIAC)The ENIAC team (Feb 14, 1946). Left to right: J. Presper Eckert, Jr.; John Grist Brainerd; Sam Feltman; Herman H. Goldstine; John W. Mauchly; Harold Pender; Major General G. L. Barnes; Colonel Paul N. Gillon. Rear view (note vacuum tubes).

Electronic Numerical Integrator and Computer (ENIAC)

1946.
Used vacuum tubes (not mechanical devices) to do its calculations.

Hence, first electronic computer.

Developers John Mauchly, a physicist, and J. Prosper Eckert, an electrical engineer

The Moore School of Electrical Engineering at the University of Pennsylvania

Funded by the U.S. Army.
But it could not store its programs (its set of instructions)
1870
May 28 Older brother Melville Bell dies of tuberculosis at the age of 25. July-August Alexander Graham Bell, his parents, and his sister-in-law, Carrie Bell, emigrate to Canada and settle in Brantford, Ontario.
1871
AprilMoving to Boston, Alexander Graham Bell begins teaching at the Boston School for Deaf Mutes.
1872
March-June Alexander Graham Bell teaches at the Clarke School for the Deaf in Boston and at the American Asylum for the Deaf in Hartford, Connecticut. April 8 Alexander Graham Bell meets Boston attorney Gardiner Greene Hubbard, who will become one of his financial backers and his father-in-law. Fall Alexander Graham Bell opens his School of Vocal Physiology in Boston and starts experimenting with the multiple telegraph. Brochure for Bell's School of Vocal Physiology
1873
Boston University appoints Bell Professor of Vocal Physiology and Elocution at its School of Oratory. Mabel Hubbard, his future wife, becomes one of his private pupils.
1874
Spring Alexander Graham Bell conducts acoustics experiments at the Massachusetts Institute of Technology. He and Clarence Blake, a Boston ear specialist, begin experimenting with the mechanics of the human ear and the phonautograph, a device that could translate sound vibrations into visible tracings. Summer In Brantford, Ontario, Bell first conceives of the idea for the telephone. (Bell's original sketch of the telephone) Bell meets Thomas Watson, a young electrician who would become his assistant, at Charles Williams's electrician shop in Boston.
1875
January Watson begins working with Bell more regularly. February Thomas Sanders, a wealthy leather merchant whose deaf son studied with Bell, and Gardiner Greene Hubbard enter into a formal partnership with Bell in which they provide financial backing for his inventions. March 1-2 Alexander Graham Bell visits noted scientist Joseph Henry at the Smithsonian Institution and explains to him his idea for the telephone. Henry recognizes the significance of Bell's work and offers him encouragement. November 25Mabel Hubbard and Bell become engaged to be married.
1876
February 14 Bell's telephone patent application is filed at the United States Patent Office; Elisha Gray's attorney files a caveat for a telephone just a few hours later. March 7 United States Patent No. 174,465 is officially issued for Bell's telephone. March 10 Intelligible human speech is heard over the telephone for the first time when Bell calls to Watson, "Mr. Watson.Come here. I want to see you." June 25Bell demonstrates the telephone for Sir William Thomson (Baron Kelvin) and Emperor Pedro II of Brazil at the Centennial Exhibition in Philadelphia.
1877
July 9 Bell, Gardiner Greene Hubbard, Thomas Sanders, and Thomas Watson form the Bell Telephone Company. July 11 Mabel Hubbard and Bell are married. August 4Bell and his wife leave for England and remain there for a year.
1878
January 14 Alexander Graham Bell demonstrates the telephone for Queen Victoria. May 8 Elsie May Bell, a daughter, is born. September 12Patent litigation involving the Bell Telephone Company against Western Union Telegraph Company and Elisha Gray begins.
1879
February-March The Bell Telephone Company merges with the New England Telephone Company to become the National Bell Telephone Company. November 10 Western Union and the National Bell Telephone Company reach a settlement.