February 21, 2012 · Posted in Uncategorized ·
Comment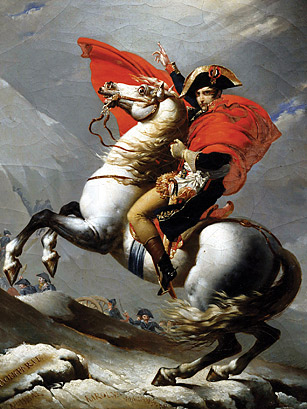 It's been 200 years since Napoleon ravaged Europe in the name of French nationalism, so maybe it's time to put aside the differences over all that warmongering and failed empire-building and all go to an amusement park together. France thinks so, at least. By 2014, construction is set to begin on Napoleonland, a new theme park designed to pay homage to the French leader some believe to be a hero and others think of as one of history's most loathsome dictators. Park-goers can expect a water show recreating the Battle of Trafalgar, tributes to Napoleon's crushing defeat of the Russo-Austrian Army at the Battle of Austerlitz, a ski run littered with the frozen bodies of soldiers and horses and a re-creation of Louis XVI on the guillotine — all of it on the site of one of Napoleon's greatest victories, the Battle of Montereau. Even the Battle of Waterloo, which ended Napoleonic rule, will be featured. "It's going to be fun for the family," Yves Jego, the brainchild behind the park, told The London Telegraph. Indeed. After all, wouldn't Disneyland be better if its grounds were scattered with war casualties and 18th century beheadings?
French Theme Park 'Napoleonland' in the Works
We bet there won't be height restrictions for the rides.
By Samantha Grossman | @sam_grossman | January 24, 2012 |
AP
An image of "The Emperor Napoleon in His Study at the Tuileries," an 1812 painting by Jacques-Louis David.
An attraction for amusement park enthusiasts and history buffs alike might seem like a tall order, but France has found the answer: Napoleonland. According to current plans, this elaborate park, spearheaded by politician Yves Jégo, will be built just south of Paris, at the site of Napoleon's victorious Battle of Montereau, the Telegraph reported.
Key diversions will include daily reenactments of the 1815 Battle of Waterloo, which ended Napoleon's rule, and a water show recreating the Battle of Trafalgar, another major defeat for Napoleon. The park's planners also aspire to recreate the death of France's last king, Louis XVI, who was guillotined during the French Revolution. Another potential feature is a ski run through a wintry battlefield, complete with frozen bodies of soldiers and horses, according to the Daily Mail.
Slightly less sinister attractions will include a museum, eateries, a hotel and gift shops.
As of now, there is no national museum dedicated to the French icon. Jégo hopes to begin construction in 2014, opening Napoleonland's doors in 2017. The park will likely create 3,000 jobs, but will come with an estimated $232 million price tag. With any luck, the planners won't come up short. (Sorry.)
Read more: http://newsfeed.time.com/2012/01/24/french-theme-park-napoleonland-in-the-works/#ixzz1n2X7DAya