Copyright ©2005 National Public Radio®. For personal, noncommercial use only. See Terms of Use. For other uses, prior permission required.
May 9, 2005 – STEVE INSKEEP, host:
This is MORNING EDITION from NPR News. I'm Steve Inskeep.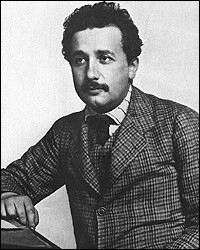 For some months now, we've been recalling the achievements of Albert Einstein. It's been 100 years since he published four scientific papers that altered our understanding of space and time. Historians call it his miracle year, 1905. That's the history we know, but journalism requires that we check up on the conventional wisdom, which explains how one of our correspondents began asking if Albert Einstein was really all that smart. Here are the findings from NPR's David Kestenbaum.
DAVID KESTENBAUM reporting: