National Day of Prayer, Obama, Ground Zero (photos, video)
May 5th, 2011 12:21 pm PT
By Sheila OConnor
SF Top News Examiner
On National Day of Prayer, Obama visits Ground Zero, thanks firefighters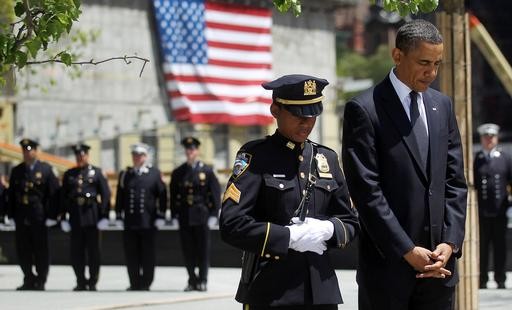 Obama visits Ground Zero, thanks firefighters Credit: Getty Images
San Francisco residents are learning that President Barack Obama has visited Ground Zero and the firefighters who lost colleagues in the attacks of September 11th, 2001. He chose today, the National Day of Prayer, to do so.
The National Day of Prayer was established back in 1952 by Congress. It was established as an event by a joint resolution and was signed into law by President Truman. Today, 5th May is also Cinco de Mayo, a Mexican day of celebration.
Obama's visiting NYC comes just days after Osama bin Laden was killed in Pakistan. Bin Laden had used his wife as a human shield in an attempt to save himself. (See that story here: Osama bin Laden dead, body buried, woman used as…)
Bin Laden's son was also killed with him during the raid. (See that story here: Osama bin Laden son and heir killed in raid)
San Francisco residents had been wondering who would collect the reward worth over $20 million that had been on offer. (See that story here: Osama bin Laden, $25 million reward, who gets it?)
George W. Bush had said right after the September 11th attacks, "The people who knocked these buildings down will hear all of us soon."
Now that promise has been kept.


The purpose of President Obama's visit to New York on Thursday was to lay a wreath at the site of Ground Zero.
According to ABC News, he went to lay a wreath at the Survivors' Tree. "It's a pear tree that actually survived the collapse of the twin towers nearly 10 years ago," says ABC's North America correspondent, Craig McMurtrie.
Obama also talked to the families of the victims and had lunch with some of the firefighters at the Engine 54 firehouse in Midtown Manhattan, where 15 of their colleagues had been lost on September 11th.
According to Reuters, Obama shook hands with firefighters and said to them, "I wanted to just come here to thank you."
He continued on this National Day of Prayer with: "This is a symbolic site of the extraordinary sacrifice that was made on that terrible day almost 10 years ago."
He said the death of Osama bin Laden, "sent a message around the world, but also sent a message here back at home, that when we say we will never forget, we mean what we say."
"It didn't matter who was in charge, we were going to make sure that the perpetrators of that horrible act — that they received justice," stated the President.
According to the BBC, President Obama said on Monday that he had made it his top national security priority to find Osama Bin Laden.
One engineer who had helped clear the wreckage at Ground Zero said, according to Reuters. "We have been waiting for this for 10 years. It puts a little more American pride in people," said Al Fiammetta, age 57, a safety engineer from Bellport, New York.
The September 11th Families for Peaceful Tomorrows is now asking for Obama to close the prison at Guantanamo Bay and bring the American troops back from Afghanistan and Iraq.
"May the wreath you lay today, at the grave site of our loved ones, be more than a symbolic gesture," stated the group, "(Now) accomplish a new mission by bringing our troops home… (and) by closing the prison at Guantanamo Bay.
The photos of the deceased Osama bin Laden will not be released to the public. (See that article here: Osama bin Laden, SF learns whether Obama will…)