National Day of Prayer, Obama, Ground Zero (photos, video)
May 5th, 2011 12:21 pm PT
By Sheila OConnor
SF Top News Examiner
On National Day of Prayer, Obama visits Ground Zero, thanks firefighters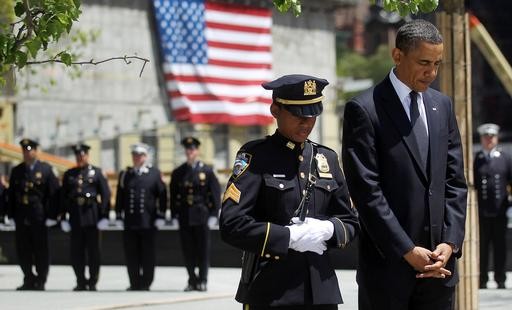 Obama visits Ground Zero, thanks firefighters Credit: Getty Images
San Francisco residents are learning that President Barack Obama has visited Ground Zero and the firefighters who lost colleagues in the attacks of September 11th, 2001. He chose today, the National Day of Prayer, to do so.
The National Day of Prayer was established back in 1952 by Congress. It was established as an event by a joint resolution and was signed into law by President Truman. Today, 5th May is also Cinco de Mayo, a Mexican day of celebration.
Obama's visiting NYC comes just days after Osama bin Laden was killed in Pakistan. Bin Laden had used his wife as a human shield in an attempt to save himself. (See that story here: Osama bin Laden dead, body buried, woman used as…)
Bin Laden's son was also killed with him during the raid. (See that story here: Osama bin Laden son and heir killed in raid)
San Francisco residents had been wondering who would collect the reward worth over $20 million that had been on offer. (See that story here: Osama bin Laden, $25 million reward, who gets it?)
George W. Bush had said right after the September 11th attacks, "The people who knocked these buildings down will hear all of us soon."
Now that promise has been kept.


The purpose of President Obama's visit to New York on Thursday was to lay a wreath at the site of Ground Zero.
According to ABC News, he went to lay a wreath at the Survivors' Tree. "It's a pear tree that actually survived the collapse of the twin towers nearly 10 years ago," says ABC's North America correspondent, Craig McMurtrie.
Obama also talked to the families of the victims and had lunch with some of the firefighters at the Engine 54 firehouse in Midtown Manhattan, where 15 of their colleagues had been lost on September 11th.
According to Reuters, Obama shook hands with firefighters and said to them, "I wanted to just come here to thank you."
He continued on this National Day of Prayer with: "This is a symbolic site of the extraordinary sacrifice that was made on that terrible day almost 10 years ago."
He said the death of Osama bin Laden, "sent a message around the world, but also sent a message here back at home, that when we say we will never forget, we mean what we say."
"It didn't matter who was in charge, we were going to make sure that the perpetrators of that horrible act — that they received justice," stated the President.
According to the BBC, President Obama said on Monday that he had made it his top national security priority to find Osama Bin Laden.
One engineer who had helped clear the wreckage at Ground Zero said, according to Reuters. "We have been waiting for this for 10 years. It puts a little more American pride in people," said Al Fiammetta, age 57, a safety engineer from Bellport, New York.
The September 11th Families for Peaceful Tomorrows is now asking for Obama to close the prison at Guantanamo Bay and bring the American troops back from Afghanistan and Iraq.
"May the wreath you lay today, at the grave site of our loved ones, be more than a symbolic gesture," stated the group, "(Now) accomplish a new mission by bringing our troops home… (and) by closing the prison at Guantanamo Bay.
The photos of the deceased Osama bin Laden will not be released to the public. (See that article here: Osama bin Laden, SF learns whether Obama will…)
For years, the accepted wisdom was that Osama bin Laden was holed up in a cave along the Afghanistan-Pakistan border. It turns out he was living in a rather large, heavily armed house in an affluent town outside Islamabad. With his Abbottabad house being carefully examined, TIME takes a look at the horrible hideouts of other evildoers
Full List
HOME IS WHERE THE HATE IS
Hitler's Bunker
As the Soviets were closing in from the East, and British and U.S. troops were moving toward Berlin from the West, Adolf Hitler took refuge in an underground lair — the Führerbunker, a massive complex of rooms directly below the New Reich Chancellery in Berlin. From there and for the last few months of World War II, Hitler plotted maneuvers he believed would crush the Allies and turn the tide of the war toward the Germans. Nothing of the kind came to fruition. The Russians captured the Reichstag in late April, and Hitler realized his time was running out. He hastily married his longtime mistress Eva Braun inside the bunker. And a day later, on April 30, 1945, it is widely believed that Hitler shot himself with a pistol while Braun digested cyanide capsules.
Osama bin Laden's Compound
In the end, Osama bin Laden was not hiding in a cave. He was not living hand to mouth on the Afghanistan-Pakistan border, as many in the U.S. believed. He was, as White House counterterrorism adviser John Brennan recently put it, "hiding in plain sight" in the idyllic, affluent city of Abbottabad, Pakistan — less than a mile from a Pakistani army military academy. Bin Laden lived on the top two floors of a three-story house surrounded by high concrete walls — towering 10 to 18 ft. (3 to 5.5 m) — topped with barbed wire. For security reasons, his hideout did not have telephone lines or Internet. But he apparently did have a computer; Navy Seals snatched several disk drives during their 38-minute mission that ended in the al-Qaeda leader's death.
Jeffrey Dahmer's Apartment
His wasn't a bunker, a hole or a compound. His was a one-bedroom in Milwaukee's Oxford Apartments. Serial killer and cannibal Jeffrey Dahmer occupied No. 213 at the time of his arrest in the summer of 1991. TIME noted that his neighbors had had clues that something was off: "A power saw buzzed at odd hours. The putrid odor of rotting meat flooded the corridors. Occasionally, a tenant would hear a cry or the thump of a falling object on the second floor." Dahmer, who confessed to murdering 17 boys and young men, surrounded himself with evidence of his gruesome crimes: not just pictures of mutilated human beings, but also skulls, severed heads and other body parts. The Oxford Apartments were later destroyed, as was Dahmer, who was killed by another inmate in 1994.
The Manson Family Ranch
The Spahn Movie Ranch is just your typical family home. If that family is the Family of Charles Manson and his devoted cult of followers, that is. In 1968, at age 80, dairy farmer George Spahn allowed Manson and his followers to move onto his 500-acre (200 hectares) property near Topanga Canyon in Southern California and live rent-free in exchange for housework and sexual favors from the group's women. It was from this ranch that Manson directed the killings of actress Sharon Tate — the pregnant wife of director Roman Polanski — and six others over a two-day period beginning Aug. 9, 1969. (Tate, who was just two weeks away from giving birth, was stabbed 16 times.) In an article from 1969, TIME called the killings "one of the grisliest, bloodiest, and apparently most senseless crimes of the century." After their arrest in October 1969, mastermind Manson and three of his followers were sentenced to death. (When California abolished the death penalty in 1972, their sentences were commuted to life in prison.)
H.H. Holmes' Murder Castle
When a building gets nicknamed the Murder Castle, you know the story behind it is going to be bad. In 1886, H.H. Holmes, a pharmacist who would later be called the first U.S. serial killer, bought a Chicago drugstore that was owned by a cancer-stricken man named E.S. Holton. When Holton died, Holmes bought up surrounding property until he'd acquired an entire city block. He renovated the buildings and turned them into a hotel just in time for the 1893 World's Fair. But this was no ordinary hotel: most of the rooms were windowless, with stairways to nowhere and hallways that ended in dead ends. Holmes also built gas jets into hotel-room walls, a wooden disposal chute and person-size kiln in the basement. This was the perfect place to murder someone. And that's exactly what Holmes did: for much of 1893, he tortured and killed an untold number of people at his hotel, mostly young women visiting the city for the World's Fair. Holmes was caught and eventually hanged. He admitted to killing 27 people, although authorities still wonder if the body count might be dozens more. Strangely, the first floor of the Murder Castle remained a proper drugstore. Every day, customers purchased tonics and medicine, unaware of the horrors taking place directly above them.
The Unabomber's Cabin
Ted Kaczynski lived inside a 10-by-12-ft. (3 by 3.6 m) shack he built near Lincoln, Mont., for almost two decades. It was a bombmaking, manifesto-writing shack that enabled the Unabomber to terrorize U.S. citizens through mail bombs for years. The one-room cabin — which included books, a workbench, a potbellied stove and plenty of explosive-making materials — was almost demolished after Kaczynski was arrested in 1996. But at the last minute, it was saved and was later put on display at the Newseum in Washington, D.C., just blocks from the FBI headquarters where the Unabomber was the target of an immense investigation for 17 years.
Josef Fritzl's Dungeon
Elisabeth, daughter of 73-year-old Josef Fritzl, had been kept captive in a dungeon in Amstetten, Austria, by her father since she was a teenager. Josef had convinced his wife, Elisabeth's mother, Rosemarie, that Elisabeth had run off to live with a friend, even presenting letters he forced Elisabeth to write. During the time Elisabeth was underground, Josef raped her repeatedly and fathered seven children with her, one of which died soon after being born. Three of Elisabeth's remaining children were taken upstairs to live with Josef and his wife. This time, Josef convinced Rosemarie that the children had been left at their door as orphans. Elisabeth and the children still living in the dungeon (Kerstin, Stefan and Felix) had come to terms with living in the cramped, dingy space and were sure they would never be freed — at least not while Josef was alive. But when 19-year-old Kerstin fell ill in April 2008, Josef agreed to take her to the hospital. He and Elisabeth carried her out of the house, and Elisabeth was immediately ordered back to her prison. At the hospital, authorities were puzzled by Kerstin's illness and eventually police authorities took Josef into custody. Elisabeth, then 42, was freed, and in March 2009, Josef pleaded guilty to mass rape, incest, wrongful imprisonment, coercion and murder by negligence and was sentenced to life in prison.
Jonestown
On Nov. 18, 1978, more than 900 people died in the People's Temple commune in Guyana — better known as Jonestown. Cult founder Jim Jones, who led his followers to suicide and murder, had made his lair his crime scene. Soon after, a TIME correspondent described the "scores and scores of bodies" he saw there: "Couples with their arms around each other, children holding parents. Nothing moved. Washing hung on the clotheslines. The fields were freshly plowed. Banana trees and grape vines were flourishing. But nothing moved."
Saddam Hussein's Spider Hole
Eight months after being ousted from power in Baghdad, the Iraqi tyrant was found in December 2003 hiding out in Ad-Dawr, a town 10 miles (16 km) south of his hometown of Tikrit. Saddam Hussein was pulled from a hole with a depth of 6 to 8 ft. (2 to 2.5 m) that was wide enough for him to lie down in. Also found in the so-called spider hole? Two AK-47s, a pistol and $750,000 worth in $100 bills. Saddam's capture came after a lengthy investigation in which intelligence officers questioned bodyguards and family members close to the deposed leader. When pulled from the subterranean hideout, Saddam seemed confused and disoriented. After the successful capture, President George W. Bush announced to Iraqis, "You do not have to fear the rule of Saddam Hussein ever again." Saddam was tried in Baghdad for crimes against humanity during his 23-year rule and was found guilty in November 2006. He was hanged the following month.
Elizabeth Bathory's Castle
She was said to have bathed in the blood of murdered virgins in order to maintain her youthful glow. That's pretty bad stuff. Countess Elizabeth Bathory, known as the Blood Countess, is regarded by some as one of the influences for Bram Stoker's Dracula. In the first decade of the 1600s, Bathory — a Hungarian noble — was arrested and accused of, among other crimes, murdering and torturing young servant girls and townsfolk at her castle in Cachtice, located in what is now Slovakia. Whether or not she killed hundreds or dozens of people (or any, really) will never be known. What is known is that while Bathory was not convicted of any of the crimes she was tried for, she was kept under house arrest in Castle Cachtice, where she died in 1614 after three years of imprisonment.© 2011 Time Inc. All rights reserved
By AP / KRISTEN GELINEAU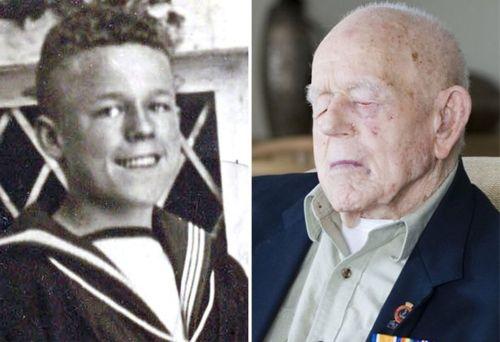 SYDNEY) — Claude Stanley Choules, the last known combat veteran of World War I, died in a Western Australia nursing home Thursday at age 110. And though his accomplishments were many — including a a 41-year military career that spanned two world wars — the man known as "Chuckles" to his comrades in the Australian Navy was happiest being known as a dedicated family man. "We all loved him," his 84-year-old daughter Daphne Edinger told The Associated Press. "It's going to be sad to think of him not being here any longer, but that's the way things go."
Choules was born March 3, 1901, in the small British town of Pershore, Worcestershire, one of seven children. As a child, he was told his mother had died — a lie meant to cover a more painful truth: She left when he was 5 to pursue an acting career. The abandonment affected him profoundly, said his other daughter, Anne Pow, and he grew up determined to create a happy home for his own children. ( See TIME's photoessay "Peter van Agtmael's Journey Through War.")
In his autobiography, "The Last of the Last" published when he was 108, he remembered the day the first motor car drove through town, an event that brought all the villagers outside to watch. He remembered when a packet of cigarettes cost a penny. He remembered learning to surf off the coast of South Africa, and how strange he found it that black locals were forced to use a separate beach from whites.
He was drawn to the water at an early age, fishing and swimming at the local brook. Later in life, he would regularly swim in the warm waters off the Western Australia state coast, only stopping when he turned 100.
World War I was raging when Choules began training with the British Royal Navy, just one month after he turned 14. In 1917, he joined the battleship HMS Revenge, from which he watched the 1918 surrender of the German High Seas Fleet, the main battle fleet of the German Navy during the war. "There was no sign of fight left in the Germans as they came out of the mist at about 10 a.m.," Choules wrote in his autobiography. The German flag, he recalled, was hauled down at sunset. "So ended the most momentous day in the annals of naval warfare," he wrote. "A fleet of ships surrendered without firing a shot."
Choules later joined the Royal Australian Navy and settled permanently Down Under, where he found life much more pleasant than in his home country. "I was nobody," he told Australian Broadcasting Corp. radio in November 2009 of his years in England. "But I was somebody here."
During World War II, he was the acting torpedo officer in Fremantle, Western Australia, and chief demolition officer for the western side of the Australian continent. Choules disposed of the first mine to wash ashore in Australia during the war.
He later transferred to the Naval Dockyard Police and remained in the service until his retirement in 1956. "His career has spanned some of the most significant events in maritime history," Royal Australian Navy Captain Brett Wolski said in a statement Thursday.
But despite the fame his military service (and longevity) brought him, Choules later in life became a pacifist who was uncomfortable with anything that glorified war. He disagreed with the celebration of Anzac Day, Australia's most important war memorial holiday, and refused to march in parades held each year to mark the holiday. "He didn't believe in war," Edinger said.
Choules and another Briton, Florence Green, became the war's last known surviving service members after the death of American Frank Buckles in February, according to the Order of the First World War, a U.S.-based group that tracks veterans. Choules was the last known surviving combatant of the war. Green, who turned 110 in February, was a waitress in the Women's Royal Air Force.
It is a common question people have about astronauts. There must be complications at zero gravity when it involves this highly personal activity that everyone, even those in the highest ranks of power, must do, the act of visiting the John, as we have nicknamed the necessary room, named after inventor of the
flushable toilet was named Sir John Harrington
.
According to a Time magazine article, going to the bathroom in space, involves a complicated invention known as "WCS" or "waste collection system."