May 26, 2012 · Posted in
America
·
Comments Off

on By the numbers: Veterans and Memorial Day – CNN.com
By Amy Roberts and Lindsey Knight, CNN Library

updated 6:06 PM EDT, Fri May 25, 2012

CNN.com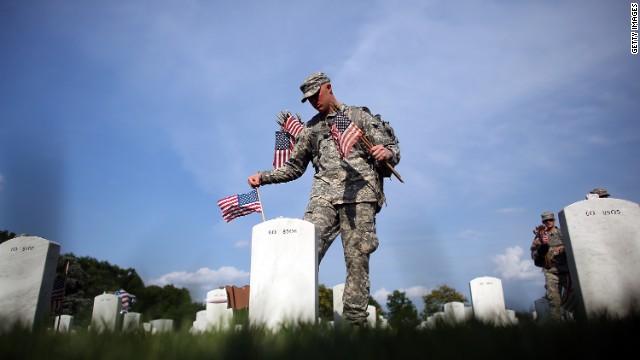 Members of the 3rd U.S. Infantry Regiment place flags at the graves of U.S. soldiers buried at Arlington National Cemetery.
Washington (CNN) — As the country heads into the Memorial Day weekend, there are still almost 1.5 million U.S soldiers, sailors, airmen and Marines deployed in war zones or combat missions worldwide, and the 3,000th coalition service member, a U.S. sailor, has died in Afghanistan.
So far, more than 6,400 U.S. servicemen and Read More
May 20, 2012 · Posted in
America
·
Comments Off

on Memorial Day History
A Brief History of Memorial Day
Full Article
http://www.pbs.org/memorialdayconcert/meaning/
Originally called Decoration Day, Memorial Day is a day of remembrance for those who have died in service to our country. It was first widely observed on May 30, 1868, to commemorate the sacrifices of Civil War soldiers, by proclamation of General John A. Logan of the Grand Army of the Republic, an organization of former sailors and soldiers.