June 30, 2011 · Posted in Uncategorized ·
Comment
Listen to the Story at
All Things Considered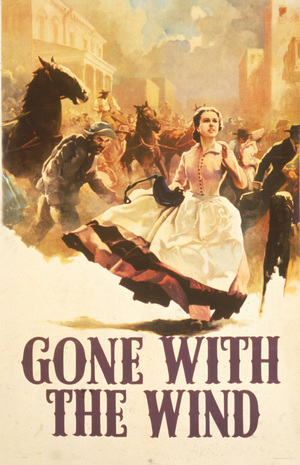 Hulton Archive/Getty Images Margaret Mitchell's novel Gone with the Wind was published 75 years ago this month. A 1936 promotional poster for the book shows heroine Scarlett O'Hara running through the streets as Atlanta burns. 
As a child growing up just south of Atlanta, Margaret Mitchell used to sit on the front porch, listening to adults tell stories about the Civil War as they passed still summer nights in Clayton County. Those stories went on to help inspire one of the most famous novels of all time —Gone with the Wind, which was published 75 years ago this month.
Mitchell "used to pretend that she was asleep," says Peter Bonner, who runs a tour company in the area. "[She would] lay there on the porch and stick around and hear some of those great stories. Later, she said, 'I sat on the fat slippery laps of my great-aunts and heard what would become Gone with the Wind.' "
Bonner says he's found stories of a real slave named Prissy and even the tale of making a dress out of green velvet drapes. Those accounts, found in Mitchell's letters, are at least in part stories about the author's great-grandparents, the Fitzgeralds, who were among the richest planters in Clayton County. Mitchell was quoted as saying Tara was in fact her grandparents' two-story country home. But tourists are always expecting something grander.
So when visitors ask to see the Tara depicted in the movie, they're sent to Jonesboro, Ga., about 10 miles south of Atlanta, where a plantation house called Stately Oaks was moved and preserved as an example of an antebellum home. Tall oaks surround the 1839 Greek Revival style house with grand porches and white pillars.
"Margaret took the Hollywood bigwigs on a tour here," Bonner says. "[She] showed them everything from little bitty farm houses [to] shacks to [Stately Oaks]. A lot of folks come here and see the two-gallery porches and the columns and they say, 'Oh my goodness. That's Tara.' "
Historical Jonesboro/Clayton CountyThe Stately Oaks plantation house in Jonesboro, Ga., was preserved as an example of an antebellum home. It's about as close as you can get to the movie version of Tara; Mitchell based the novel's Tara on her grandparents' country home. 
The movie version of Tara doesn't really exist, but Bonner says this is perhaps the closest thing to it.
"Instead of making people feel bad, [saying] 'Oh you're so silly, it didn't really happen,' we say, 'No. That is Hollywood's version. Let us take you back and give you a little taste of it: the foundation … of what Margaret Mitchell wrote that would later become the movie that everyone loves.' "
Of course, not everyone here loves the Pulitzer Prize-winning book, and the film's portrayal of slaves and plantation life remains controversial. Clayton County is now predominantly black and some residents say they're ambivalent about the link with the book and the movie.
Debbie Sanchez, who has lived in the county for more than 30 years, acknowledges that it's sometimes tough to be associated with the book. "It wasn't something positive for African-Americans," she says. "We didn't benefit."
Jonesboro resident Carol Stewart says the book surfaces anger about the history of the South and the rights that African-Americans were denied. "Most people just sort of ignore it because it is a little hurtful," Stewart says. "That's the sense I get from talking to … people in the community. … It's a bad part of the county's history. Except it's not really history, it was fiction."
More On 'Gone With The Wind'
Shrewd, Selfish Scarlett: A Complicated Heroine
Karen Grigsby Bates on the complicated business of being a young black girl with Scarlett fever.
Pat Conroy Marks 75 Years Of 'Gone With The Wind'
Author Pat Conroy shares his lifelong connection to Margaret Mitchell's award-winning book.
Who Gives A Damn About Scarlett O'Hara's Dresses?
Some dresses from Gone With the Wind are in worse shape than Scarlett O'Hara's love life.
Coming to Grips with Scarlett Fever
Growing up, there was plenty to read on the shelves in our house. In addition to James Baldwin, …
March 14, 2009
Race, Gender Roles In 'Gone With The Wind'
[7 min 59 sec]
But this area now relies on the romantic picture of the antebellum South to boost tourism. In downtown Jonesboro, 15,000 to 20,000 people visit the Road to Tara Museum each year. It's housed in the 1860s train depot and contains thousands of items related to Gone with the Wind — memorabilia from the movie including Scarlett O'Hara's pantalets, the Mitchell family china and original manuscripts.
"We have a variety of copies of Margaret Mitchell's book including some of the original books that were released," says Rebekah Cline of the Clayton County Convention and Visitors Bureau, which runs the museum. "And we do have one edition that actually has Margaret Mitchell's signature, and that can be valued for as much as $25,000 today."
There's no official estimate of how much money the area's association with the book generates, but Charles Wright, who has lived here for 35 years, says it's been a good thing in an area hit hard by the recession.
"I think it … helps put Jonesboro on the map," Wright says. "Without Gone with the Wind, a lot of people probably wouldn't have heard of it."
Gone with the Wind may be remembered as an epic love affair, an account of Civil War violence, or a story about the struggle to endure. In a 1936 interview, Mitchell herself said the novel's theme is survival — "I wrote about people who had gumption," she said, "and people who didn't."
Original Article may be found at: NPR
June 29, 2011 · Posted in Uncategorized ·
Comment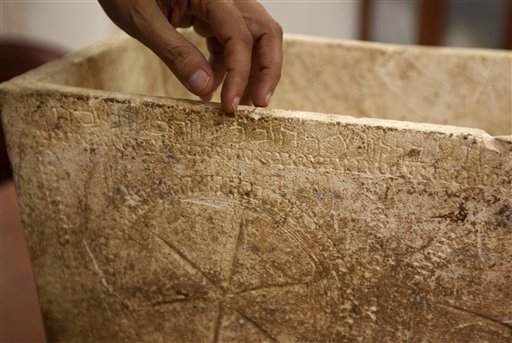 A worker of the Israel Antiquities Authority shows the inscription on a 2,000-year-old ossuary in the IAA offices at the Rockefeller Museum in Jerusalem, Wednesday, June 29, 2011. Israeli scholars said Wednesday they have confirmed the authenticity of the ancient ossuary bearing the name of a relative of the high priest Caiaphas of the New Testament. The ossuary bears an inscription with the name "Miriam daughter of Yeshua son of Caiaphas, priest of Maaziah from Beth Imri." (AP Photo/Sebastian Scheiner)
The Associated Press
Wednesday, June 29, 2011 6:05 PM EDT
Israeli scholars say biblical burial box genuine
The Associated Press
Wednesday, June 29, 2011 11:01 AM EDT
JERUSALEM (AP) — Israeli scholars have confirmed the authenticity of a 2,000-year-old burial box that appears to bear the name of a relative of the high priest Caiaphas mentioned in the New Testament, the Israel Antiquities Authority said Wednesday.
The find offers support for the existence of the biblical Caiaphas, who appears in the New Testament as a temple priest and an adversary of Jesus who played a key role in his crucifixion.
The ossuary — a stone chest used to store bones — is decorated with the stylized shapes of flowers and bears an inscription with the name "Miriam daughter of Yeshua son of Caiaphas, priest of Maaziah from Beth Imri."
The ossuary was seized from tomb robbers three years ago, the government antiquities body said in a statement. Because it "was not found in a controlled archaeological excavation and because of its special scientific importance," the statement said, it has been undergoing lab tests since then.
The tests, which used powerful microscopes to inspect layers of buildup on the box and inscription, were carried out by two scholars, one from Tel Aviv University and the other from Bar Ilan University, the statement said. The research indicated that the inscription is "genuine and ancient."
Careful tests were necessary because forgery is common in the world of biblical artifacts, where a brisk black market exists and where antiquities linked in some way to the Bible can fetch millions of dollars.
A similar ossuary — bearing the inscription "James son of Joseph brother of Jesus" — is currently at the center of a fraud trial under way in Israel.
The James ossuary was exhibited to widespread acclaim as the only known archaeological link to Jesus, but lab tests run by the Israel Antiquities Authority indicated the inscription was fake. An Israeli collector has been charged with forging the ossuary and other biblical antiquities, and a verdict is pending. The collector says the box is authentic.
The scholars believe the Miriam ossuary was plundered from a tomb in the Valley of Elah, southwest of Jerusalem.
The word "maaziah" on the inscription refers to a subset of the priestly caste. Scholars believe "Beth Imri" refers either to a priestly family or to the family's village of origin.
Copyright 2011 The Associated Press. All rights reserved. This material may not be published, broadcast, rewritten or redistributed.
June 29, 2011 · Posted in Uncategorized ·
Comment
"The July issue of the National Geographic magazine, on newsstands June 28th" National Geographic
Where, oh where is Cleopatra? She's everywhere, of course—her name immortalized by slot machines, board games, dry cleaners, exotic dancers, and even a Mediterranean pollution-monitoring project. She is orbiting the sun as the asteroid 216 Kleopatra. Her "bath rituals and decadent lifestyle" are credited with inspiring a perfume. Today the woman who ruled as the last pharaoh of Egypt and who is alleged to have tested toxic potions on prisoners is instead poisoning her subjects as the most popular brand of cigarettes in the Middle East.
 In the memorable phrase of critic Harold Bloom, she was the "world's first celebrity." If history is a stage, no actress was ever so versatile: royal daughter, royal mother, royal sister from a family that makes the Sopranos look like the Waltons. When not serving as a Rorschach test of male fixations, Cleopatra is an inexhaustible muse. To a recent best-selling biography add—from 1540 to 1905—five ballets, 45 operas, and 77 plays. She starred in at least seven films; an upcoming version will feature Angelina Jolie. 
  Yet if she is everywhere, Cleopatra is also nowhere, obscured in what biographer Michael Grant called the "fog of fiction and vituperation which has surrounded her personality from her own lifetime onwards." Despite her reputed powers of seduction, there is no reliable depiction of her face. What images do exist are based on unflattering silhouettes on coins. There is an unrevealing 20-foot-tall relief on a temple at Dendera, and museums display a few marble busts, most of which may not even be of Cleopatra.
"Photos are in the July 2011 issue of National Geographic magazine, on newsstands now."
June 28, 2011 · Posted in Uncategorized ·
Comment
First World War erupts. (2011). The History Channel website. Retrieved 9:42, June 25, 2011, from http://www.history.com/this-day-in-history/first-world-war-erupts.
On June 28, 1914, in an event that is widely regarded as sparking the outbreak of World War I, Archduke Franz Ferdinand, heir to the Austro-Hungarian empire, was shot to death with his wife by Bosnian Serb Gavrilo Princip in Sarajevo, Bosnia. Ferdinand had been inspecting his uncle's imperial armed forces in Bosnia and Herzegovina, despite the threat of Serbian nationalists who wanted these Austro-Hungarian possessions to join newly independent Serbia. Austria-Hungary blamed the Serbian government for the attack and hoped to use the incident as justification for settling the problem of Slavic nationalism once and for all. However, as Russia supported Serbia, an Austria-Hungary declaration of war was delayed until its leaders received assurances from German leader Kaiser Wilhelm II that Germany would support their cause in the event of a Russian intervention.
On July 28, Austria-Hungary declared war on Serbia, and the tenuous peace between Europe's great powers collapsed. On July 29, Austro-Hungarian forces began to shell the Serbian capital of Belgrade, and Russia, Serbia's ally, ordered a troop mobilization against Austria-Hungary. France, allied with Russia, began to mobilize on August 1. France and Germany declared war against each other on August 3. After crossing through neutral Luxembourg, the German army invaded Belgium on the night of August 3-4, prompting Great Britain, Belgium's ally, to declare war against Germany.
For the most part, the people of Europe greeted the outbreak of war with jubilation. Most patriotically assumed that their country would be victorious within months. Of the initial belligerents, Germany was most prepared for the outbreak of hostilities, and its military leaders had formatted a sophisticated military strategy known as the "Schlieffen Plan," which envisioned the conquest of France through a great arcing offensive through Belgium and into northern France. Russia, slow to mobilize, was to be kept occupied by Austro-Hungarian forces while Germany attacked France.
The Schlieffen Plan was nearly successful, but in early September the French rallied and halted the German advance at the bloody Battle of the Marne near Paris. By the end of 1914, well over a million soldiers of various nationalities had been killed on the battlefields of Europe, and neither for the Allies nor the Central Powers was a final victory in sight. On the western front–the battle line that stretched across northern France and Belgium–the combatants settled down in the trenches for a terrible war of attrition.
In 1915, the Allies attempted to break the stalemate with an amphibious invasion of Turkey, which had joined the Central Powers in October 1914, but after heavy bloodshed the Allies were forced to retreat in early 1916. The year 1916 saw great offensives by Germany and Britain along the western front, but neither side accomplished a decisive victory. In the east, Germany was more successful, and the disorganized Russian army suffered terrible losses, spurring the outbreak of the Russian Revolution in 1917. By the end of 1917, the Bolsheviks had seized power in Russia and immediately set about negotiating peace with Germany. In 1918, the infusion of American troops and resources into the western front finally tipped the scale in the Allies' favor. Bereft of manpower and supplies and faced with an imminent invasion, Germany signed an armistice agreement with the Allies in November 1918.
World War I was known as the "war to end all wars" because of the great slaughter and destruction it caused. Unfortunately, the peace treaty that officially ended the conflict–the Treaty of Versailles of 1919–forced punitive terms on Germany that destabilized Europe and laid the groundwork for World War II.
June 28, 2011 · Posted in Uncategorized ·
Comment
On June 28th, 1898, Congress passed the Curtis Act which included in the body of the legislation allotment to the Five Civilized Tribes and ending them as sovereign nations by March 4, 1906. The act also abolished tribal courts and forbade enforcement of tribal laws in federal courts. The act forced the tribes to begin enrolling tribal members and to take up allotments by the 1906 deadline.
Ironically, the act was authored by Kaw tribal member Charles Curtis, Congressman from Kansas.
June 27, 2011 · Posted in Uncategorized ·
Comment
By Annie Lowrey
Posted Friday, June 24, 2011, at 5:18 PM
EThttp://www.slate.com/id/2297513?wpisrc=xs_wp_0001
Since even before Arthur Laffer drew his
curve on a napkin, Republicans and
Democrats have been having the same
fight about taxes and growth. Republican
politicians insist that tax cuts "pay for
themselves," increasing receipts by
goosing economic growth. Democrats and
virtually all economists say they're
wrong. Today, this very dispute animates
the showdown between Republicans and
Democrats over whether to include any
tax increases in the long-term plan to
reduce the deficit. But there are a few
cases where tax cuts have arguably
raised receipts. These cases are
instructive, as they are so specific and so
rare.
Let's look at three. First, back in the
1920s, Treasury Secretary Andrew Mellon
pushed Congress to enact a series of tax
cuts. The U.S. dropped the top marginal
income-tax rate from 73 percent to 25
percent. Tax receipts from the wealthiest
Americans rose. According to Treasury
data, income taxes paid by Americans
making more than $100,000 per year
increased from $302 million to $714
million between 1922 and 1928, with the
rich's share of income taxes paid rising
from 35 to 61 percent.
Second, Kennedy-era income tax cuts
brought the top marginal rate from an
eye-watering 91 percent down to a still-
eye-watering 70 percent in 1964. The
wealthiest earners paid more tax after
the tax cut, some say, even though the
rate dropped 21 percentage points. An a
nalysis by Laffer showed, for instance,
that in 1965 people making more than $100,000 a year paid $3.76 billion in taxes, versus the $2.1 billion forecast under the higher rate. A few economists say that Ronald Reagan's income-tax cuts, which dropped the top bracket's rate to 50 percent, had a similar effect. Berkeley economist Brad DeLong, for instance, writes, "Arthur Laffer is probably right at the top end: reducing the top tax rate from 70 percent to 50 percent is probably a revenue gainer and surely not much of a loser."
Third, we look abroad. In the 1990s, Ireland's parliament enacted legislation that took certain corporate income tax rates down to 12.5 percent, one of the lowest rates on earth. Receipts climbed. The country, in its "Celtic Tiger" boom period, rapidly became richer. Corporate tax revenues jumped from less than 2 percent of GDP to more than 3 percent of GDP.
In all three cases, the tax cuts likely helped to increase tax receipts. How do lower taxes raise the amount the government takes in? Three answers are commonly given. First, tax cuts encourage businesses and individuals to be more honest about their earnings. Rather than hiding income, taxpayers just fess up and pay their share. Second, lower taxes encourage businesses and individuals to move money from lower-productivity, tax-free investments and shelters to more productive, taxable investments. Third, most importantly, perhaps, tax cuts goose growth. The government might be taking a smaller piece of the pie, but the tax cuts make the pie bigger. (In Ireland's case, of course, there's a fourth: The country became a kind of tax haven.)
The problem, according to most economists, is that Republicans now apply that dogma to all taxes, in all situations, even though there are few times when tax cuts actually pay for themselves. And even the case studies that do argue for supply-side economics are more ambiguous than they seem at first blush.
Both the Kennedy and Mellon tax-cut packages actually lowered overall revenue, relative to a baseline where the tax cuts did not happen. They just increased some receipts from richer families. Take a Congressional Budget Office analysis of the Kennedy-era cuts. No studies "showed that the increased economic activity generated by the tax cut raised revenues and lowered countercyclical transfer payments enough to make the tax-rate reductions self-financing," it wrote in 1978. "Instead, the models showed a net increase in the federal deficit, after three years, of $5 billion to $13 billion," versus models where the tax cuts never took effect. Shorthand: The tax cuts did pay for themselves a little bit by inducing growth, but not nearly enough to pay for themselves entirely.
Moreover, economists stress that tax cuts (and increases, for that matter) hardly work in a vacuum to bring about changes in receipts. Income-tax payments tend to naturally increase year-on-year because of population growth, GDP growth, and inflation. Monetary policy, government spending, and the business cycle also have a major impact. Thus, showing causation becomes a tricky exercise when it comes to taxes. Receipts often climb after tax cuts, but not necessarily because of them.
The Irish case also offers little support for the idea that tax cuts always pay for themselves by goosing growth. The cut in the corporate tax rate did not aid Irish companies' bottom lines so much as it attracted extraordinary amounts of foreign capital. International firms like Pfizer relocated their European headquarters to the country to take advantage of the low tax rates. All those new companies contributed to an expanded corporate tax base. (Now, Ireland, suffering from crippling debts, is scared to raise the tax rate, which might encourage the companies to leave.)
In short, those who say that every tax cut pays for itself are simply wrong. President Bush, for instance, insisted, "You cut taxes, and the tax revenues increase." GOP presidential hopeful Tim Pawlenty thinks the same (but adds a wan caveat): "As people look back to the historical examples, there's been other chapters where tax cuts have been enacted, and almost always they raise revenues if you just isolate the effect of the tax cuts." Sorry, governor. A few examples hardly prove the rule.
Like Slate on Facebook. Follow us on Twitter.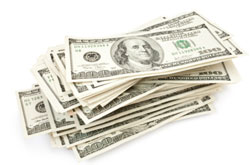 Do Tax Cuts Ever Increase Government Revenues?
Three historical examples of tax cuts paying for themselves, and how they undercut the
GOP claim that tax cuts always do that.