July 1, 2011 · Posted in Uncategorized ·
Comment
JUNE 27, 2011 03:50 PM EDT

On a lonely, country road in Dunlap, Kan., a monument soars. An engraved stainless steel plaque stretches between two pillars of limestone and marks the family farm of a freed slave.
Built by Jack Davis, whose family bought the farm more than a century ago, the monument honors the thousands of African Americans who fled the lower Mississippi Valley for Kansas, seeking a better life.
Sometimes called "Exodusters," a derogatory term coined by newspapers of the time, they're former slaves who left the South in 1879 after Reconstruction failed to grant them the benefits of citizenry: the freedom to live as they chose, vote freely and own land. Instead, Reconstruction resulted in the Black Codes, new laws that reinforced oppression, exchanging the chains of slavery for the yoke of tenant farming and sharecropping.
But more than abject poverty, Exodusters fled the anarchy and violence that followed the Civil War when marauding ex-Confederate soldiers and angry Southerners forged the Ku Klux Klan. This "tide of disorder" swept through the South with its members stealing livestock, burning barns, terrorizing and killing African Americans.
Most immigrants were spurred by word of mouth, while others followed organizers such as Benjamin "Pap" Singleton of Tennessee and Henry Adams of Louisiana. Entire communities immigrated to Kansas, "the Garden Spot of the World" and home of abolitionist John Brown.
The story of the Exodusters is a difficult one to tell because, as historian Nell Irvin Painter writes in " Exodusters: Black Migration to Kansas After Reconstruction," it was a movement "of poor, rural Southern Blacks not sufficiently Westernized to write their own histories," largely ignored by scholars.
It's an important story to Davis, who built his monument to Kansas Exodusters and his family after a life-changing event: doctors diagnosed him with stage IV pancreatic cancer in spring 2010.
"My doctor finally listened to me in March 2010. She said I had spots and lesions on my liver," Davis said. "I went to the VA (Veteran's Administration). They said 'don't worry about your liver; you have stage IV pancreatic cancer. You have three months to live.'
"I just take life a day, a week at a time," he said. "I have gone past the doctor's timeline and am doing good. I could make it years longer. Not likely, but possible."
So with the time he has left, he built the monument, which consists of donated steel and two massive slabs of limestone, purchased from Higgins Stone Co. of Wamego, Kan. The twin, rough-hewn pillars stand 10 feet out of the ground in the garden of the former family farm, which Davis sold in 2010 to his neighbors and friends Clayton and Patricia Finney, who moved in the area as a young couple and now operate a ranching business, Wright Creek Ltd.
There, Davis recalled, his family raised cattle, horses, hogs, chickens and other livestock, and grew wheat, milo, sorghum as silage for the cattle, corn, alfalfa and prairie hay.
"My grandfather always had a large garden. Everyone who came to our house, if they left hungry, it was their fault. I remember hearing the older folks say they starved, but if they went to the Davis place, they got full," he said.
The son of a mixed-race couple, Davis didn't grow up with his mother. "My daddy never married, and I haven't either. I was the only child my dad had. Because of racial differences, families would not let them marry."
As a child, he called his aunt Velera Davis "Mommie," and would listen to her stories. "Since I was a child, I listened to the older folks talk. Unfortunately, my memories of the stories and the people are vague."
One of his favorite memories of growing up in Kansas was the sense of connectedness.
"The older people were always 'Cousin' or 'Aunt.' It seemed like a big, extended family. They've since moved all over the U.S. and some are quite famous," he said.
Davis also moved quite a bit, working as a "Jack of all trades, master of none," he said.
His experience includes stints as a roofer, farmer, painter and a mechanic. He's driven 18-wheelers in all 48 contiguous states, as well as dump and oil field trucks. A third assistant engineer, he's served on ships around the world, including tankers, ore carriers, dive boats, supply boats and fish processors and catchers.
"I was going to sea making good money. While at home, I was rebuilding buildings and fences, trying to keep the place up," he said. "Then, from 1979 to 1986, vandals destroyed the property. No one knew anything. My family tied up the farm. When I got it back, I could not rebuild. There were no others that I could pass it to that could and would successfully farm the place. I sold the family farm that my Dad and his father spent their lives building."
It was a close friend's eldest son, Terry Lyon, who helped "Uncle Jack" erect the monument along Road 300, Lyon County, in Americus, Kan.
"He has been an invaluable help, loaning tools, equipment, his help, the use of his place," Jack said. "This would have been a lot more difficult without him."
Although it is tucked away in rural Kansas, the monument is important to Davis personally, and should be important to the descendants of all Exodusters, he said.
"Very few people are even aware of the Exodusters. People forget, or deny, their history. Many have never heard of the contributions of their ancestors," Davis said. "The descendants of the Kansas colonies have moved all over the U.S. and various countries. Some are successful; others are on welfare or in between."
It is his hope that a local historical society will help preserve the monument. His lifelong friend Ustaine Talley, now in her 70s, is gathering notes and oral histories for the event. She is planning a dedication ceremony in August.
"I have tried to use durable materials so it will last for centuries," he said. "I hope it lasts as long as the land."
© 2008 SYS-CON Media Inc.
July 1, 2011 · Posted in Uncategorized ·
Comment
BEIJING—Eager to bolster its legitimacy in the eyes of an increasingly restive and Internet-savvy society, China's Communist Party is marking its 90th anniversary Friday with a no-holds-barred campaign to reassert its airbrushed version of modern history.
For a Chinese leadership spooked by uprisings in the Arab world, the campaign is designed to hammer home the message that only the party could have engineered China's emergence as the world's second-largest economy, and only the party can keep raising living standards, while maintaining social stability.
Communist Party Marks 90 Years
Associated PressChinese paramilitary police took part in a celebration in Nanjing on Thursday before the 90th anniversary of the Communist Party. The party is marking the anniversary with a campaign to reassert its airbrushed version of modern history.
But for its critics its heavy-handed efforts are only highlighting the party's failure to evolve politically and to come to terms with its own past, especially the 1958-61 Great Leap Forward—when millions starved to death in a push to jump-start industrialization—and the chaos of the 1966-76 Cultural Revolution.
Propaganda czars appear to have spared no expense in their efforts, overseeing production of a star-studded feature film on the party's founding, a weighty new history book on its first three decades in power, and countless exhibitions, television shows, newspaper editorials and revolutionary singing pageants.
To ensure the success of the film, "Beginning of the Great Revival," cinemas have been barred from premiering Hollywood blockbusters during its run, many state employees have been ordered to watch it, and at least two entertainment websites appear to have stopped letting users review the film, which has garnered mixed responses since its release three weeks ago.
State media have also provided blanket coverage of leaders attending a string of lavish and rigidly choreographed anniversary events, including a four-hour song and dance extravaganza on Wednesday night that featured 1,500 performers, and was attended by the entire 25-member Politburo.
"History has proved that only the [Communist Party of China] can save China," declared a commentary from state-run Xinhua news agency that was widely published across state media Thursday.
The domestic security apparatus, meanwhile, has been using increasingly arbitrary and extrajudicial methods to silence the party's most prominent critics, including China's most famous contemporary artist Ai Weiwei, even after many of them have been released from custody.
On Wednesday, Beijing police visited the home of Mao Yushi, an 83-year-old liberal economist who isn't related to Chairman Mao Zedong and has been highly critical of his policies, as well as of an increasingly vocal campaign to rehabilitate his memory in the last few months.
The police told him he had to cancel a planned interview with the Voice of America that evening and was no longer permitted to give interviews about the founder of Communist China, Prof. Mao said.
"I was very surprised—I've never experienced anything like this in recent times," said Prof. Mao, who has also received threatening telephone calls and emails since Maoist revivalist websites launched a campaign to have him prosecuted for criticizing Chairman Mao in a recent book review. "The government's aim is to emphasize the legitimacy of the party—that is their purpose—so they are avoiding talking about the party's mistakes."
Like many Chinese of his generation, he said he personally suffered under Chairman Mao, almost dying of hunger during the Great Leap Forward, when he estimated that 80 or more people in his village of 700 starved to death.
He and other liberal Chinese have long hoped the party will edge toward reassessing its past, especially as a new generation of leaders, many of whom were forced to work in the countryside during the Cultural Revolution, prepares to take power next year.
Instead, the party appears to be moving in the opposite direction, growing increasingly reluctant to acknowledge publicly even the mistakes it has admitted in the past.
In an exhibition at the newly opened National Museum in Beijing, only two small photographs make fleeting and oblique references to the Great Leap Forward and the Cultural Revolution. A recent exhibition of party documents included none from that tumultuous period.
The party's struggle with its own past was particularly evident in the compilation of "The History of the Chinese Communist Party Volume Two (1949-1978)," which was finally published in January, 16 years after it was begun.
Associated PressA tourist dressed as a Communist Red Army soldier poses for photos in front of a Mao Zedong's poster at an old Communist Party base in Yan'an, in northwestern China.
The first draft was finished in 1999, but its content was so sensitive that it took the party's top leaders another 12 years to review and revise it.
Hu Sheng, the director of the party's History Research Office who conceived the book, died halfway through the process.
Shi Zhongquan, a former deputy director of the History Research Office who took part in the project, said the initial aim had been to reassess the official verdict on the period. Earlier accounts had admitted, for example, that the population dropped 10 million in 1960, but hadn't given an overall death toll for the Great Leap Forward, which some historians put as high as 30 million-45 million.
In the end, though, the new book reinforced the earlier verdict, and stuck with 10 million, because it was too complicated to forge a consensus among leaders, according to Prof. Shi.
"We Chinese have this tradition of not writing history of our own time," he said. "We believe it's better to wait for the history to settle and subside first, so we can see clearer."
Write to Jeremy Page at jeremy.page@wsj.com
Copyright 2011 Dow Jones & Company, Inc. All Rights Reserved
This copy is for your personal, non-commercial use only. Distribution and use of this material are governed by our Subscriber Agreement and by copyright law. For non-personal use or to order multiple copies, please contact Dow Jones Reprints at 1-800-843-0008 or visit
www.djreprints.com
June 30, 2011 · Posted in Uncategorized ·
Comment
Labor unrest hits three states on this day. Steel workers in Pennsylvania strike against Homestead Mill on the Monongahela River. The mill is owned by Andrew Carnegie. Strikes occur in Tennessee and Idaho as well.
The strike at the Homestead Mill will last five months, but no real tangible gains are achieved by labor.
June 30, 2011 · Posted in Uncategorized ·
Comment
Listen to the Story at
All Things Considered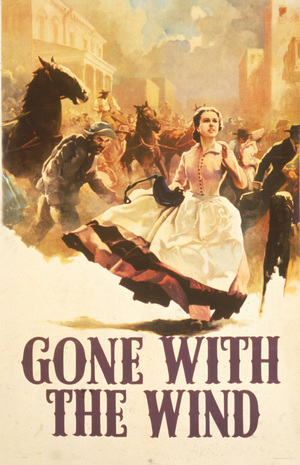 Hulton Archive/Getty Images Margaret Mitchell's novel Gone with the Wind was published 75 years ago this month. A 1936 promotional poster for the book shows heroine Scarlett O'Hara running through the streets as Atlanta burns. 
As a child growing up just south of Atlanta, Margaret Mitchell used to sit on the front porch, listening to adults tell stories about the Civil War as they passed still summer nights in Clayton County. Those stories went on to help inspire one of the most famous novels of all time —Gone with the Wind, which was published 75 years ago this month.
Mitchell "used to pretend that she was asleep," says Peter Bonner, who runs a tour company in the area. "[She would] lay there on the porch and stick around and hear some of those great stories. Later, she said, 'I sat on the fat slippery laps of my great-aunts and heard what would become Gone with the Wind.' "
Bonner says he's found stories of a real slave named Prissy and even the tale of making a dress out of green velvet drapes. Those accounts, found in Mitchell's letters, are at least in part stories about the author's great-grandparents, the Fitzgeralds, who were among the richest planters in Clayton County. Mitchell was quoted as saying Tara was in fact her grandparents' two-story country home. But tourists are always expecting something grander.
So when visitors ask to see the Tara depicted in the movie, they're sent to Jonesboro, Ga., about 10 miles south of Atlanta, where a plantation house called Stately Oaks was moved and preserved as an example of an antebellum home. Tall oaks surround the 1839 Greek Revival style house with grand porches and white pillars.
"Margaret took the Hollywood bigwigs on a tour here," Bonner says. "[She] showed them everything from little bitty farm houses [to] shacks to [Stately Oaks]. A lot of folks come here and see the two-gallery porches and the columns and they say, 'Oh my goodness. That's Tara.' "
Historical Jonesboro/Clayton CountyThe Stately Oaks plantation house in Jonesboro, Ga., was preserved as an example of an antebellum home. It's about as close as you can get to the movie version of Tara; Mitchell based the novel's Tara on her grandparents' country home. 
The movie version of Tara doesn't really exist, but Bonner says this is perhaps the closest thing to it.
"Instead of making people feel bad, [saying] 'Oh you're so silly, it didn't really happen,' we say, 'No. That is Hollywood's version. Let us take you back and give you a little taste of it: the foundation … of what Margaret Mitchell wrote that would later become the movie that everyone loves.' "
Of course, not everyone here loves the Pulitzer Prize-winning book, and the film's portrayal of slaves and plantation life remains controversial. Clayton County is now predominantly black and some residents say they're ambivalent about the link with the book and the movie.
Debbie Sanchez, who has lived in the county for more than 30 years, acknowledges that it's sometimes tough to be associated with the book. "It wasn't something positive for African-Americans," she says. "We didn't benefit."
Jonesboro resident Carol Stewart says the book surfaces anger about the history of the South and the rights that African-Americans were denied. "Most people just sort of ignore it because it is a little hurtful," Stewart says. "That's the sense I get from talking to … people in the community. … It's a bad part of the county's history. Except it's not really history, it was fiction."
More On 'Gone With The Wind'
Shrewd, Selfish Scarlett: A Complicated Heroine
Karen Grigsby Bates on the complicated business of being a young black girl with Scarlett fever.
Pat Conroy Marks 75 Years Of 'Gone With The Wind'
Author Pat Conroy shares his lifelong connection to Margaret Mitchell's award-winning book.
Who Gives A Damn About Scarlett O'Hara's Dresses?
Some dresses from Gone With the Wind are in worse shape than Scarlett O'Hara's love life.
Coming to Grips with Scarlett Fever
Growing up, there was plenty to read on the shelves in our house. In addition to James Baldwin, …
March 14, 2009
Race, Gender Roles In 'Gone With The Wind'
[7 min 59 sec]
But this area now relies on the romantic picture of the antebellum South to boost tourism. In downtown Jonesboro, 15,000 to 20,000 people visit the Road to Tara Museum each year. It's housed in the 1860s train depot and contains thousands of items related to Gone with the Wind — memorabilia from the movie including Scarlett O'Hara's pantalets, the Mitchell family china and original manuscripts.
"We have a variety of copies of Margaret Mitchell's book including some of the original books that were released," says Rebekah Cline of the Clayton County Convention and Visitors Bureau, which runs the museum. "And we do have one edition that actually has Margaret Mitchell's signature, and that can be valued for as much as $25,000 today."
There's no official estimate of how much money the area's association with the book generates, but Charles Wright, who has lived here for 35 years, says it's been a good thing in an area hit hard by the recession.
"I think it … helps put Jonesboro on the map," Wright says. "Without Gone with the Wind, a lot of people probably wouldn't have heard of it."
Gone with the Wind may be remembered as an epic love affair, an account of Civil War violence, or a story about the struggle to endure. In a 1936 interview, Mitchell herself said the novel's theme is survival — "I wrote about people who had gumption," she said, "and people who didn't."
Original Article may be found at: NPR
June 29, 2011 · Posted in Uncategorized ·
Comment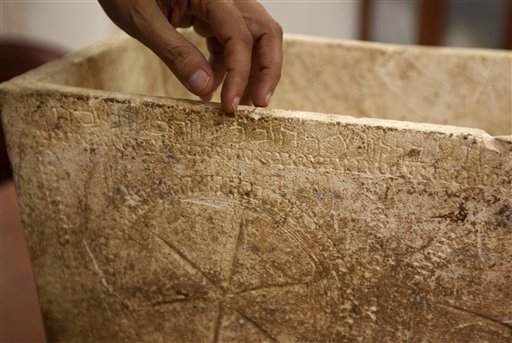 A worker of the Israel Antiquities Authority shows the inscription on a 2,000-year-old ossuary in the IAA offices at the Rockefeller Museum in Jerusalem, Wednesday, June 29, 2011. Israeli scholars said Wednesday they have confirmed the authenticity of the ancient ossuary bearing the name of a relative of the high priest Caiaphas of the New Testament. The ossuary bears an inscription with the name "Miriam daughter of Yeshua son of Caiaphas, priest of Maaziah from Beth Imri." (AP Photo/Sebastian Scheiner)
The Associated Press
Wednesday, June 29, 2011 6:05 PM EDT
Israeli scholars say biblical burial box genuine
The Associated Press
Wednesday, June 29, 2011 11:01 AM EDT
JERUSALEM (AP) — Israeli scholars have confirmed the authenticity of a 2,000-year-old burial box that appears to bear the name of a relative of the high priest Caiaphas mentioned in the New Testament, the Israel Antiquities Authority said Wednesday.
The find offers support for the existence of the biblical Caiaphas, who appears in the New Testament as a temple priest and an adversary of Jesus who played a key role in his crucifixion.
The ossuary — a stone chest used to store bones — is decorated with the stylized shapes of flowers and bears an inscription with the name "Miriam daughter of Yeshua son of Caiaphas, priest of Maaziah from Beth Imri."
The ossuary was seized from tomb robbers three years ago, the government antiquities body said in a statement. Because it "was not found in a controlled archaeological excavation and because of its special scientific importance," the statement said, it has been undergoing lab tests since then.
The tests, which used powerful microscopes to inspect layers of buildup on the box and inscription, were carried out by two scholars, one from Tel Aviv University and the other from Bar Ilan University, the statement said. The research indicated that the inscription is "genuine and ancient."
Careful tests were necessary because forgery is common in the world of biblical artifacts, where a brisk black market exists and where antiquities linked in some way to the Bible can fetch millions of dollars.
A similar ossuary — bearing the inscription "James son of Joseph brother of Jesus" — is currently at the center of a fraud trial under way in Israel.
The James ossuary was exhibited to widespread acclaim as the only known archaeological link to Jesus, but lab tests run by the Israel Antiquities Authority indicated the inscription was fake. An Israeli collector has been charged with forging the ossuary and other biblical antiquities, and a verdict is pending. The collector says the box is authentic.
The scholars believe the Miriam ossuary was plundered from a tomb in the Valley of Elah, southwest of Jerusalem.
The word "maaziah" on the inscription refers to a subset of the priestly caste. Scholars believe "Beth Imri" refers either to a priestly family or to the family's village of origin.
Copyright 2011 The Associated Press. All rights reserved. This material may not be published, broadcast, rewritten or redistributed.
June 29, 2011 · Posted in Uncategorized ·
Comment
"The July issue of the National Geographic magazine, on newsstands June 28th" National Geographic
Where, oh where is Cleopatra? She's everywhere, of course—her name immortalized by slot machines, board games, dry cleaners, exotic dancers, and even a Mediterranean pollution-monitoring project. She is orbiting the sun as the asteroid 216 Kleopatra. Her "bath rituals and decadent lifestyle" are credited with inspiring a perfume. Today the woman who ruled as the last pharaoh of Egypt and who is alleged to have tested toxic potions on prisoners is instead poisoning her subjects as the most popular brand of cigarettes in the Middle East.
 In the memorable phrase of critic Harold Bloom, she was the "world's first celebrity." If history is a stage, no actress was ever so versatile: royal daughter, royal mother, royal sister from a family that makes the Sopranos look like the Waltons. When not serving as a Rorschach test of male fixations, Cleopatra is an inexhaustible muse. To a recent best-selling biography add—from 1540 to 1905—five ballets, 45 operas, and 77 plays. She starred in at least seven films; an upcoming version will feature Angelina Jolie. 
  Yet if she is everywhere, Cleopatra is also nowhere, obscured in what biographer Michael Grant called the "fog of fiction and vituperation which has surrounded her personality from her own lifetime onwards." Despite her reputed powers of seduction, there is no reliable depiction of her face. What images do exist are based on unflattering silhouettes on coins. There is an unrevealing 20-foot-tall relief on a temple at Dendera, and museums display a few marble busts, most of which may not even be of Cleopatra.
"Photos are in the July 2011 issue of National Geographic magazine, on newsstands now."