The gunshot that killed Lincoln came from John Wilkes Booth's .44-caliber derringer as the president and his wife watched "Our American Cousin" at Ford's Theatre.
 At 7:22 the following morning, April 15, 1865, in the Petersen boarding house across from the theatre, the 16th president of the United States took his last breath, but not before making his mark in history. Who the Secretary of State Edwin M. Stanton called "the most perfect ruler of men the world has ever seen."
Ford's Theatre is hosting a comprehensive series of Lincoln memorials, which it calls Ford's 150: Remembering the Lincoln Assassination. The commemorations will be on Tuesday and Wednesday in Washington, D.C. Learn more about the details of the upcoming commemorations.
Logistics
In Lynch Bennett's article The Grand Failure: How Logistics of Supply Defeated Napoleon in 1812, he points to logistical errors as a primary and often overlooked reason for Napoleon's "Grand Failure" to invade Russia in 1812. As the popular idiom states "the devil is in the detail"; devilish details grew large and unruly, details that Napoleon neglected to anticipate. He was blinded by ambition and hubris, fed by his past accomplishments of conquest; he had by 1812 conquered the whole of continental Europe. The logistical difficulties involved in supplying his Grande Armeé of over 600,000 men were multiple and grave. By the time the French retreated Russia in a devastating defeat the army had dwindled down to only a few thousand.
Forsaking the Refuge of Vitebsk
Originally, on July 27, 1812, Napoleon had planned to stay put in Vitebsk wisely accessing that the city was a good fortress in which to delay the overtaking of Moscow until 1813. Despite having the support of his army in this plan, he ignored his common sense and shifted gears. Instead of camping out in Vitebsk, he decided they should move forward. It was a rash decision motivated by his inability to remain inactive. This change in course set the way for death in the dead of winter.
The Unforgiving Winter
Napoleon and what still remained of his dragging and bedraggled army upon entering the nearly deserted Moscow, which was set on fire by its own Russian governor, were forced to retreat just as winter was arriving on Oct 19, 1812. Those with enough strength and resources of food, medicine and proper clothing to endure the frigid temperatures, were able to make it out alive, but most did not. Most starved, froze or were killed by Russian Guerilla attacks as they made the long journey back to France. Their fate was sealed, when Napoleon, in a move that was a betrayal to his men, even further diminishing their chances of survival when he detoured the route back. He took the Smolensk way back to France, "The desolate road, riddled with corpses every fifty paces, afforded no reprieve to the starving soldiers."
Typhus Fever
The infectious organism that causes Typhus is called Rickettsia prowazekii. At the time of Napoleon's campaign to seize Russia in 1812, it was not yet discovered that typhus thrives and is transmitted via the feces of lice. A century later in 1916 a Brazilian doctor named Henrique da Rocha Lima, during research on typhus in Germany, discovered that the organism responsible for so many deadly epidemics, resides in the feces of lice.
The French soldiers were put into extremely unsanitary circumstances of filth, sweat and unclean clothes,as they made their way to Russia in 1812. Not only were the French perfect hosts for the organism, but the poor of Russia were living in deplorable conditions. The unfortunate co-mingling of French and Russians, each having to endure unsanitary states beyond their own control, exacerbated the infestation. In fact, some historians believe that typhus killed more soldiers than did the Russian army. Once the lice feces gets onto someone in their hair, skin, clothes, etc., it is only a matter of a simple cut or scratch for the organism to infect its host.
Alan Kay considers the LINC (1962) the first Personal Computer.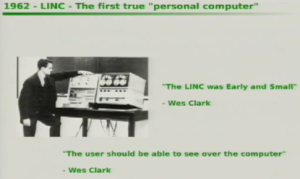 But most people think of Gates and Jobs when associations are made to the personal computer. This association is well deserved. Gates and Jobs developed major innovations that literally put the PC on the everyday person's desk and made it mobile from there.
Bill Gates had the goal to put the personal computer into every home. It was at the young age of 13 that Gates began programming in Basic. Fifty Years of BASIC, the Programming Language That Made Computers Personal The computer programming language acronym BASIC stands for "Beginner's All-Purpose Symbolic Instruction Code" The combination of Gates and BASIC started a technological revolution that is still playing out decades later.
Running parallel to Gates on the personal computer timeline and having at least an equal role in the PC revolution was Steve Jobs. Jobs and Wozniak introduced the Apple I board at the Homebrew Computer Club in March of 1976 and the rest as they say is History.
The first volume of The Gulag Archipelago, 1918-1956, a history and memoir of life in a Soviet Union prison camp, written by Aleksandr Solzhenitsyn, was first published in Paris in the original Russian on Dec 28, 1973.
"… authorized for Western publication only after the Soviet secret police seized a copy of the manuscript last August, …"
The Soviets arrested Solzhenitsyn on February 12, 1974 taking away his citizenship and deporting him.
Solzhenitsyn warned the Russian people, citizens of a severely, censorial, 1973 Russia, in the preface of his book The Gulag Archipelago (a three-volume work), that they must consider the reading of his writings as a "very dangerous" act.
Learn more about life in Stalin's Gulag.
Bethel, New York from August 15 to August 18, 1969
Musicians:
Richie Havens – 5:07pm – 7:00pm
"The Minstrel from Gault"
"From the Prison/Get Together/From the Prison"
"I'm a Stranger Here"
"High Flying Bird"
"I Can't Make It Anymore"
"With a Little Help from My Friends"
"Handsome Johnny"
"Strawberry Fields Forever / Hey Jude"
"Freedom (Motherless Child)"
Swami Satchidananda – gave the invocation for the festival – 7:10pm – 7:20pm
Sweetwater – 7:30pm – 8:10pm
"Motherless Child"
"Look Out"
"For Pete's Sake"
"What's Wrong"
"Crystal Spider"
"Two Worlds"
"Why Oh Why"
"Let the Sunshine In"
"Oh Happy Day"
"Day Song"
Bert Sommer – 8:20pm – 9:15pm
"Jennifer"
"The Road to Travel"
"I Wondered Where You Be"
"She's Gone"
"Things Are Going My Way"
"And When It's Over"
"Jeanette"
"America"
"A Note That Read"
"Smile"
Tim Hardin – 9:20pm – 9:45pm
"How Can We Hang On to a Dream?"
"Susan"
"If I Were a Carpenter"
"Reason to Believe"
"You Upset the Grace of Living When You Lie"
"Speak Like a Child"
"Snow White Lady"
"Blue on My Ceiling"
"Simple Song of Freedom"
"Misty Roses"
Ravi Shankar, with a three-song set, played through the rain – 10:00pm – 10:35pm
"Raga Puriya-Dhanashri/Gat In Sawarital"
"Tabla Solo In Jhaptal"
"Raga Manj Kmahaj (AIap, Jor, Dhun In Kaharwa Tal)"
Melanie Safka – 10:50pm – 11:20pm
"Close to It All"
"Momma Momma"
"Beautiful People"
"Animal Crackers"
"Mr. Tambourine Man"
"Tuning My Guitar"
"Birthday of the Sun"
Arlo Guthrie– 11:55pm – 12:25am
"Coming into Los Angeles"
"Wheel of Fortune"
"Walkin' Down the Line"
"Story about Moses and the Brownies"
"Oh Mary, Don't You Weep"
"Every Hand in the Land"
"Amazing Grace"
Joan Baez– she was six months pregnant at the time – 12:55am – 2:00am [2]
"Oh Happy Day"
"The Last Thing on My Mind"
"I Shall Be Released"
"Story about how the Federal Marshals came to take David Harris into custody"
"No Expectations"
"Joe Hill"
"Sweet Sir Galahad"
"Hickory Wind"
"Drug Store Truck Driving Man" duet with Jeffrey Shurtleff
"I Live One Day at a Time"
"Take Me Back to the Sweet Sunny South"
"Let Me Wrap You In My Warm and Tender Love"
"Swing Low, Sweet Chariot"
"We Shall Overcome"
The Original Woodstock Poster with the Wallkill, New York location
Saturday, August 16[edit]
The day opened at 1:20 pm, and featured some of the event's biggest psychedelic and guitar rock headliners.
Quill, thirty minute set of four songs – 12:15pm – 12:45pm
"They Live the Life"
"That's How I Eat"
"Driftin'"
"Waitin' for You"
Country Joe McDonald – 1:00pm – 1:30pm
"Janis"
"Donovan's Reef"
"Heartaches by the Number"
"Ring of Fire"
"Tennessee Stud"
"Rockin' Round the World"
"Flyin' High"
"I Seen a Rocket"
"The "Fish" Cheer/I-Feel-Like-I'm-Fixin'-to-Die Rag"
Santana – 2:00pm – 2:45pm
"Waiting"
"Evil Ways"
"You Just Don't Care"
"Savor"
"Jingo"
"Persuasion"
"Soul Sacrifice"
"Fried Neckbones and Some Home Fries"
John B. Sebastian – 3:30pm – 3:55pm
"How Have You Been"
"Rainbows All Over Your Blues"
"I Had a Dream"
"Darlin' Be Home Soon"
"Younger Generation"
Keef Hartley Band – 4:45pm – 5:30pm
"Spanish Fly"
"She's Gone"
"Too Much Thinkin'"
"Believe in You"
"Rock Me Baby"
"Sinnin' for You / Leaving Trunk / Just to Cry / Sinnin' for You"
The Incredible String Band – 6:00pm – 6:30pm
"Invocation"
"The Letter"
"Gather 'Round"
"This Moment"
"Come with Me"
"When You Find Out Who You Are"
Canned Heat – 7:30pm – 8:30pm
"I'm Her Man"
"Going Up the Country"
"A Change Is Gonna Come / Leaving This Town"
"Too Many Drivers at the Wheel"
"I Know My Baby"
"Woodstock Boogie"
"On the Road Again"
Mountain, hour-long set including Jack Bruce's "Theme for an Imaginary Western." – 09:00pm – 10:00pm
"Blood of the Sun"
"Stormy Monday"
"Theme for an Imaginary Western"
"Long Red"
"For Yasgur's Farm" (song was untitled at the time)
"Beside the Sea"
"Waiting to Take You Away"
"Dreams of Milk and Honey / Guitar Solo"
"Blind Man"
"Dirty Shoes Blues"
"Southbound Train"
Grateful Dead, their set was cut short after the stage amps overloaded during "Turn On Your Love Light" – 10:30pm – 12:05am
"St. Stephen"
"Mama Tried"
"Dark Star"
"High Time"
"Turn on Your Love Light"
Creedence Clearwater Revival – 12:30am – 1:20am
"Born on the Bayou"
"Green River"
"Ninety-Nine and a Half (Won't Do)"
"Commotion"
"Bootleg"
"Bad Moon Rising"
"Proud Mary"
"I Put a Spell on You"
"Night Time Is the Right Time"
"Keep on Chooglin'"
"Susie Q"
Janis Joplin with The Kozmic Blues Band – 2:00am – 3:00am [3]
"Raise Your Hand"
"As Good As You've Been to This World"
"To Love Somebody"
"Summertime"
"Try (Just a Little Bit Harder)"
"Kozmic Blues"
"Can't Turn You Loose"
"Work Me, Lord"
"Piece of My Heart"
"Ball 'n' Chain"
Sly & the Family Stone – 3:30am – 4:20am
"M'Lady"
"Sing a Simple Song"
"You Can Make It If You Try"
"Everyday People"
"Dance To The Music"
"Music Lover"
"I Want to Take You Higher"
"I Want to Take You Higher"
"Love City"
"Stand!"
The Who – 5:00am – 6:05am kicking off a 25-song set including Tommy'"
"Heaven and Hell"
"I Can't Explain"
"It's a Boy"
"1921"
"Amazing Journey"
"Sparks"
"Eyesight to the Blind"
"Christmas"
"Acid Queen"
"Pinball Wizard" Abbie Hoffman incident
"Do You Think It's Alright?"
"Fiddle About"
"There's a Doctor"
"Go to the Mirror"
"Smash the Mirror"
"I'm Free"
"Tommy's Holiday Camp"
"We're Not Gonna Take It"
"See Me, Feel Me"
"Summertime Blues"
"Shakin' All Over"
"My Generation"
"Naked Eye"
Jefferson Airplane – 8:00am – 9:40am
"The Other Side of This Life"
"Somebody to Love"
"3/5 of a Mile in 10 Seconds"
"Won't You Try/Saturday Afternoon"
"Eskimo Blue Day"
"Plastic Fantastic Lover"
"Wooden Ships"
"Uncle Sam Blues"
"Volunteers"
"The Ballad of You and Me and Pooneil"
"Come Back Baby"
"White Rabbit"
"The House at Pooneil Corners"
Sunday, August 17 to Monday, August 18[edit]
Joe Cocker was the first act on the last officially booked day (Sunday); he opened up the day's events at 2 PM. His set was preceded by at least two instrumentals by The Grease Band.
Joe Cocker – 2:00pm – 3:25pm
"Dear Landlord"
"Something Comin' On"
"Do I Still Figure in Your Life"
"Feelin' Alright"
"Just Like a Woman"
"Let's Go Get Stoned"
"I Don't Need a Doctor"
"I Shall Be Released"
"Hitchcock Railway"
"Something to Say"
"With a Little Help from My Friends"
After Joe Cocker's set, a thunderstorm disrupted the events for several hours.
Country Joe and the Fish 6:30pm – 8:00pm
"Rock & Soul Music"
"(Thing Called) Love"
"Not So Sweet Martha Lorraine"
"Sing, Sing, Sing"
"Summer Dresses"
"Friend, Lover, Woman, Wife"
"Silver and Gold"
"Maria"
"Love Machine"
"Ever Since You Told Me That You Love Me (I'm a Nut)"
"Short Jam (instrumental)"
"Crystal Blues"
"Rock & Soul Music (Reprise)"
"The "Fish" Cheer/I-Feel-Like-I'm-Fixin'-to-Die Rag"
Ten Years After– 8:15pm – 9:15pm
"Spoonful"
"Good Morning Little Schoolgirl"
"Hobbit"
"I Can't Keep from Crying Sometimes"
"Help Me"
"I'm Going Home"
The Band – 10:00pm – 10:50pm
"Chest Fever"
"Don't Do It"
"Tears of Rage"
"We Can Talk"
"Long Black Veil"
"Don't You Tell Henry"
"Ain't No More Cane"
"This Wheel's on Fire"
"I Shall Be Released"
"The Weight"
"Loving You Is Sweeter Than Ever"
Johnny Winter – 12:00am – 1:05am featuring his brother, Edgar Winter, on two songs.
"Mama, Talk to Your Daughter"
"Leland Mississippi Blues"
"Mean Town Blues"
"You Done Lost Your Good Thing Now" / "Mean Mistreater"
"I Can't Stand It" (with Edgar Winter)
"Tobacco Road" (with Edgar Winter)
"Tell the Truth" (with Edgar Winter)
"Johnny B. Goode"
Blood, Sweat & Tears – 1:30am – 2:30am
"More and More"
"Just One Smile"
"Something's Coming On"
"More Than You'll Ever Know"
"Spinning Wheel"
"Sometimes in Winter"
"Smiling Phases"
"God Bless the Child"
"I Stand Accused"
"And When I Die"
"You've Made Me So Very Happy"
Crosby, Stills, Nash & Young – 3:00am – 4:00am with separate acoustic and electric sets. Chip Monck announced the act as "Crosby, Stills, Nash & Young", but the name Young was dropped from the movie and film soundtrack.
Acoustic Set
"Suite: Judy Blue Eyes"
"Blackbird"
"Helplessly Hoping"
"Guinnevere"
"Marrakesh Express"
"4 + 20"
"Mr. Soul"
"Wonderin'"
"You Don't Have to Cry"
Electric Set
"Pre-Road Downs"
"Long Time Gone"
"Bluebird"
"Sea of Madness"
"Wooden Ships"
Acoustic Encores
"Find the Cost of Freedom"
"49 Bye-Byes"
Neil Young skipped most of the acoustic set (the exceptions being his compositions "Mr. Soul" and "Wonderin'") and joined Crosby, Stills & Nash, but refused to be filmed during the electric set; by his own report, Young felt the filming was distracting both performers and audience from the music. Young's "Sea of Madness," heard on the album, was drawn from the Fillmore East concert, one month after the festival. The original recording was later restored on the six-CD boxed set Woodstock: 40 Years On [Back To Yasgur's Farm]
Paul Butterfield Blues Band – 6:00am – 6:45am
"Born Under a Bad Sign"
"No Amount of Loving"
"Driftin'"
"Morning Sunrise"
"All in a Day"
"Love March"
"Everything's Gonna Be Alright"
Sha-Na-Na – 7:30am – 8:00am
"Get a Job"
"Come Go with Me"
"Silhuettes"
"Teen Angel"
"Jailhouse Rock"
"Wipe Out"
"Blue Moon"
"(Who Wrote) The Book of Love"
"Little Darlin'"
"At the Hop"
"Duke of Earl"
"Get a Job (Reprise)"
Jimi Hendrix – 9:00am – 11:10am After being introduced as the Jimi Hendrix Experience, Hendrix corrected the new group's name to "Gypsy Sun and Rainbows, for short it's nothin' but 'A Band Of Gypsies." Later during the set he introduced them as "Sky Church."
"Message to Love"
"Hear My Train A Comin'"
"Spanish Castle Magic"
"Red House" (Hendrix's high E-string broke while playing, but he played the rest of the song with five strings.)
"Mastermind" (written and sung by Larry Lee)
"Lover Man"
"Foxy Lady"
"Jam Back at the House"
"Izabella"
"Gypsy Woman"/"Aware of Love" (These two songs written by Curtis Mayfield were sung by Larry Lee as a medley)
"Fire"
"Voodoo Child (Slight Return)"/"Stepping Stone"
"The Star-Spangled Banner"
"Purple Haze"
"Woodstock Improvisation"/"Villanova Junction" (both titles are posthumous)
"Hey Joe"
References[edit]
"Woodstock in 1969". Rolling Stone. 2004-06-24. Retrieved 2008-04-17.
Baez Source: Arthur Levy, annotator of the expanded editions of the 12 Joan Baez CDs on Vanguard
"Janis Joplin entry". Encyclopædia Britannica. 2006-09-24. Retrieved 2008-10-03.