December 26, 2011 · Posted in
Church History
·
Comments Off

on The Man Who Invented Christmas
Written by Chip Wood
Saturday, 24 December 2011
http://www.thenewamerican.com/opinion/chip-wood/10330-the-man-who-invented-christmas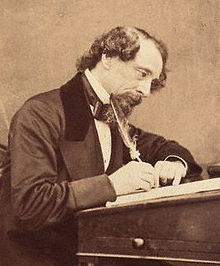 During this season of massive over-commercialization, you may find it hard to believe there was a time when Christmas was no big deal. There were no stores full of toys, no songs playing 24 hours a day, and no Christmas trees with so many presents under them that they fill most of the room.
In fact, there were no Christmas trees at all. For most of the 2,000 years since the birth of Christ, Christmas was not a special holiday. If it was commemorated at all, it was with a candlelight service at the local church or cathedral and a special dinner at home. And that was pretty much it until the middle of the 19th century, when one man's novella helped to transform the celebration.
He has been called "the man who invented Christmas." His name is Charles Dickens. He is the author of a simple story he called A Christmas Carol.
Although Dickens is rightly regarded as one of the greatest writers in the history of the English language — he is the author of 20 novels, none of which has ever been out of print — there was a time when his popularity was at an all-time low.
The year was 1843. Dickens' books and columns weren't selling very well, his bank account was overdrawn and he was facing the possibility of declaring bankruptcy.
Frantic, he sat down a few weeks before Christmas and wrote a novella that he hoped would keep his creditors at bay. But his publishers flatly rejected his offering. No one would pay to have it printed and distributed.
So Dickens took an amazing gamble: He printed it himself. It was an exercise in vanity publishing long before the world knew that term. The author told friends of the risk he was taking and said it might mark the end of his career as a writer.
He should have had more confidence in the story he told. The book was an instant sensation, selling out the first printing of several thousand copies in just four days. A second printing was rushed through and sold out before the new year began. In no time at all, Dickens was forced to order a third and then fourth and fifth printing.
Then, someone adapted the story for the stage and A Christmas Carol became one of the most popular theater productions of all time. I dare say you can't find a city of any size in the English-speaking world where there isn't at least one production of Dickens' immortal play being performed this holiday season. And Hollywood has produced dozens of versions, including more than a few knock-offs, copycats, parodies and pastiches. If Dickens were still collecting royalties today, he would be one of the wealthiest billionaires on Earth.
By the way, A Christmas Carol was not only an incredible commercial success, it was also a critical hit, too. William Makepeace Thackeray, at the time Dickens' most severe critic, acknowledged the incredible power of the story:
The last two people I heard speak of it were women; neither knew the other, or the author, and both said, by way of criticism, "God bless him!" What a feeling this is for a writer to be able to inspire … and what a reward to reap!
Today, we are all familiar with the story of the tight-fisted miser who said of Christmas, "Bah! Humbug!" Yet after visits by the ghosts of Christmas Past, Present and Future, Scrooge was transformed. As Tiny Tim says at the end, "God bless us all, every one."
But A Christmas Carol did more than restore Dickens' reputation and bank account. It also transformed what had been, up until then, a relatively minor holiday.
As historian Les Standiford has noted, in the early 19th century in England, the Christmas holiday "was a relatively minor affair that ranked far below Easter, causing little more stir than Memorial Day or St. George's Day today. In the eyes of the relatively enlightened Anglican Church, moreover, the entire enterprise smacked vaguely of paganism and, were there Puritans still around, acknowledging the holiday might have landed one in the stocks."
Dickens' biographer Peter Ackroyd and others have credited the novelist with single-handedly creating the modern Christmas holiday. Oh, not the contemporary orgy of shopping, spending and ostentatious display. In A Christmas Carol there are no gaudy decorations, no Christmas trees and, except for "the big prize turkey" at the end, no presents at all.
The only "gifts" exchanged are love, friendship and goodwill. Yet in this one small book, Dickens inspired his contemporaries, transformed a holiday and created an immortal message for us all. The lesson of A Christmas Carol is one of kindness, consideration and charity. Let us hope it lasts another 150 years — or even longer.
I am indebted to my good friend Alex Green for the inspiration for today's column. I have not only used many of the thoughts and ideas he expressed in his own column, I have shamelessly (but with his permission) borrowed his headline.
His column is called "Spiritual Wealth." Sadly, you cannot subscribe to it. It is available only to members of the Oxford Club, where he serves as investment director.
However, some of his most powerful columns have been published in a book you can get. It is called Beyond Wealth: The Road Map to a Rich Life, and it is available wherever books are sold. In fact, it is currently on sale at Amazon.com. I encourage you to order at least one copy now (new or used, printed or electronic) for yourself and many more next year, when it will make a wonderful Christmas present.
Please accept my very best wishes for a most joyous Christmas, surrounded by friends and family and filled with the true meaning of Christ's Mass.
Until next time, keep some powder dry.
Chip Wood was the first news editor of The Review of the News and also wrote for American Opinion, our two predecessor publications. He is now the geopolitical editor of Personal Liberty Digest, where his Straight Talk column appears weekly. This article first appeared in PersonalLiberty.com and has been reprinted with permission.
December 22, 2011 · Posted in Uncategorized ·
Comments Off

on Dec 23, 1888: Van Gogh chops off ear
On this day in 1888, Dutch painter Vincent van Gogh, suffering from severe depression, cuts off the lower part of his left ear with a razor while staying in Arles, France. He later documented the event in a painting titled Self-Portrait with Bandaged Ear. Today, Van Gogh is regarded as an artistic genius and his masterpieces sell for record-breaking prices; however, during his lifetime, he was a poster boy for tortured starving artists and sold only one painting.
Vincent Willem van Gogh was born on March 30, 1853, in the Netherlands. He had a difficult, nervous personality and worked unsuccessfully at an art gallery and then as a preacher among poor miners in Belgium. In 1880, he decided to become an artist. His work from this period–the most famous of which is The Potato Eaters (1885)–is dark and somber and reflective of the experiences he had among peasants and impoverished miners.
In 1886, Van Gogh moved to Paris where his younger brother Theo, with whom he was close, lived. Theo, an art dealer, supported his brother financially and introduced him to a number of artists, including Paul Gauguin, Camille Pisarro and Georges Seurat. Influenced by these and other painters, Van Gogh's own artistic style lightened up and he began using more color.
In 1888, Van Gogh rented a house in Arles in the south of France, where he hoped to found an artists' colony and be less of a burden to his brother. In Arles, Van Gogh painted vivid scenes from the countryside as well as still-lifes, including his famous sunflower series. Gauguin came to stay with him in Arles and the two men worked together for almost two months. However, tensions developed and on December 23, in a fit of dementia, Van Gogh threatened his friend with a knife before turning it on himself and mutilating his ear lobe. Afterward, he allegedly wrapped up the ear and gave it to a prostitute at a nearby brothel. Following that incident, Van Gogh was hospitalized in Arles and then checked himself into a mental institution in Saint-Remy for a year. During his stay in Saint-Remy, he fluctuated between periods of madness and intense creativity, in which he produced some of his best and most well-known works, including Starry Night and Irises.
In May 1890, Van Gogh moved to Auvers-sur-Oise, near Paris, where he continued to be plagued by despair and loneliness. On July 27, 1890, he shot himself and died two days later at age 37.
Van Gogh chops off ear. (2011). The History Channel website. Retrieved 12:09, December 22, 2011, from http://www.history.com/this-day-in-history/van-gogh-chops-off-ear.
Fact Check We strive for accuracy and fairness. But if you see something that doesn't look right, contact us!
December 16, 2011 · Posted in Uncategorized ·
Comments Off

on Sons of Liberty Dump British Tea Dec 16, 1773
On this day in 1773, a group of Massachusetts colonists disguised as Mohawk Indians board three British tea ships moored in Boston Harbor and dump 342 chests of tea into the water.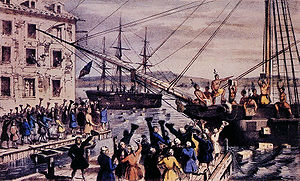 Now known as the "Boston Tea Party," the midnight raid was a protest of the Tea Act of 1773, a bill enacted by the British parliament to save the faltering British East India Company by greatly lowering its tea tax and granting it a virtual monopoly on the American tea trade. The low tax allowed the company to sell its tea even more cheaply than that smuggled into America by Dutch traders. Many colonists viewed the act as yet another example of Britain's taxation tyranny.
In most American ports, the resistance group known as the Sons of Liberty scared off British tea-carrying ships by threatening their captains with tarring, feathering or worse. However, when three tea ships, the Dartmouth, the Eleanor and the Beaver, arrived in Boston Harbor and the colonists demanded that the tea be returned to England, Thomas Hutchinson, the British-appointed governor of Massachusetts, refused to permit the ships to leave. Patriot leader Samuel Adams organized the now-famous "tea party" with about 60 members of the Sons of Liberty. The British tea dumped into Boston Harbor on the night of December 16 was worth more than $700,000 in today's currency.
Parliament, outraged by the blatant destruction of British property, enacted the Coercive Acts, called the "Intolerable Acts" by the colonists, in 1774. The Coercive Acts closed Boston to merchant shipping, established formal British military rule in Massachusetts, made British officials immune to criminal prosecution in America, and required colonists to quarter British troops. The colonists subsequently called the first Continental Congress to consider a united American resistance to the British.
Sons of Liberty dump British tea. (2011). The History Channel website. Retrieved 3:41, December 16, 2011, from http://www.history.com/this-day-in-history/sons-of-liberty-dump-british-tea.
December 1, 2011 · Posted in Uncategorized ·
Comments Off

on On His Birthday, Remembering Mark Twain's Gifts to The Atlantic
By Brian Resnick
Now an American icon, the Huckleberry Finn author received his first big break in the pages of this magazine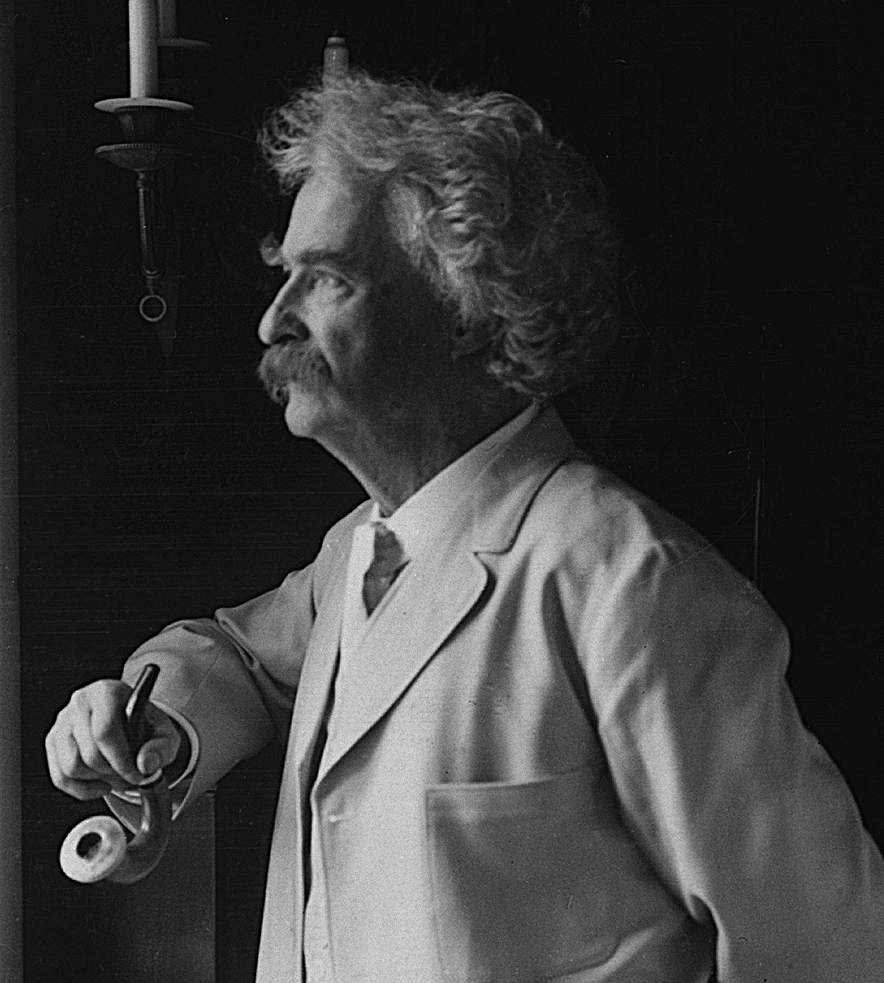 Over its 154 years, the pages of
The Atlantic
 have hosted essays and commentaries from literary luminaries such as Harriet Beecher Stowe, Walt Whitman, Arthur Miller, and Saul Bellow. But perhaps most culturally salient of them all is Mark Twain. Required reading for nearly all school children, Twain's works are inextricably linked to American history.
Today, on what would be Twain's 176th birthday, his name and his work are still 
provocative
. At the time of its publication, his most famous book, 
The Adventures of Huckleberry Finn,
was a poignant satire of the South set against the journey of a boy and a slave seeking freedom. Today, the book has transformed into something more: a sounding-board for a national discussion of race, including the racial slur now known as "the N-word."
Twain's relationship with The Atlantic began in December 1869, when William Dean Howells, then an assistant editor, wrote a highly favorable review of Twain's first book, Innocents Abroad. The book had been published that year by a small commercial publishing house that sold copies by peddling the book from door to door. (Howells later went on to review The Adventures of Tom Sawyer and A Tramp Abroad for the magazine) Twain was so pleased with the review that he stopped by The Atlantic's offices to meet Howells in person. The two became good friends, and as Twain's reputation grew, Howells began soliciting submissions from him.
His pursuit of a story by Twain was unsuccessful until 1874, when Howells, who was by then The Atlantic's editor in chief, obtained permission from the magazine's publisher to offer Twain $20 per page–twice as much as most Atlantic contributors were then paid. That year, the first piece by Twain appeared in the magazine, followed by many more over the next decade, including Old Times on the Mississippi, which appeared in seven installments in 1875 and was later released as a book under the title Life on the Mississippi.
Although other publications offered higher pay, Twain submitted regularly to The Atlantic, partly out of loyalty to Howells and partly because he appreciated the magazine's thoughtful readership. In a 1874 letter to Howells he wrote, "The Atlantic audience is the only audience that I sit down before with perfect serenity (for the simple reason that it don't require a 'humorist' to paint himself stripèd and stand on his head every fifteen minutes)."
Below is a sampling of some of Twain's writings for The Atlantic.
"A True Story, Repeated Word for Word as I Heard It" (November 1874)
Twain was born and raised in Missouri, a slave-holding state. An early influence on him was a slave named Uncle Daniel who told ghost stories to gatherings of local children. Twain's first contribution to
The Atlantic
, featuring a monologue delivered by a former slave, reflects those early experiences.
"The Facts Concerning the Recent Carnival of Crime in Connecticut" (June 1876)
In early 1876 Twain wrote a story about an encounter between himself and his (anthropomorphized) conscience, to deliver at one of the regular meetings of The Monday Evening Club, an association of writers and intellectuals in Hartford, where he then lived. Some viewed this story as a turning point in Twain's work–representing the introduction of moral issues into his writing, which previously had been intended mainly to entertain. Howells published the story in
The Atlantic
that spring.
"Some Rambling Notes of an Idle Excursion" (October 1877-January 1878)
In May, 1877, Twain went on a ten-day vacation to Bermuda with a close friend from Hartford, Reverend Joseph Hopkins Twichell. He kept a journal during the trip which he later expanded into an account that appeared in
The Atlantic
in four installments.
"A Telephonic Conversation" (June 1880)
Twain's family was one of the first in Hartford to install a telephone (which had been invented by Alexander Graham Bell in 1876) in their home. In 1880, Twain, bemused by this new device that permitted eavesdroppers to hear only one side of a conversation, wrote an amusing description of overhearing his wife talk on the telephone.
This article available online at:
http://www.theatlantic.com/national/archive/2011/11/on-his-birthday-remembering-mark-twains-gifts-to-i-the-atlantic-i/249272/
Copyright © 2011 by The Atlantic Monthly Group. All Rights Reserved.
November 29, 2011 · Posted in Uncategorized ·
Comments Off

on Pilgrims With Shoe Buckles, and Other Thanksgiving Myths
By Ryan Lintelman
 Nov 23 2011, 10:35 AM ET 1
 The holiday may be a hodgepodge of false ideas, but it still connects us to the American experience
Smithsonian Museum of American History
Many Americans share the experience of learning a story about the first Thanksgiving that bears only a passing resemblance to the historical truth. The classic narrative might go as follows: a group of religious separatists called Pilgrims sailed to Cape Cod on board the Mayflower in 1620. They landed on a rock they quickly named for their city of departure in England, Plymouth, and wrote an egalitarian compact to govern their new colony. The Pilgrims proceeded to make friends with the native inhabitants of New England, including Squanto, who taught the settlers how to grow American crops and hunt and fish in the New World. To cement a bond of friendship, the Pilgrims decided to invite the Indians to a feast they called Thanksgiving with cooked turkey, cranberry sauce, potatoes, and pumpkin pie.
In reality, the English dissidents on board the Mayflower called themselves "saints," not "pilgrims," and landed on a beach in Provincetown, not a rock in Plymouth. They had a tumultuous relationship with the native Wampanoag tribe marked by suspicion and accusations of theft on both sides. Tisquantum, the man called Squanto by the colonists, had been captured and made a slave by English traders years before, and returned to find his people almost entirely decimated by disease. He used his skills as a translator and expert hunter to gain favor with the English and helped them rebound from the disastrous winter of 1620, when about half of the colony died of starvation and disease. 
Around harvest time in 1621, the settlers' fortunes had improved to the point that they held a three-day feast of thanksgiving attended by a group of Wampanoag men who may have been trying to negotiate a peace agreement. The Indian men brought five deer to the feast, which probably also included cod, goose, dried corn, and fruit. There is no historical record of turkey, pumpkin pie, or football. What's more, the Massachusetts Thanksgiving wasn't the first held in the modern United States. (For a historically accurate tale of Thanksgiving, check out Thanksgiving in North America: From Local Harvests to National Holiday from Encyclopedia Smithsonian.)
Thanksgiving was made a national holiday in 1863 during the Lincoln presidency. At that time, a lack of serious historical scholarship and prevailing ideas about Native Americans contributed to misconceptions about the historic holiday. Today we still have images of pilgrims in hats and with buckles on their shoes — images conceived by Victorian-era artists and not based on any historical facts.
A couple of years ago, I discovered this photograph of a pilgrim in the Photographic History collection. Okay, so the photo doesn't date to 1620 — photography wasn't patented until 1839. And the scene is a little anachronistic, showing a man in a stereotypical Pilgrim costume, holding a newspaper from 1940, and standing in front of a 1907 monument.
The photograph was taken at a time when the Pilgrim Thanksgiving myth was at its height of influence, but also a time when scholars were rewriting the history of the holiday to be more accurate and inclusive. Although we don't know why this photo was taken, it might have been for an advertising campaign, a souvenir from a trip, or simply a visual gag. The tower in the background, the Pilgrim Monument in Provincetown, Massachusetts, was designed to resemble the Torre Del Manga in Siena, Italy, a structure as American, one critic said, "as the Leaning Tower of Pisa." Contemporary architects derided the monument for its irrelevance to the story of the Pilgrims, but of course, much of what they thought they knew about the subject was incorrect as well.
History is a constant work of addition and rethinking, and Thanksgiving is just as controversial a topic as any other. There is something about this photo, however, that speaks to the way holidays connect us to our past despite the changing nature of its interpretation. Even if the version of the Thanksgiving story that you heard in school is missing a few details, the legacy of the historical circumstances surrounding the holiday invite reflection on the American story in the quest to understand the American experience.
See more posts from and about the Smithsonian.
---
This post was first published on the National Museum of American History's O Say Can You See? blog.
November 25, 2011 · Posted in Uncategorized ·
Comments Off

on These are the words that James A. Garfield spoke at Arlington Cemetery on May 30, 1868
In answer to a question I received today"Message:
Gen. Garfield made a speech dedicating Arlington National Cemetery.
Can you provide the text of that speech?" scroll down in article to  These are the words that James A. Garfield spoke at Arlington Cemetery on May 30, 1868:
ADRIAN MORGAN: WE SHOULD GUARD THEIR GRAVES WITH SACRED VIGILANCE:
By Ruth King on May 30th, 2011
http://www.familysecuritymatters.org/publications/id.9625/pub_detail.asp
"We Should Guard Their Graves with Sacred Vigilance" Adrian Morgan, The Editor
The first official celebration of Memorial Day began unofficially in the cemeteries of the south in the years immediately after the end of the Civil War. Here, ceremonies began where the graves of the fallen were decorated. There are several locations which vie for the claim to be the first place where such ceremonies took place. These celebrations, called "Decoration Days" were officially enacted from at least 1866 onwards in various locations, on varying days. In 1865, freed slaves had decorated the graves of 257 Union soldiers at Charleston in South Carolina, the first known example of a Decoration Day.
The first official national Decoration Day took place exactly 143 years ago today in Washington D.C., on May 30, 1868. Here at Arlington Cemetery, as reported in the Evening Star of the same date:
The exercises were opened at one o'clock in front of the Arlington Mansion, by W.T. Collins, Esq., who read the general order (G.A.R.) designating the 30th of May as a day to be observed throughout the United States in decorating the graves of the Union dead. Rev. Byron Sunderland then offered an impressive prayer, after which an appropriate hymn was sung. Hon. James A. Garfield was then introduced and delivered the oration, which was very appropriate and listened to with marked attention. The lateness of the hour prevents us from giving Mr. Garfield's address. At its conclusion, a patriotic song was sung by the assemblage and an original poem was read by Hon. J.C. Smith. The services at this point concluded with a solemn dirge by the 44th Infantry band.
James Abram Garfield's speech on that day has a resonance that still has meaning almost a century and a half later. Garfield had been a Major General in the Union Army and had fought in the battles of Shiloh (1862) and Chickamauga (1863). Garfield would go on to become the 20th President of the United States on March 4, 1881, though he would soon be shot , dying 80 days after being hit on 19 September, 1881.
These are the words that James A. Garfield spoke at Arlington Cemetery on May 30, 1868:
I am oppressed with a sense of the impropriety of uttering words on this occasion. If silence is ever golden, it must be here, beside the graves of fifteen thousand men, whose lives were more significant than speech, and whose death was a poem, the music of which can never be sung. With words we make promises, plight faith, praise virtue. Promises may not be kept, plighted faith may be broken, and vaunted virtue be only the cunning mask of vice. We do not know one promise these men made, one pledge they gave, one word they spoke: but we do know they summed up and perfected, by one supreme act, the highest virtues of men and citizens. For love of country they accepted death, and thus resolved all doubts, and made immortal their patriotism and their virtue.
On the same day, other graves were decorated. The decision to set the date of this 1868 Decoration Day had been made on the order of General John A. Logan of the Grand Army of the Republic. On
May 5, 1868
, he had issued a proclamation (General Orders Number 11) that began:
The 30th day of May, 1868, is designated for the purpose of strewing with flowers or otherwise decorating the graves of comrades who died in defense of their country during the late rebellion, and whose bodies now lie in almost every city, village, and hamlet church-yard in the land. In this observance no form of ceremony is prescribed, but posts and comrades will in their own way arrange such fitting services and testimonials of respect as circumstances may permit.
We are organized, comrades, as our regulations tell us, for the purpose among other things, "of preserving and strengthening those kind and fraternal feelings which have bound together the soldiers, sailors, and marines who united to suppress the late rebellion." What can aid more to assure this result than cherishing tenderly the memory of our heroic dead, who made their breasts a barricade between our country and its foes? Their soldier lives were the reveille of freedom to a race in chains, and their deaths the tattoo of rebellious tyranny in arms. We should guard their graves with sacred vigilance…
Decoration Day was first called Memorial Day in 1882, but it was not until after the end of World War I (1918) that the name gained popularity. On
June 28, 1968
, President Lyndon Johnson signed the Uniform Holiday Bill (H.R. 15951), which would come into force on January 1
st
, 1971. This bill assigned fixed dates for three holidays, including Memorial Day:
–Washington's Birthday on the third Monday in February,
–Memorial Day on the last Monday in May,
–Veterans Day on the fourth Monday in October.
In Arlington Cemetery in 1865, the graves of fallen soldiers would be decorated with flowers. Nowadays, it is more usual for graves to be decorated with Stars and Stripes flags, while flowers are laid by relatives. One particular flower has a symbolic importance on this day.
Memorial Day is held when flowers are in bloom. Poppies are traditionally associated with Memorial Day. The tradition of making and selling paper poppies, reflecting the
poppies that grew
in Flanders Fields in the First World War (known at the time as The Great War) is 93 years old. American teacher
Moina Michael
in 1918 had been touched by a poem written by Canadian serviceman Colonel John McCrae. In 1915, struck by the way red poppies (Papaver rhoeas)  bloomed in abundance upon battlefields that had earlier been broken up by shell bursts, McCrae had written a poem that was originally known as "We Shall Not Sleep." It is now more popularly known by the title "In Flanders Fields":
In Flanders Fields the poppies blow
Between the crosses, row on row
That mark our place; and in the sky
The larks, still bravely singing, fly
Scarce heard amid the guns below.
We are the Dead. Short days ago
We lived, felt dawn, saw sunset glow,
Loved and were loved, and now we lie,
In Flanders Fields.
Take up our quarrel with the foe:
To you from failing hands we throw
The torch; be yours to hold it high.
If ye break faith with us who die
We shall not sleep, though poppies grow
In Flanders Fields.
In 1917 America joined the Great War in Europe, and soon American serviceman would be buried in Flanders Fields. Moina Belle Michael, who
worked as a volunteer
in this war with the YMCA, responded with a poem of her own in November 1918:
We Shall Keep the Faith
Oh! you who sleep in Flanders Fields,
Sleep sweet – to rise anew!
We caught the torch you threw
And holding high, we keep the Faith
With All who died.
We cherish, too, the poppy red
That grows on fields where valor led;
It seems to signal to the skies
That blood of heroes never dies,
But lends a lustre to the red
Of the flower that blooms above the dead
In Flanders Fields.
And now the Torch and Poppy Red
We wear in honor of our dead.
Fear not that ye have died for naught;
We'll teach the lesson that ye wrought
In Flanders Fields.
On
November 9th 1918
, Moina Michael had the idea to commemorate the fallen with a symbol of the red poppy. She began wearing artificial poppies herself, and The poppy was adopted first by the YMCA Conference of Overseas Secretaries, then in 1919 various local American organizations, particularly in Georgia. On September 29
th
, 1920 the poppy became the emblem of the National American Legion. Soon, veterans' organizations in Britain, France, Canada, Australia and New Zealand had adopted the red poppy as their emblem.
Memorial Day 2011
Today, there will be ceremonies across the United States to celebrate the fallen, and overseas there will be more remembrance of those who have given their all for their country. Today is also a national holiday, and this weekend has also been a time of celebration. Ideally there should be a balance between the solemnity of remembering those who laid down their lives, and gratitude that through their sacrifice, America remains a free country, and the greatest democracy that the world has ever seen.
As well as remembering the fallen, we should also remember the families of the fallen, and also those families who wait patiently, giving their support to loved ones who are still fighting overseas for their country. All who join the military do so knowing full well that they may be asked to make that ultimate sacrifice.
So today, let us honor all those who have given up their lives, and also express gratitude to those who have become disabled in battle. Until all wars end, there will always be more good Americans who will be called upon to give up their lives so that those at home can stay free.