South Pole anniversary final week: comment by Mark Langridge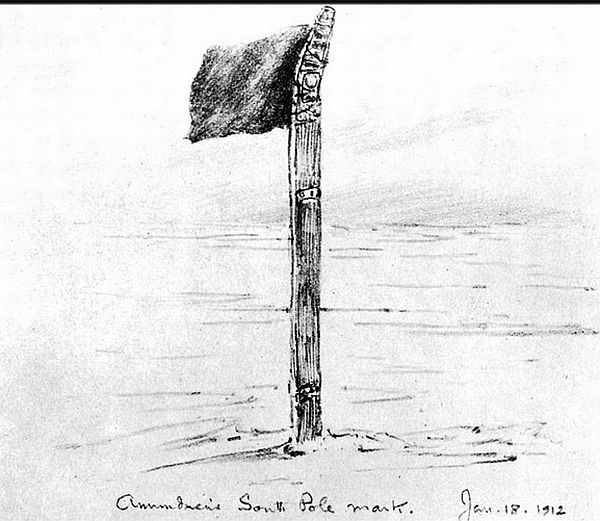 (Correne Coetzer) Leader of the only team who retraced Scott's route during the 2011-12 Antarctic season, Mark Langridge told ExplorersWeb that each day he, Kevin Johnson and Paul Vicary thought of Scott and his team.The modern explorers arrived Cape Evans, the original start point, on November 3rd. Arriving at Scott's hut with great expectation to go inside, the team got the cold shoulder. "We were disappointed with the AHT who were unable to let us in Scott's hut (we had a permit) even though their helicopter was taking off as we landed 800m away!" Mark told ExplorersWeb.
Carrying Capt. Oates' Polar medal (signed out from the Regimental museum from his unit), the Langridge team followed Scott's journals walking over the exact spots he had. "We conducted a short memorial at each pertinent location (One Ton Depot, Scott's final campsite, Oates' last campsite, and Taff Evans' death site) Mark said.
Arriving the pole was hard for both teams but hardest for the pioneers.
Wanting to arrive at the South Pole on January 17, exactly 100 years after Scott, Langridge, Johnson and Vicary had to race in the end due to a white-out that forced hard work with 3 x 15 hour days, "getting us to the Pole at 23h35 January 17th NZ time!!" Mark said.
Scott wrote on January 17, after a sleepless night, "The Pole. Yes, but under very different circumstances from those expected. We have had a horrible day." The men had already seen on January 16th, "a black flag tied to a sledge bearer [...] this told us the whole story."
Mark Langridge and his crew didn't have to ski back. Scott had no choice. "Now for the run home and a desperate struggle. I wonder if we can do it," he wrote in his diary.
Finding a cache left behind for them by Amundsen, Oates remarked, "I must say that man must have had his head screwed on right. The gear they left was in excellent order and they seem to have had a comfortable trip with their dog teams, very different from our wretched man-hauling."
Fast forward a century, Mark Langridge stated to ExWeb, "We have nothing but respect for Scott and Shackleton in pioneering this classic (seldom travelled) route."
1912 resupply teams
Following the pioneers' sad march back, question arrives why no effort was made by their peers to find them?
Before leaving for the South Pole, on October 20, 1911, Scott gave detailed instructions to Cecil Meares about what to do by the time he and his team were to return from the South Pole.
Scott instructed a dog team with a resupply to meet them at One Tone Depot. "Assuming that the ship [Terra Nova] will have to leave the Sound soon after the middle of March, it looks at present as though you should aim at meeting the returning party about March 1 in Latitude 82 or 82.30."
Two resupply teams went out to meet Scott, Wilson, Bowers, Oats and Edgar Evans. Scott's second in command Edward Evans recalled, "Scott's instructions were quite clear, and they were certainly obeyed. As a matter of fact there was never any anxiety felt for the Southern party until after March 10. They themselves never imagined they would reach Hut Point before that time, and as the last supporting party had won through short-handed, and after pulling in harness for 1500 miles, it was not considered likely that the Southern party would fail—unless overtaken by scurvy."
The Russian dog driver, Dimitri/Demetri Gerof and Apsley Cherry-Garrard went out first, with dogs and two weeks' resupply for the Southern team. They waited out bad weather at One Ton Camp and on March 10th left one month's rations for Scott before returning to Hut Point.
On March 16 they broke the news that the polar team was still out on the Barrier (Ross Ice Shelf). On March 16 Scott wrote in his diary about Oates who had walked out in a blizzard to his death.
A second team, Edward Atkinson and Patrick Keohane set out on foot on March 27th to look for Scott and the team. Three days later they reached a point south of Corner Camp. Atkinson reported, "Taking into consideration the weather, and temperatures, and the time of the year, and the hopelessness of finding the party except at any definite point like a depôt, I decided to return from here."
"We depôted the major portion of a week's provisions to enable them to communicate with Hut Point in case they should reach this point. At this date in my own mind I was morally certain that the party had perished."
Out on the Barrier, the remaining Southern team, Scott, Bowers and Wilson were in their tent, 11 miles from One Ton Camp – still alive, but near their end.
In the 2011-12 anniversary Antarctic ski season only one team retraced Scott's route. Mark Langridge led Kevin Johnson and Paul Vicary from Cape Evans across the Ross Ice Shelf, up the Beardmore Glacier to the South Pole. They were the "Scott team" of the British Army's Scott-Amundsen Race. The "Amundsen team" was lead by Henry Worsley, with team mate Lou Rudd.
Langridge's team started from Cape Evan on November 4, 2011 and arrived at the South Pole at January 17, 2012. Worsley's team started at The Bay of Whales on November 3, 2011 and arrived at the South Pole on January 9, 2012.
October 20, 1911 Roald Amundsen and his Norwegian team, Olav Bjaaland, Oscar Wisting, Helmer Hanssen and Sverre Hassel, set off from The Bay of Whales to discover the Geographic South Pole (90°S) on December 14, 1911. Kristian Prestrud, Jørgen Stubberud and Hjalmar Johansen stayed behind at Framheim (Bay of Whales) with the cook, Adolf Lindström.
Henry Worsley and Lou Rudd set off at the Bay of Whales on November 3, 2011, crossed the Ross Ice Shelf and Axel Heiberg Glacier and arrived at the South Pole on January 9, 2012.
The British Terra Nova polar team with Robert Falcon Scott as leader set off from Cape Evans on November 1, 1911 on their quest to discover the South Pole. The polar party who arrived at the already discovered South Pole on January 17, 1912 was Henry R. Bowers, Edward A. Wilson, Lawrence E.G. (Titus) Oates and Edgar Evans (Petty Officer Evans died on the way back, February 17, 1912 and Oates a month later). The rest of the team will meet their end with the last word from them on March 29, 1912.
http://explorersweb.com/polar/news.php?id=20707
---