---
The Nobel Peace Prize 1991
Aung San Suu Kyi
Biography*
1942:
September 6. Marriage of Aung San, commander of the Burma Independence Army, and Ma Khin Kyi (becoming Daw Khin Kyi), senior nurse of Rangoon General Hospital, where he had recovered from the rigours of the march into Burma.
1945:
June 19. Aung San Suu Kyi born in Rangoon, third child in family. "Aung San" for father, "Kyi" for mother, "Suu" for grandmother, also day of week of birth.
Favourite brother is to drown tragically at an early age. The older brother, will settle in San Diego, California, becoming United States citizen.
1947:
July 19. General Aung San assassinated. Suu Kyi is two years old. Daw Khin Kyi becomes a prominent public figure, heading social planning and social policy bodies.
1948:
January 4. The Independent Union of Burma is established.
1960:
Daw Khin Kyi appointed Burma's ambassador to India. Suu Kyi accompanies mother to New Delhi.
1960-64:
Suu Kyi at high school and Lady Shri Ram College in New Delhi.
1964-67:
Oxford University, B.A. in philosophy, politics and economics at St. Hugh's College (elected Honorary Fellow, 1990).
British "parents" are Lord Gore-Booth, former British ambassador to Burma and High Commissioner in India, and his wife, at whose home Suu Kyi meets Michael Aris, student of Tibetan civilisation.
1969-71:
She goes to New York for graduate study, staying with family friend Ma Than E, staff member at the United Nations, where U. Thant of Burma is Secretary-General. Postponing studies, Suu Kyi joins U.N. secretariat as Assistant Secretary, Advisory Committee on Administrative and Budgetary Questions. Evenings and weekends volunteers at hospital, helping indigent patients in programs of reading and companionship.
1972:
January 1. Marries Michael Aris, joins him in Himalayan kingdom of Bhutan, where he tutors royal family and heads Translation Department. She becomes Research Officer in the Royal Ministry of Foreign Affairs.
1973:
They return to England for birth of Alexander in London.
1974:
Michael assumes appointment in Tibetan and Himalayan studies at Oxford University.
1977:
Birth of second son, Kim at Oxford.
While raising her children, Suu Kyi begins writing, researches for biography of father, and assists Michael in Himalayan studies.
1984:
Publishes Aung San in Leaders of Asia series of University of Queensland Press. (See Freedom from Fear, pp. 3-38.)
1985:
For juvenile readers publishes Let's Visit Burma (see Freedom from Fear, pp. 39-81), also books on Nepal and Bhutan in same series for Burke Publishing Company, London.
1985-86:
Visiting Scholar, Center of Southeast Asian Studies, Kyoto University, researching father's time in Japan. Kim with her, Alexander with Michael, who has fellowship at Indian Institute of Advanced Studies at Simla in northern India.
1986:
On annual visit to grandmother in Rangoon, Alexander and Kim take part in traditional Buddhist ceremony of initiation into monkhood.
1987:
With fellowship at Indian Institute Suu Kyi, with Kim, joins Michael and Alexander in Simla. Travels to London when mother is there for cataract surgery.
Publishes "Socio-Political Currents in Burmese Literature, 1910-1940" in journal of Tokyo University. (See Freedom from Fear, pp. 140-164.) September. Family returns to Oxford. Suu Kyi enrolls at London School of Oriental and African Studies to work on advanced degree.
1988:
March 31. Informed by telephone of mother's severe stroke, she takes plane next day to Rangoon to help care for Daw Khin Kyi at hospital, then moves her to family home on University Avenue next to Inya Lake in Rangoon.
July 23. Resignation of General Ne Win, since 1962 military dictator of Burma. Popular demonstrations of protest continuing.
August 8. Mass uprising throughout country. Violent suppression by military kills thousands.
August 15. Suu Kyi, in first political action, sends open letter to government, asking for formation of independent consultative committee to prepare multi-party elections.
August 26. In first public speech, she addresses several hundred thousand people outside Shwedagon Pagoda, calling for democratic government. Michael and her two sons are there.
September 18. Military establishes State Law and Order Restoration Council (SLORC). Political gatherings of more than four persons banned. Arrests and sentencing without trial reaffirmed. Parliamentary elections to be held, but in expectation that multiplicity of parties will prevent clear result.
September 24. National League for Democracy (NLD) formed, with Suu Kyi general-secretary. Policy of non-violence and civil disobedience. October-December. Defying ban, Suu Kyi makes speech-making tour throughout country to large audiences.
December 27. Daw Khin Kyi dies at age of seventy-six.
1989:
January 2. Funeral of Daw Khin Kyi. Huge funeral procession. Suu Kyi vows that as her father and mother had served the people of Burma, so too would she, even unto death.
January-July. Suu Kyi continues campaign despite harassment, arrests and killings by soldiers.
February 17. Suu Kyi prohibited from standing for election.
April 5. Incident in Irawaddy Delta when Suu Kyi courageously walks toward rifles soldiers are aiming at her.
July 20. Suu Kyi placed under house arrest, without charge or trial. Sons already with her. Michael flies to Rangoon, finds her on third day of hunger strike, asking to be sent to prison to join students arrested at her home. Ends strike when good treatment of students is promised.
1990:
May 27. Despite detention of Suu Kyi, NLD wins election with 82% of parliamentary seats. SLORC refuses to recognise results.
October 12. Suu Kyi granted 1990 Rafto Human Rights Prize.
1991:
July 10. European Parliament awards Suu Kyi Sakharov human rights prize.
October 14. Norwegian Nobel Committee announces Suu Kyi is winner of 1991 Peace Prize.
1991:
December. Freedom from Fear published by Penguin in New York, England, Canada, Australia, New Zealand. Also in Norwegian, French, Spanish translations.
December 10. Alexander and Kim accept prize for mother in Oslo ceremony. Suu Kyi remains in detention, having rejected offer to free her if she will leave Burma and withdraw from politics. Worldwide appeal growing for her release.
1992:
Suu Kyi announces that she will use $1.3 million prize money to establish health and education trust for Burmese people.
1993:
Group of Nobel Peace Laureates, denied entry to Burma, visit Burmese refugees on Thailand border, call for Suu Kyi's release, Their appeal later repeated at UN Commission for Human Rights in Geneva.
1994:
February. First non-family visitors to Suu Kyi: UN representative, U.S. congressman, New York Times reporter.
September-October. SLORC leaders meet with Suu Kyi, who still asks for a public dialogue.
1995:
July 10. SLORC releases Suu Kyi from house arrest after six years of detention.
In the last four years her movements have still been restricted. While she has had some opportunities to telephone her family in England, she is regularly denounced in the government-controlled media, and there is concern for her personal safety. Efforts to revive any NLD party activities have been balked, and its members have been jailed and physically attacked. In the first months after detention was ended, she was able to speak to large gatherings of supporters outside her home, but this was stopped. Yet her popularity in the country has not diminished.
Internationally her voice has been heard not infrequently. Reporters with cameras and videotape have been able to interview her in person, and telephone interviews with the media outside Burma have also been published. Using video cassettes she has sent out statements, including the keynote address to the NGO Forum at the U.N. International Women's Conference in Beijing in August 1995.
There have been a number of visitors from abroad, including a member of the Norwegian Nobel Committee, whom she told that Norway will be the first country she will visit when free to travel. SLORC has changed its name to the State Peace and Development Council, but its repressive policies and violation of human rights continue unabated.
Suu Kyi discourages tourists from visiting Burma and businessmen from investing in the country until it is free. She finds hearing for such pleas among western nations, and the United States has applied economic sanctions against Burma, but Burma's neighbours follow their policy of not intervening in the internal affairs of other sovereign states, and Burma has been admitted into the Association of South Eastern Asian Nations.
On March 27, 1999, Michael Aris died of prostate cancer in London. He had petitioned the Burmese authorities to allow him to visit Suu Kyi one last time, but they had rejected his request. He had not seen her since a Christmas visit in 1995. The government always urged her to join her family abroad, but she knew that she would not be allowed to return. This separation she regarded as one of the sacrifices she had had to make in order to work for a free Burma.
Selected Bibliography
By Aung San Suu Kyi
Freedom from Fear and Other Writings. Edited with introduction by Michael Aris. 2nd ed., revised. New York and London: Penguin, 1995. (Includes essays by friends and scholars.)
Voice of Hope: Conversations. London: Penguin, 1997 and New York City: Seven Stories Press, 1997 (Conversations beginning in November 1995 with Alan Clements, the founder of the Burma Project in California who helped with the script for the film based on her life, "Beyond Rangoon".)
Other Sources
"Aung San Suu Kyi", in Current Biography, February 1992.
Clements, Alan and Leslie Kean. Burma's Revolution of the Spirit: The Struggle for Democratic Freedom and Dignity. New York: Aperture, 1994. (Many colour photographs with text, Includes essay by Aung San Suu Kyi.)
Clements, Alan. Burma: The Next Killing Fields. Tucson, Arizona; Odonian Press, 1992. (With a foreword by the Dalai Lama.)
Lintner, Bertil. Burma in Revolt: Opium and Insurgency since 1948. Boulder. Colorado: Westview, 1994. (By a well-informed Swedish journalist.)
Lintner, Bertil. Outrage: Burma's Struggle for Democracy. 2nd ed., Edinburgh: Kiscadale, 1995.
Mirante, Edith T. Burmese Looking Glass. A Human Rights Adventure and a Jungle Revolution. New York: Grove, 1993.
Smith, Martin J. Burma: Intrangency and the Politics of Ethnicity. London: Zed Books, 1991. (A detailed and well-organised account by a journalist of the violent conflict between the military government and the many minorities.)
Victor, Barbara. The Lady: Aung San Suu Kyi: Nobel Laureate and Burma's Prisoner. Boston and London: Faber & Faber, 1998. (A sympathetic account by a wellpublished author and journalist, whose research in Burma included interviews with government leaders.)
---
* Since no biography was printed in Les Prix Nobel 1991, this chronology has been assembled by the editor.
From Nobel Lectures, Peace 1991-1995, Editor Irwin Abrams, World Scientific Publishing Co., Singapore, 1999
This autobiography/biography was written at the time of the award and first published in the book series Les Prix Nobel. It was later edited and republished in Nobel Lectures. To cite this document, always state the source as shown above.
Copyright © The Nobel Foundation 1991
TO CITE THIS PAGE:
MLA style: "Aung San Suu Kyi – Biography". Nobelprize.org.2 Apr 2012
http://www.nobelprize.org/nobel_prizes/peace/laureates/1991/kyi-bio.html.
Copyright © Nobel Media AB 2012
Published: March 30, 2012 By: HISTORY.COM STAFF
10 Things You Didn't Know About the Penny
Canada will remove its pennies from circulation this year, following in the footsteps of Australia, Sweden and several other countries, finance minister Jim Flaherty announced yesterday. Is the humble coin's American cousin next in line to lose its currency? As various groups weigh both sides of the debate, explore the history of the penny in the United States and beyond.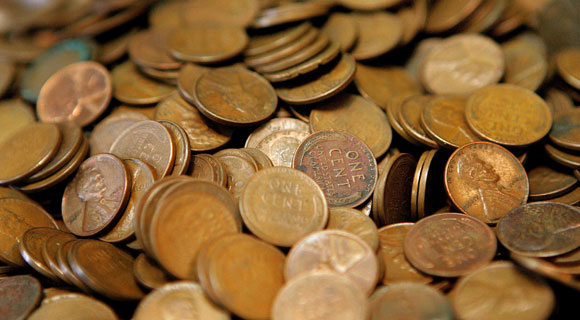 (Credit: Tim Boyle/Getty Images)
1. The word "penny" and its variations across Europe—including the German "pfennig" and the Swedish "penning"—originally denoted any sort of coin or money, not just a small denomination.
2. Offa, an Anglo-Saxon king, introduced the first English coin known as the penny around 790 A.D.; it was made entirely of silver. Today's British pennies (called "pence" when referring to a quantity of money) are worth one hundredth of a pound and minted in copper-plated steel.
The obverse of the first official U.S. penny, reportedly designed by Benjamin Franklin.
3. The official term for the American penny is "one-cent piece." However, when the U.S. Mint struck its first one-cent coins—then the size of today's half-dollars and 100-percent copper—in 1793, Americans continued to use the British term out of habit.
4. Benjamin Franklin reportedly designed the first American penny in 1787. Known as the Fugio cent, it bears the image of a sun and sundial above the message "Mind Your Business." A chain with 13 links, each representing one of the original colonies, encircles the motto "We Are One" on the reverse.
5. Along with the first U.S. penny's design, the phrase "a penny saved is a penny earned" has been attributed to Benjamin Franklin. Visitors to the founding father's grave in Philadelphia traditionally leave one-cent pieces there for good luck.
6. The copper content of U.S. pennies has declined over the years due to rising prices. The expensive metal makes up just 2.5 percent of one-cent pieces minted in 1982 or later; nickels, dimes and quarters, on the other hand, are mainly composed of copper. Still, today's pennies cost more than their face value—an estimated 1.8 cents each—to produce.
7. In 1909, Teddy Roosevelt introduced the Lincoln cent to commemorate the 100-year anniversary of the 16th U.S. president's birth. At the time, it was the first American coin to feature the likeness of an actual person (as opposed to the personifications of "liberty" appearing on earlier designs). Fifty years later the Lincoln Memorial was added to the penny's reverse, complete with a tiny representation of the statue within.
8. The image of Abraham Lincoln on today's American pennies was designed by Victor David Brenner, an acclaimed medalist who emigrated to the United States from Lithuania in 1890. Born Viktoras Barnauskas, Brenner had fled his native land after being persecuted for his Jewish ancestry.
9. As copper supplies became vital to weapons manufacturing during World War II, the U.S. Mint decided to cast the 1943 penny in zinc-coated steel. Nicknamed "steelies," these coins caused confusion because they closely resembled dimes; they also rusted and deteriorated quickly.
10. In the 1980s, U.S. military bases overseas abolished the penny and began rounding all transactions up or down to the nearest five cents. This is the system Canada plans to implement later this year.
Tourists enjoy the cherry blossoms in full bloom around the Tidal Basin on March 22 in Washington, D.C.Karen Bleier / AFP – Getty Images
Washington, D.C., celebrates 100 years of friendship, cherry blossoms
By Jane L. Levere, msnbc.com contributor
April 1, 2012, 11:03 am MSN.comThis year's National Cherry Blossom Festival in Washington, D.C., kicking off Tuesday, is the centennial celebration and is expected to bring record-breaking numbers of tourists and revenue to the city. The festival runs through April 27 — a five-week celebration rather than the usual two.
Washington Mayor Vincent C. Gray called the festival "one of the biggest events, if not the biggest event of the year for Washington, D.C."
Gray is hopeful visitor revenues during the festival could reach $200 million, "since the economy is better and this year is the centennial," he told msnbc.com. In 2011, the festival generated $126 million in tourist dollars.
No projections have been made for the number of visitors this year. However, for a frame of reference, about 1 million visitors attend the festival on typical years when the event is two weeks long.
The festival began in 1912, when Mayor Yukio Ozaki of Tokyo presented 3,000 cherry trees to the city of Washington, D.C., in honor of the lasting friendship between the United States and Japan. The gift was coordinated with help from officials of the U.S. Department of Agriculture and the National Geographic Society; first lady Helen Herron Taft; and Dr. Jokichi Takamine, a chemist who founded Sankyo Co., Ltd., a company now known as Daiichi Sankyo, which sponsors the festival.
The 3,000 trees were planted in the Tidal Basin; almost 100 of these still survive. The Japanese government gave first lady Lady Bird Johnson an additional 3,800 trees in 1965, which were also planted in the Tidal Basin. These were joined last year by more than 160 additional trees, planted at the Martin Luther King, Jr. National Memorial, located in the Tidal Basin.
The National Park Service predicts the peak bloom period will be March 20-23 with an average peak bloom date of April 4. The trees are expected to bloom into April throughout the city and some of its suburbs.
The centennial festival is bringing many firsts, including a nationally syndicated broadcast of the National Cherry Blossom Festival Parade on April 14. The parade will be co-hosted by ABC News special correspondent and former TODAY anchor Katie Couric and "Jeopardy" host Alex Trebek.
Also new this year is a "City in Bloom" campaign: The National Building Museum, Newseum, Dulles International Airport, Southwest Waterfront and other buildings will have special pink or blossom lighting from March 28 to April 1, while 240 Capitol One bank branches (Capitol One is sponsoring the campaign) will distribute a "Petal Pass," with discounts for tickets and merchandise. The United States Postal Service will issue a dual "Forever" stamp in honor of the centennial, while National Geographic has published a new book to mark the anniversary, "Cherry Blossoms: The Official Book of the National Cherry Blossom Festival."
Diana Mayhew, president of the National Cherry Blossom Festival, said a record number of Washington, D.C. restaurants and hotels are participating in festival-related promotions, including more than 100 restaurants — up from 83 last year — and 55 hotels.
Destination DC, the city's tourism promotion organization, is providing toll-free telephone service (877-44-BLOOM) for inquiries about the festival. "Phones continue to ring with interest," said Elliott Ferguson, Destination DC's president and CEO. "I'd like to say it's going to be phenomenal, bring a lot of international business."
Mayor Gray predicted the centennial festival would provide "a tremendous boost to our image as a welcoming place and as an international city. It demonstrates, too, what the 100-year relationship between the United States and Japan and Washington and Tokyo has done — it's served us in good times and in bad times."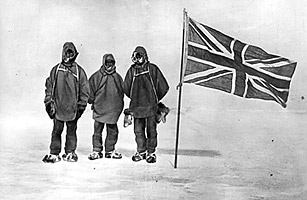 Irish explorer Sir Ernest Henry Shackleton and two members of his expedition team beside a Union Jack within 111 miles (178 km) of the South Pole
Hulton Archive / Getty
Tuesday, Dec. 01, 2009
Antarctica
By Kristi Oloffson
On Dec. 1, 1959, representatives from a dozen countries, including the U.S., Japan and the U.K. met in Washington to sign a treaty intended to keep the Cold War out of the coldest place on Earth. Fifty years later, the Antarctic Treaty is still in effect, making it one of the world's most successful international agreements, with its member nations still meeting once a year. The pact calls for keeping Antarctica a continent free of weapons and reserved for scientific research alone; its signatories vow to refrain from making any claims to the territory, which is considered neutral ground. The pact fulfilled a longtime goal of its brainchild, President Dwight D. Eisenhower, who feared the remote region could one day become an area for military competition. "The Antarctic Treaty and the guarantees it embodies constitute a significant advance toward the goal of a peaceful world with justice," he said the day the treaty was signed.
More often associated with penguins and whales than science and peace, 98% of Antarctica is covered by ice — much of which is a mile and a half deep. The continent holds the record for the coldest temperature in recorded history: a numbing -128.6°F on July 21, 1983, in the middle of the southern hemisphere's winter. Nearly one and a half times as large as the United States, Antarctica is geologically classified as a desert, garnering less than an inch of precipitation each year. It is the coldest, driest and windiest continent, not to mention the highest — Antarctica's average elevation is 7,544 feet (2,299 m). The name Antarctica comes from the Greek word antarktiké meaning "opposite to the north."
Scientists have suspected the existence of a southern landmass that balanced the globe's northern continents since as early as 150 A.D., when Greek astronomer Ptolemy suggested the existence of a "unknown southern land." But no humans actually set eyes on Antarctica until 1820. In a great race to the bottom of the world, ships from Russia, Britain and the U.S. all spotted the landmass within months of one another in 1820. The first explorer to discover Antarctica is widely believed to have been Russian explorer Fabian Gottlieb von Bellingshausen, whose expedition first spotted land in January 1820. But further interest in the continent waned in the 1800s and Antarctica largely went unexplored until the final decade of that century, when some 16 expeditions explored the area. (See "Sub-glacial Antarctica" in mankind's great explorations and adventures.)
The continent's most famous exploration, however, remains the race to the South Pole in the early 1900s between British naval officer Robert Falcon Scott and Norwegian explorer Roald Amundsen. Using 52 sled dogs and with four companions, Amundsen won the race — making it to the pole after a near two-month journey on Dec. 19, 1911. It took until nearly March for the team to reach Tasmania where they could send a telegram to let the rest of the world know of their feat. Scott later arrived on Jan. 17, 1912, just a month after Amundsen, but his entire team died on the return trip of exhaustion and bitter cold.
The signing of the Antarctic Treaty dedicated the continent entirely to research, from which have come a slew of discoveries about our planet. British scientists discovered the gaping, man-made hole in the ozone layer in the 1980s, while studies of Antarctic ice have contributed to our understanding of climate change — and increased concerns over catastrophically high sea levels if the continent's thick glaciers were to melt. One of the most integral aspects of Antarctic scientific study remains, surprisingly, meteorites: the continent is a collecting ground for them, preserved well because they naturally bury into the ice for thousands of years.
Antarctica has no permanent residents, just the 1,000 to 5,000 scientists who staff its research centers, usually for a few months at a time. But more and more are coming to visit: more than 45,000 tourists visited Antarctica during its most recent summer, and on average about 30,000 visitors flock to the frigid continent each year. Trips don't come cheap: a round-trip ticket — most likely by cruise ship — to the bottom of the earth can cost between $5,000 and $10,000. Nevertheless, at least five people have been born in Antarctica, the first being Argentinian Emilio Marcos Palma, whose mother, Silvia Morella de Palma, flew there to give birth in order to beat Chile in having the first Antarctica-born baby, on Jan. 7, 1978 — marking the southernmost birth in history. And despite not having much of a local economy, Antarctica still boasts a postal service, including branches of the U.S. Postal Service, to send and receive mail.
While the Antarctic Treaty continues to prohibit any government or military from overseeing the entire continent, Japan, China, India, the U.S. and many other countries maintain research stations there, thus claiming those areas, though not considered legal territories. But since 1996, the continent has had an unofficial flag to represent itself — a white depiction of the landmass, surrounded by light blue to indicate its neutrality.
Read more: http://www.time.com/time/world/article/0,8599,1943658,00.html#ixzz1qoIkbIBE
March 30, 2012 · Posted in Uncategorized ·
Comments Off

on South Pole Anniversary
South Pole anniversary final week: comment by Mark Langridge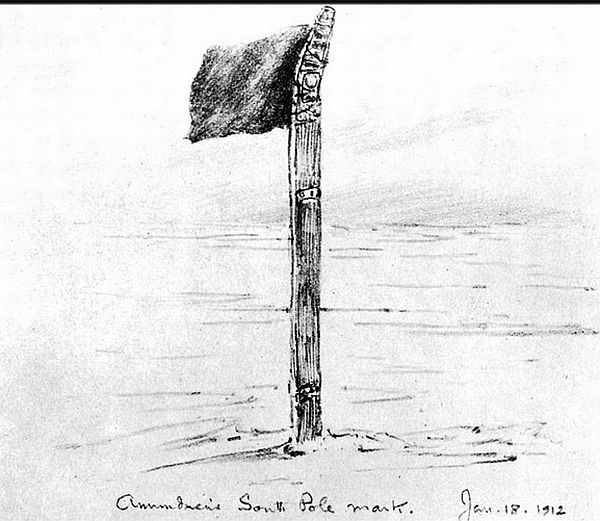 (Correne Coetzer) Leader of the only team who retraced Scott's route during the 2011-12 Antarctic season, Mark Langridge told ExplorersWeb that each day he, Kevin Johnson and Paul Vicary thought of Scott and his team.The modern explorers arrived Cape Evans, the original start point, on November 3rd. Arriving at Scott's hut with great expectation to go inside, the team got the cold shoulder. "We were disappointed with the AHT who were unable to let us in Scott's hut (we had a permit) even though their helicopter was taking off as we landed 800m away!" Mark told ExplorersWeb.
Carrying Capt. Oates' Polar medal (signed out from the Regimental museum from his unit), the Langridge team followed Scott's journals walking over the exact spots he had. "We conducted a short memorial at each pertinent location (One Ton Depot, Scott's final campsite, Oates' last campsite, and Taff Evans' death site) Mark said.
Arriving the pole was hard for both teams but hardest for the pioneers.
Wanting to arrive at the South Pole on January 17, exactly 100 years after Scott, Langridge, Johnson and Vicary had to race in the end due to a white-out that forced hard work with 3 x 15 hour days, "getting us to the Pole at 23h35 January 17th NZ time!!" Mark said.
Scott wrote on January 17, after a sleepless night, "The Pole. Yes, but under very different circumstances from those expected. We have had a horrible day." The men had already seen on January 16th, "a black flag tied to a sledge bearer […] this told us the whole story."
Mark Langridge and his crew didn't have to ski back. Scott had no choice. "Now for the run home and a desperate struggle. I wonder if we can do it," he wrote in his diary.
Finding a cache left behind for them by Amundsen, Oates remarked, "I must say that man must have had his head screwed on right. The gear they left was in excellent order and they seem to have had a comfortable trip with their dog teams, very different from our wretched man-hauling."
Fast forward a century, Mark Langridge stated to ExWeb, "We have nothing but respect for Scott and Shackleton in pioneering this classic (seldom travelled) route."
1912 resupply teams
Following the pioneers' sad march back, question arrives why no effort was made by their peers to find them?
Before leaving for the South Pole, on October 20, 1911, Scott gave detailed instructions to Cecil Meares about what to do by the time he and his team were to return from the South Pole.
Scott instructed a dog team with a resupply to meet them at One Tone Depot. "Assuming that the ship [Terra Nova] will have to leave the Sound soon after the middle of March, it looks at present as though you should aim at meeting the returning party about March 1 in Latitude 82 or 82.30."
Two resupply teams went out to meet Scott, Wilson, Bowers, Oats and Edgar Evans. Scott's second in command Edward Evans recalled, "Scott's instructions were quite clear, and they were certainly obeyed. As a matter of fact there was never any anxiety felt for the Southern party until after March 10. They themselves never imagined they would reach Hut Point before that time, and as the last supporting party had won through short-handed, and after pulling in harness for 1500 miles, it was not considered likely that the Southern party would fail—unless overtaken by scurvy."
The Russian dog driver, Dimitri/Demetri Gerof and Apsley Cherry-Garrard went out first, with dogs and two weeks' resupply for the Southern team. They waited out bad weather at One Ton Camp and on March 10th left one month's rations for Scott before returning to Hut Point.
On March 16 they broke the news that the polar team was still out on the Barrier (Ross Ice Shelf). On March 16 Scott wrote in his diary about Oates who had walked out in a blizzard to his death.
A second team, Edward Atkinson and Patrick Keohane set out on foot on March 27th to look for Scott and the team. Three days later they reached a point south of Corner Camp. Atkinson reported, "Taking into consideration the weather, and temperatures, and the time of the year, and the hopelessness of finding the party except at any definite point like a depôt, I decided to return from here."
"We depôted the major portion of a week's provisions to enable them to communicate with Hut Point in case they should reach this point. At this date in my own mind I was morally certain that the party had perished."
Out on the Barrier, the remaining Southern team, Scott, Bowers and Wilson were in their tent, 11 miles from One Ton Camp – still alive, but near their end.
In the 2011-12 anniversary Antarctic ski season only one team retraced Scott's route. Mark Langridge led Kevin Johnson and Paul Vicary from Cape Evans across the Ross Ice Shelf, up the Beardmore Glacier to the South Pole. They were the "Scott team" of the British Army's Scott-Amundsen Race. The "Amundsen team" was lead by Henry Worsley, with team mate Lou Rudd.
Langridge's team started from Cape Evan on November 4, 2011 and arrived at the South Pole at January 17, 2012. Worsley's team started at The Bay of Whales on November 3, 2011 and arrived at the South Pole on January 9, 2012.
October 20, 1911 Roald Amundsen and his Norwegian team, Olav Bjaaland, Oscar Wisting, Helmer Hanssen and Sverre Hassel, set off from The Bay of Whales to discover the Geographic South Pole (90°S) on December 14, 1911. Kristian Prestrud, Jørgen Stubberud and Hjalmar Johansen stayed behind at Framheim (Bay of Whales) with the cook, Adolf Lindström.
Henry Worsley and Lou Rudd set off at the Bay of Whales on November 3, 2011, crossed the Ross Ice Shelf and Axel Heiberg Glacier and arrived at the South Pole on January 9, 2012.
The British Terra Nova polar team with Robert Falcon Scott as leader set off from Cape Evans on November 1, 1911 on their quest to discover the South Pole. The polar party who arrived at the already discovered South Pole on January 17, 1912 was Henry R. Bowers, Edward A. Wilson, Lawrence E.G. (Titus) Oates and Edgar Evans (Petty Officer Evans died on the way back, February 17, 1912 and Oates a month later). The rest of the team will meet their end with the last word from them on March 29, 1912.
http://explorersweb.com/polar/news.php?id=20707
---