By Maggie Fox, NBC News
A virus that killed two teenagers in Congo in 2009 is a completely new type, related to rabies but causing the bleeding and rapid death that makes Ebola infection so terrifying, scientists reported on Thursday. They're searching for the source of the virus, which may be transmitted by insects or bats.
The new virus is being named Bas-Congo virus, for the area where it was found. Researchers are finding more and more of these new viruses, in part because new tests make it possible, but also in the hope of better understanding them so they can prevent pandemics of deadly disease.
The virus infected a 15-year-old boy and a 13-year-old girl in the same village in Congo in 2009. They didn't stand a chance, says Joseph Fair of Metabiota, a company that investigates pathogens. Fair is in the Democratic Republic of Congo now, under contract to the U.S. Agency for International Development (USAID) to help battle an ongoing Ebola outbreak.
Advertise | AdChoices
"They expired within three days," Fair said in a telephone interview. "It was a very rapid killer."
A few days later a male nurse who cared for the two teenagers developed the same symptoms and survived. Samples from the lucky nurse have been tested and it turned out a completely new virus had infected him, Fair and other researchers report in the Public Library of Science journal PLoS pathogens.
The genetic sequences went to Dr. Charles Chiu, of the University of California, San Francisco.
"We were astounded that this patient had sequences in his blood from a completely unknown and unidentified virus," Chiu said. They weren't expecting that.
"Congo is very much known for having Ebola and Marburg outbreaks. Yet about 20 percent of the time we have hemorrhagic fever outbreaks that are completely negative, which means unknown causes and they are not Ebola."
The sequencing puts this new virus on its own branch of the bad virus family tree — somewhat related to Ebola and the virus that causes Lassa fever, another horrific killer, and most closely related to the rhabdoviruses. This family usually only infects animals with one notable exception — rabies.
Follow us on Facebook
Follow me on Twitter
But rabies is not known to cause hemorrhaging. It's plenty horrible on its own, of course, killing virtually all patients if they aren't vaccinated soon after infection.
A nurse who took care of the first infected nurse had antibodies to the new virus. It doesn't look like the teenagers infected one another, says Fair, but they probably infected the first nurse, who probably infected the second. Tests of other villagers have found no more evidence of the virus, however, which is good news.
"Although the source of the virus remains unclear, study findings suggest that Bas-Congo virus may be spread by human-to-human contact and is an emerging pathogen associated with acute hemorrhagic fever in Africa," the researchers wrote.
Africa is loaded with nasty viruses. Lassa fever virus comes from a family known as arenaviruses and causes 500,000 cases of hemorrhagic fever a year. Crimean-Congo hemorrhagic fever and Rift Valley Fever viruses are in another family called bunyaviruses; Ebola and Marburg viruses are filoviruses that kill anywhere between 30 percent and 90 percent of victims. They're also helping wipe out great apes such as gorillas in Central Africa. This adds a new one to the list.
Advertise | AdChoices
It worries Chiu because its closest relative is spread by biting flies in Australia. "We think that is potentially a valuable clue. This virus may have come from an insect vector," Chiu says. "What is scary about this virus is if it does happen to be spread by insects, it has the potential to be something like West Nile."
West Nile showed up in the United States for the first time in 1999, having never been seen here before. It causes regular outbreaks in Africa and parts of Europe, however, and some experts think a mosquito or an infected person carried it on a flight to New York. It's killed 147 people in an especially bad U.S. outbreak this year, although more than 90 percent of people infected with West Nile never even know it.
New viruses often cause disease — there was severe acute respiratory syndrome or SARS, which killed 800 people and infected 8,000 in 2003 before it was stopped. Scientists are now watching a similar virus that has emerged in the Middle east.
Chiu says there is not enough information to know how deadly the new Bas-Congo virus is.
"It has probably been lurking out there in remote areas and causing sporadic cases of hemorrhagic fever and no one had the resources to discover it," Chiu said. "This is probably the tip of the iceberg. I believe there are many, many more of these emerging viruses that have yet to be discovered," he added.
"This points to the importance of being vigilant, especially these remote areas of Africa and Asia. This is the area that I believe the next generation of emerging viruses will come from."
Fair agrees, and says his team will be looking. They'll also be checking to see if bats or insects can spread it. "It is a frightening prospect. That is why the next step in this process is to look for the vector," Fair said.
That's not so easy. Fair's team and hundreds of other scientists have been looking for the reservoir — the animal or insect source –of Ebola. That would be a bat or other creature that can carry it without getting sick itself. So far they have had no luck, although fruit bats are a major suspect.
Advertise | AdChoices
And for the new Bas-Congo virus, the trail is now three years old. "Everything we do will be as a forensic investigation," Fair said. "We really have to go look for a needle in a sack of needles."
And in the meantime, there's an outbreak of Ebola to cope with. Fair says a coordinated effort is going on, although this isn't the worst outbreak he has seen. It's killing about 30 percent to 40 percent of patients — not nearly as bad as some strains, which killed up to 90 percent of victims.
"If you had to get Ebola, this is the strain to get," he said.
New virus in Africa looks like rabies, acts like Ebola
September 14, 2012 · Posted in
Ebola Virus
·
Comments Off
Ebola outbreak kills one in Uganda, more cases seen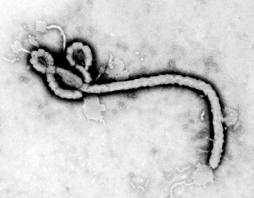 Sat May 14, 2011 2:01pm GMT
KAMPALA May 14 (Reuters) – A new outbreak of the rare and deadly Ebola virus has killed a 12-year-old Ugandan girl near the capital city Kampala, a health official in the east African country said on Saturday.
The girl from Luwero district, 75 km north of Kampala, died on May 6, Anthony Mbonye, Uganda government's commissioner for community health told journalists.
"Laboratory investigations have confirmed Ebola to be the primary cause of the illness and death. So there is one case reported but we expect other cases," said Mbonye.
The last outbreak in 2007 killed 37 people. (Reporting by Barry Malone; Writing by James Macharia)
By Miriam Falco, CNN
updated 11:30 AM EDT, Fri August 3, 2012
Fourteen people have died so far from the Ebola outbreak that began earlier this month in Western Uganda. According to the World Health Organization, the first case is believed to be from the Nyanswiga village in Nyamarunda, a sub-county of the Kibaale district of Uganda.
So far, 36 suspected cases have been reported, WHO spokesman Tariq Jasarevic said Tuesday.
Nine of the deaths are reported to have occurred in one household; a health official who was treating one of the patients also died. Unfortunately family members and health officials – those caring for the already sickened – are the most likely to be infected as well.
When was Ebola first discovered?
The Ebola virus was first detected in 1976 in the central African nation of Zaire (now the Democratic Republic of the Congo). The virus is named after a river in that country, where the first outbreak of the disease was found. There are five species of Ebola viruses, all named after the areas they were found in: Zaire, Sudan, Cote d'Ivoire, Bundibugyo and Reston, according to the WHO. (There can be different strains of Ebola within each species).
Health officials have determined that the Sudan species is the culprit in this current outbreak, which is among the three more lethal species of Ebola. The fatality ratios of Ebola hemorrhagic fever outbreaks in Africa are between 25% and 90%, according to a WHO fact sheet.
Ugandan officials try to isolate Ebola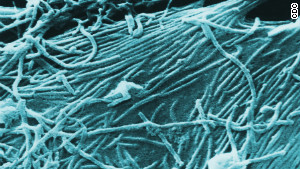 How Ebola virus spreads
So far only the Reston species of Ebola has been found to infect humans and not cause serious illness or death.
What are the symptoms of Ebola and is there a cure?
Initial symptoms of Ebola can be mistaken for other illnesses like the flu because they can be very similar: sudden high fever, joint and muscle pain and sore throat. But Ebola victims then often get bloody diarrhea and/or start vomiting, followed by rashes, red eyes, and internal and external bleeding (bloody nose or gums).
Early reports from this outbreak suggest more patients were suffering from vomiting and diarrhea than visible external bleeding. But health officials caution that information about this outbreak is still very scattered and the investigation has just begun.
There is no treatment for Ebola and no vaccine. All doctors can do is provide patients with supportive care, like replenishing fluids and electrolytes, keeping their blood pressure and oxygen levels in check and treating any infections that might occur, according to the Centers for Disease Control. There's a lot that's not known about this disease, but researchers suspect that "patients who die usually have not developed a significant immune response to the virus at the time of death," according to a CDC fact sheet.
How does it spread?
Researchers do not know what the natural reservoir of the Ebola virus is. But they have found its cousin virus – Marburg, which also causes hemorrhagic fever – in fruit bats in Africa.
While there are no known cases of a human being directly infected with Ebola by a bat, sources tell CNN, there are two documented cases of humans being infected with the Marburg virus after being in a cave full of fruit bats.
However, researchers believe humans are infected either by handling of dead or alive infected animals (like chimpanzees, gorillas and forest antelopes), or by being in direct close contact with someone who is sick with or has already died from Ebola.
The virus can be found in bodily fluids like blood, urine, diarrhea and saliva, so direct contact with these fluids from infected humans or animals, can lead to the transmission. People can also become infected by coming into contact bodily secretions found on needles, scalpels, soiled clothes and linens.
Can Ebola be contained?
Once an outbreak has been identified, the transmission of the virus can be prevented, if proper precautions are taken. Avoiding contact with body fluids from someone sickened with Ebola is key. That means wearing proper personal protection equipment like gloves, gowns, masks and eye protection. Hospitals will also set up isolation wards to isolate Ebola patients from other patients.
Officials tell CNN that while those caring for the actively sick need to wear PPE (personal protection equipment), someone walking through a village where a patient was sick wouldn't need to wear a mask because the virus isn't airborne.
Could this outbreak spread to the U.S. or other distant countries?
Experts think it's unlikely the current outbreak would spread to the United States. While the only example of transmission of Ebola in the United States came with the importation of research monkeys (no humans were sickened), there was a situation four years ago where two tourists traveling in Uganda were infected with Marburg hemorrhagic fever.
Both patients returned to their home countries, according to the CDC. One survived and the other died, but nobody else was infected because proper protections were taken during treatment.
When is an outbreak considered 'finished'?
The incubation period for Ebola is two to 21 days, according to the WHO. Health officials tell CNN an outbreak is considered to be over following two incubation periods after the last person becomes ill – a total of 42 days.