By OLIVIA KATRANDJIAN June 4, 2011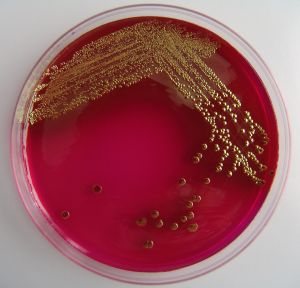 The rapidly developing European E. coli outbreak that has killed 18 people and sickened thousands, including four suspected cases in the United States, has become the deadliest outbreak of E. coli in modern history. Where exactly people are being infected with the disease is still unknown, although 17 people fell ill after eating in the northern German city of Luebeck in May, according to the local media. Researchers from Germany's national disease control center are inspecting the restaurant in question.
Other health experts suspect the disease first spread last month at a festival in the northern German city of Hamburg that was visited by 1.5 million people. But as of yet, there is no concrete proof that either site is the cause of the outbreak.
In a briefing Friday, the U.S. Centers for Disease Control and Prevention said the four suspected cases in the United States are all people who likely contracted the infection while in northern Germany in May and brought it back to the United States. Three of the victims are hospitalized with hemolytic-uremic syndrome and the fourth reported bloody diarrhea consistent with the outbreak strain of E. coli.
Misha Japaridze/AP Photo A customer buys cucumbers at a market in… View Full Size
Large E.Coli Outbreak Surfaces in Germany Watch Video
E. Coli-Sickened Woman Sues Costco Watch Video
Deadly E. Coli Strain Threatens America Watch Video
Two American military service members stationed in Germany are also suspected cases. The CDC said both of them have a similar diarrheal illness.
Government officials stressed that the outbreak has not affected the United States directly.
The Food and Drug Administration is monitoring lettuce, tomatoes and cucumbers from Spain and Germany based on information it has received from European investigators. Produce from those countries accounts for less than 0.2 percent of produce imported into the United States every year.
The FDA says it is also stepping up its food safety regulations.
Hygiene Key to Avoiding Spread
While the outbreak hasn't hit U.S. soil yet and the infection isn't easily spread, there are ways to be sure that any illness that may be caused by the outbreak isn't spread.
In addition to avoiding contaminated food, good hygiene is the most important way to minimize transmission, according to Dr. Maria Alcaide, an assistant professor of infectious diseases at the University of Miami's Miller School of Medicine.
"It's also spread through contaminated feces," Alcaide said. "Anyone who is sick should wash their hands, and their caregivers should as well."
Anyone who starts noticing any symptoms should get to a doctor.
"If anybody gets very bad, bloody diarrhea, they should get medical care immediately, and providers should also be aware of what's going on with the situation," Alcaide said.
ABC News' Kim Carollo contributed to this report.
Escherichia coli Infection

( E. coli Infection, Escherichia coli O157:H7)
by Krisha McCoy, MS
En Español (Spanish Version)
Definition
Causes
Risk Factors
Symptoms
Diagnosis
Treatment
Prevention
---
Definition
Escherichia coli ( E. coli ) infection is caused by a bacteria. It is the leading cause of bloody diarrhea. This type of infection may need medical attention. Contact your doctor if you think you may have it.
Causes
This infection is caused by some types of the E. coli bacterium. Most E. coli infections are caused by:
Eating undercooked beef, especially ground beef
Drinking contaminated water
Drinking unpasteurized milk
Working with cattle
Digestive Pathway Through Stomach and Intestines
© 2011 Nucleus Medical Media, Inc.
Risk Factors
The following factors increase your chance of developing E. coli infection:
Age: children and older people
People with another illness
Working with cattle
Living in northern states
Symptoms
Abdominal cramps
Watery diarrhea
Dehydration
Fatigue
Bright red, bloody stools
Mild fever
Nausea or vomiting
Diagnosis
Your doctor will ask about your symptoms and medical history. A physical exam will be done. Tests may include:
Stool culture—to find out if you have E. coli O157:H7 in your intestines
Treatment
Talk with your doctor about the best plan for you. Treatment options include:
Fluid Replacement and Monitoring
Most people will get better in 5-10 days. They rarely need a specific treatment. Avoid medicine that stops diarrhea. Drink plenty of water and fluids. Fluids through an IV line may be needed in cases of severe dehydration .
Treatment for Hemolytic Uremic Syndrome (HUS)
HUS is a life-threatening condition. It occurs in some people with E. coli infection. HUS may need to be treated withblood transfusions and kidney dialysis . Symptoms may include:
Pallor, tiredness, and irritability
Small, unexplained bruises, or bleeding from the nose or mouth—caused by problems in the body's clotting mechanism
Kidney Dialysis
© 2011 Nucleus Medical Media, Inc.
If you are diagnosed with an E. coli infection, follow your doctor's instructions .
Prevention
To help prevent E. coli infection:
Cook all ground beef and hamburger thoroughly.
Avoid eating undercooked hamburger or other ground beef.
Keep raw meats separate from ready-to-eat foods.
Wash hands, counters, and utensils with hot soapy water after they are exposed to raw meat.
Drink only pasteurized milk, juice, and cider.
Wash fruits and vegetables under running water.
Drink municipal water that has been treated with a disinfectant (eg, chlorine).
Wash hands after bowel movements and after changing soiled diapers.
Last reviewed September 2010 by David L. Horn, MD, FACP
Please be aware that this information is provided to supplement the care provided by your physician. It is neither intended nor implied to be a substitute for professional medical advice. CALL YOUR HEALTHCARE PROVIDER IMMEDIATELY IF YOU THINK YOU MAY HAVE A MEDICAL EMERGENCY. Always seek the advice of your physician or other qualified health provider prior to starting any new treatment or with any questions you may have regarding a medical condition.
Copyright © 2011 EBSCO Publishing. All rights reserved.
By Joe Sterling, CNN
11:53 AM EDT, Tue August 21, 2012
The Ebola virus has killed 10 people in the Democratic Republic of Congo, the World Health Organization said Tuesday.
As of Monday, WHO said, the deaths are among 13 probable and two confirmed Ebola cases reported in Orientale province in eastern Congo.
The Congolese Ministry of Health has set up a task force to deal with the outbreak and is working with WHO, UNICEF, Doctors Without Borders and the Centers for Disease Control and Prevention.
Twelve cases and eight deaths occurred in the area of Isiro, a town in Congo's north, WHO said. The fatalities included three health care workers. One death each occurred in Congo's Pawa and Dungu regions.
Prisoner with suspected case of Ebola escapes from hospital in Uganda
Hospital in middle of Ebola crisis
Congo's Orientale province borders western Uganda, where 24 probable and confirmed cases, including 16 deaths, have been reported since the beginning of July.
But WHO spokesman Gregory Hartl told CNN that there's no connection between the outbreaks in Uganda and Congo.
The viruses, he said, are two different Ebola strains. There are five strains of the virus, a highly infectious and often fatal agent spread through direct contact with bodily fluids
And, Hartl said, it is extremely difficult to travel between Isiro, for example, and Kiballe, the western Ugandan district where an outbreak emerged last month.
That's because it is heavily forested with impassable roads, and the only viable way to travel is going 10 to 15 kilometers per hour via motorbike. So it is unlikely there would be contact between Ugandans and Congolese that would lead to infection.
Could the Ebola outbreak spread to the U.S.?
The natural habitat of the Ebola virus is in the central African forest belt region, Hartl said. It's "either by chance" or from "more surveying" for the disease, he said, that "we see these two outbreaks concurrently."
Health agencies have embarked on an aggressive approach in Uganda to deal with the cases.
WHO has asked countries bordering Uganda to "enhance surveillance" for the virus. The last confirmed case in Uganda was admitted to an isolation facility on August 4, WHO said.
The virus was first detected in 1976 in Congo, when the country was known as Zaire. Symptoms can include fever, vomiting, diarrhea, abdominal pain, headache, a measles-like rash, red eyes and, at times, bleeding from body openings.
Ebola outbreak kills 10 in Congo
By GAUTAM NAIK in London and LAURA STEVENS in Frankfurt
The culprit behind Europe's deadly Escherichia coli outbreak appears to be an evolved and extremely toxic version of a bug first identified in Münster, Germany, in 2001, according to genetic analyses done by two separate teams of scientists.
Reuters    E. coli bacteria, shown in an undated picture at the Helmholtz Center for Infection Research in Brunswick, Germany.
Identifying the bug's ancestor may help scientists identify the origin, spread and source of the disease. Such genetic comparisons could also help researchers explain the biological mechanism that makes the 2011 bacterium so virulent, while providing clues for future diagnostic tests or effective drugs.
Researchers said the quick genetic analysis will help unlock the mystery. "Everything we know so far indicates it is an evolved strain," said Alexander Mellmann of the University Hospital of Münster, who was involved in one of the genetic analyses. "If it was completely unknown, we'd struggle a lot more in our effort to fight it."
In addition to Dr. Mellmann's group, a separate team from BGI, formerly known as the Beijing Genomics Institute, and University Medical Center Hamburg-Eppendorf compared the genetic material of the 2001 and 2011 strains. They found that seven genes crucial to both bugs' survival are identical, as are 12 virulence/fitness genes shared by both.
The 2001 strain caused fewer than five identified cases world-wide, and scientists never did identify its natural reservoir—where a new strain of the E. coli bug can originate, such as in cattle. But the genetic analysis showed that as the 2001 bug likely swapped genetic material with other bacterial strains, some big changes occurred.
Another 94 people have been infected with E.coli in Germany. That figure comes as European ministers meet in Luxembourg to hold emergency talks on the outbreak and how to deal with it. Video courtesy Sky News.
The 2011 version turns out to be resistant to eight classes of antibiotics, including penicillin, streptomycin and sulfonamide. The likely reason is that rapid evolution "resulted in the gain of more genes during the last 10 years" that conferred immunity against many more antibiotics, according to BGI.
Three more deaths from the bug were reported in Germany on Wednesday. So far, at least 26 people have died and more than 2,700 have been sickened by the outbreak in at least 13 different countries. Nearly all the cases can be traced back to Germany. Public health officials in Germany haven't yet succeeded in pinpointing the food source behind the outbreak; part of their investigation continues to focus on a bean sprout farm as a possible source of infection.
Regional authorities in Germany on Wednesday reported what could be a clue in the saga, saying they found the E. coli strain on some cucumber scraps in the town of Magdeburg, in Saxony-Anhalt, in north central Germany. This is the first time this strain has been isolated on a vegetable in Germany. Several members of a family fell ill on May 19, and one of them pointed to their eating cucumbers, according to reports.
Authorities searched the family's compost trash can and found the strain—though it is impossible to say how and when the bacteria were introduced to the waste, because it is two weeks old. Authorities can't rule out that the family may have been sickened and then transferred the bacteria to the cucumber scraps.
The discovery of the tainted cucumber scraps in Magdeburg is unlikely to be helpful in the search for a source, said Holger Paech, spokesman for the state of Saxony-Anhalt's health ministry. The family members were the only ones in Magdeburg who fell ill, and all other clues in searching for the source of their sickness have resulted in dead ends, Mr. Paech said.
The family had no connections to Hamburg or other areas which experienced more severe outbreaks. Authorities tested surface areas inside the family's kitchen, as well as samples from supermarkets where they shopped—all with no other positive identifications of the strain.
While the father in the family was only slightly ill, the mother and daughter were hospitalized. The mother has been released, but the daughter, a young adult, has complications and is still in the hospital. The state of Saxony-Anhalt has only reported 28 cases of E. coli infections in this outbreak, according to the Robert Koch Institute, which is funded by Germany's Federal Ministry of Health.
Saxony-Anhalt officials passed along the information and samples to the federal government. They will test it to see if the 0104 strain found on the cucumber waste is an exact match to the 0104 strain found in humans.
"We have no information for people—this really leaves us with more question marks than answers," added Mr. Paech.
Hamburg health authorities originally said the E. coli outbreak stemmed from a shipment of Spanish cucumbers, but later determined those were infected with a different strain of the bacteria. Authorities still don't know where the cucumber scraps in the sickened family's trash originated, and the Robert Koch Institute, has continued to point to cucumbers as one of the potential sources of the outbreak, along with tomatoes and lettuce.
The twin sets of genetic analysis of the 2011 bug were conducted at unprecedented speed thanks to a new kind of gene-sequencing machine used by both teams.
Most DNA sequencers use light beams to read the code of an organism's genome, and the process can take a week to complete. A newer machine, known as an ion torrent, does the job more quickly. For example, it took three days to complete the process of sequencing the 5.4 million letters of the latest bug's genetic code.
"It's a semiconductor device that senses chemistry, so it can directly read off the DNA," said Jonathan Rotheberg of Life Technologies Corp. of Carlsbad, Calif., which sells the ion torrent device.
The way that the genetic data of the 2011 E. coli strain were disseminated globally suggests a more effective approach for tackling public health problems. Both groups put their sequencing data on the Internet, so scientists the world over could immediately begin their own analysis of the bug's makeup. BGI scientists also are using Twitter to communicate their latest findings.
Copyright 2011 Dow Jones & Company, Inc. All Rights Reserved
This copy is for your personal, non-commercial use only. Distribution and use of this material are governed by our Subscriber Agreement and by copyright law. For non-personal use or to order multiple copies, please contact Dow Jones Reprints at 1-800-843-0008 or visit
www.djreprints.com