From Out of a Featureless Crowd
By KAREN WILKIN
New York
Victoria and Albert Museum, on long-term loan to The National Gallery, London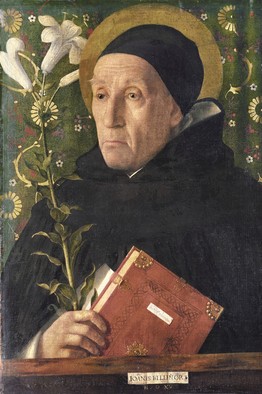 'Fra Teodoro of Urbino as St. Dominic' (1515), by Giovanni Bellini.
Portraits, from gritty Lucian Freuds to the fatuous kitsch perpetrated by street artists, are such a constant presence in our visual landscape that it's hard to remember that the genre's history is far from continuous. For centuries, throughout the ancient world—in Mesopotamia, Egypt and Greece—human beings were depicted according to strict, near-abstract conventions, except for a short-lived period of relative naturalism during the reign of the renegade monotheist pharaoh, Akhenaten. The Romans, of course, excelled at memorial portraits, sculpting heads uncannily like people we still encounter on present-day Italian streets and, in the further reaches of the Empire, painting those astonishing, liquid-eyed face-panels for Roman-era Egyptian mummies.
Medieval manuscripts sometimes include images of donors, but essentially as emblems of kingship or duchesshood rather than as reports on the particularities of recognizable persons. Aristocrats, in the Middle Ages, are depicted no more specifically than peasants performing labors appropriate to the seasons; they're just better dressed. It's not until the Renaissance that we again find representations as sharply characterized as those of ancient Rome, evidence not only of what the 19th-century Swiss cultural historian Jacob Burckhardt called "the revival of antiquity," in his seminal work "The Civilization of the Renaissance in Italy," but also of, in Burckhardt's terms, "the development of the individual" and "the awakening of personality."
These new attitudes come to life in the delectable survey "The Renaissance Portrait: From Donatello to Bellini," a collaboration between the Metropolitan Museum of Art and the Gemäldegalerie, Berlin. More than 150 paintings, sculptures, reliefs and drawings trace the development of the likeness, mainly during the 15th century, from stylized profile images, inspired by antique medals, to three-quarter views of convincing personages who turn easily in space and coolly appraise us. It's a stunning show, with a checklist that reads like the iconic collection of an ideal museum of the quattrocento, plus compelling works by less familiar Italian artists and a few splendid Netherlandish portraits for comparison.
The Renaissance Portrait From Donatello to Bellini
The Metropolitan Museum of Art
Through March 18
Organized both chronologically and thematically, the exhibition begins with a Donatello "speaking reliquary" (c. 1425): a gilded bronze bust designed to house a skull fragment of St. Rossore, the image denoting the type of relic enclosed. Somehow, Donatello transforms a traditional devotional form into a potent evocation of an individual, pointing the way to the vividly personal paintings and sculptures of demure women and powerful men in subsequent galleries.
The Donatello bust is accompanied by early quattrocento paintings of male profiles by Masaccio, Paolo Uccello and (probably) Domenico Veneziano, all of them with red cappucci—long-tailed hoods—piled on their heads. Despite their robust modeling, they seem schematic, as do many of the images of young blondes that follow, paintings by such masters as Filippo Lippi, Sandro Botticelli and the Pollaiuolo brothers, and suave marble busts by Desiderio da Settignano and Andrea del Verrocchio. So it's no surprise to learn that the men may be posthumous portraits, made as symbols as much as truthful likenesses, or that the women, with their elaborate hairstyles, opulent jewelry and piquant profiles, are better interpreted as idealized embodiments of modesty and chastity than as accurate records of particular people.
Yet as we move through the exhibition, we are increasingly surrounded by specific individuals with particular attributes. Portraits of the Medici and their associates announce what Burckhardt called "the modern idea of fame," a concept further explored, later on, in medals, busts, drawings and paintings of assorted (mostly male) notables, from clerics to humanist poets to merchants. Some are corpulent and jowly, others are lean and bony, still others have impressive noses or stubborn chins; all have had their most distinctive features emphasized, as if to ensure immediate recognition or confirm relationships. We note, for example, the long, narrow d'Este face, captured by Pisanello in his portraits of Leonello, the marquess of Ferrara, in a Rogier van der Weyden portrait of Leonello's "natural son." We see how the erudite, hard-bitten humanist-warrior-duke of Urbino, Federigo da Montefeltro, and his small, blond son Guidalbaldo share an overbite and a sturdy chin.
The Medici section includes multiple versions of Botticelli's commemorative portrait of Giuliano de' Medici, Lorenzo il Magnifico's brother, murdered in 1478 in the "Pazzi Conspiracy." Supporters of the family commissioned images of the long-nosed, dark-haired young man with downcast eyes as signs of solidarity and loyalty. Lorenzo himself appears many times, in different mediums, most unforgettably in a fierce death mask. (The identification of the subject of a fresh little drawing by Leonardo da Vinci is disputed.)
We can learn a lot about the conventions and the development of Renaissance portraiture from this absorbing exhibition. We can compare drawings, sometimes made from life, with finished paintings or medallions. We can measure Benedetto da Maiano's preparatory terra-cotta bust of the tough-minded Florentine banker Filippo Strozzi against the finished marble version (both 1475). Mostly, we can revel in such superb works as Giovanni Bellini's 1515 "Fra Teodoro of Urbino as St. Dominic," a sympathetic portrait of an elderly ascetic, holding a lily, that prefigures the entire Pre-Raphaelite movement. There's Antonello da Messina's skeptical young man with thick curling hair and a black cappuccio (1478) and Laurana's nuanced marble of the introspective bluestocking Beatrice of Aragon (c. 1474-75). And much more. These glimpses into history, these interesting faces, gorgeous clothes and richly worked jewelry, come to us via incisive drawing, subtle modeling, glorious color and seductive surfaces. That's a lot.
Ms. Wilkin writes about art for the Journal.
Copyright 2011 Dow Jones & Company, Inc. All Rights Reserved
Roman Bonzon

http://aesthetics-online.org/

Iris Murdoch, British novelist and philosopher, died on February 8, 1999, in Oxford, England, at the age of seventy-nine. She had suffered from Alzheimers disease since the mid-1990s, and died at a nursing home with her husband by her side. "She is not sailing into the dark", he wrote in the moving account of her illness and their life together published in the United States early this year as Elegy for Iris. "The voyage is over and, under the dark escort of Alzheimers, she has arrived somewhere." The last of her novels, Jacksons Dilemma, appeared in 1995, and a collection of her essays on philosophy and literature, Existentialists and Mystics, was issued in 1997. Her major philosophical work, Metaphysics as a Guide to Morals, based on the 1982 Gifford Lectures at the University of Edinburgh, was published in 1992.

Dame Jean Iris Murdoch was born in Dublin, Ireland, on July 15, 1919. The family moved to London in her childhood, and she attended Badminton School in Bristol. She won the Harriet Needham Exhibition to Sommerville College, Oxford in 1938, gaining a first in Greats in 1942. From 1944 to 1946 she worked for the United Nations Relief and Rehabilitation Administration in Belgium and Austria. Although she thought she might become an art historian or an archaeologist, she came across Sartres L'être et le néant in a Brussels bookstore, and reading it convinced her to turn to philosophy. Denied a visa to enter the United States in 1946 to pursue further studies because of her former membership in the Communist Party, she took up the Sarah Smithson Studentship in Philosophy at Newnham College, Cambridge the following year (contrary to some reports, she never formally studied under Wittgenstein). She was elected a fellow of St. Annes College, Oxford in 1948, working as a tutor of philosophy until 1963, when she retired as Honorary Fellow. She lectured at the Royal College of Art from 1963 to 1967.

She is most widely known for her varied and dazzling twenty-six novels, the first of which, Under the Net, appeared in 1954. Among the more notable are: The Bell (1958), A Severed Head (1961, subsequently adapted as a play with J. B. Priestly and as a movie), The Nice and the Good (1968), A Fairly Honourable Defeat (1970), The Black Prince (1973), The Sacred and Profane Love Machine (1974), The Sea, the Sea (1978), The Philosophers Pupil (1983), The Book and the Brotherhood (1987), The Message to the Planet (1989), nd The Green Knight (1993). She also published plays (most adapted from the novels) and a volume of poetry, A Year of Birds (1978, with engravings by Reynolds Stone). Meticulously plotted, with sharp characterizations and serious themes, the novels have been hailed as a major contribution to English literature of the second half of the twentieth century. They were written under the acknowledged influence of the great 19th century novelists Dickens, George Eliot, Dostoyevsky, Tolstoy, and Henry James, and constitute a sustained meditation upon dense and complex configurations of chaos and contingency, goodness and evil, power, fantasy, enchantment, truth and love.

Her philosophical works began with Sartre: Romantic Rationalist (1953), followed by The Sovereignty of Good in 1970, and The Fire and the Sun: Why Plato Banished the Artists, based on the 1976 Romanes Lecture, in 1977. Acastos: Two Platonic Dialogues appeared in 1996. The predominant influence on her philosophical thought is Plato, but Kant, Freud, Sartre, Wittgenstein and Weil have been important at various stages of her development.

While she was primarily a moral philosopher, engagement with issues in aesthetics and the philosophy of art was never far from the center of her theoretical concerns. She first advanced her thoughts on these matters in two essays that appeared in 1959, "The Sublime and the Good" and "The Sublime and the Beautiful Revisited". Her initial preoccupation was with Kant and Tolstoy, in relation to whom she first stated her view: "Art and morals are, with certain provisos…one. Their essence is the same. The essence of both of them is love…. Love is the extremely difficult realisation that something other than oneself is real. Love, and so art and morals, is the discovery of reality." With various extensions, qualifications, and clarifications this is the vision she attempted to communicate in all her subsequent work.

She explicitly introduces and locates beauty in the scheme in "On God and Good" and it plays a larger role in "The Sovereignty of Good over other Concepts". These essays, which were published together with a third essay as The Sovereignty of Good, are probably her most influential pieces of philosophy. She maintains that beauty "appears as the visible and accessible aspect of the Good". It is "the only spiritual thing which we love by instinct". Proper attention to a great work of art will lead us out of ourselves into a clear vision of reality, and beauty is the means that mediates this.

The Fire and the Sun is her fullest and most concentrated treatment of these matters, in which her long preoccupation with Plato bears fruit . She distinguishes fantasy from imagination, and links them to art by identifying bad art with art that aids the artists and audiences daydreaming self-contained fantasies and good art with art that exercises the imagination and leads out of the selfish ego to an apprehension of reality. This allowed her to propose a Platonic conception of art fashioned from materials in the Philebus, the Phaedrus, and the Symposium that contrasts with, at the same time as it explains, the condemnation of poets in the Republic. She extended her Platonic account in a discussion of mimesis and the problems presented by music and abstract paintings in "Art is the Imitation of Nature" (1978). Acastos is a lucid and relatively elementary presentation of the view in mock-Platonic dialogue form (it was staged as a National Theatre Platform Performance in 1980 under the direction of Michael Kustow). Her final thoughts on the subject are contained in the first five chapters of Metaphysics as a Guide to Morals.

As a philosopher of literature she wrote a number of essays that have particularly interested literary critics and theorists: "The Sublime and the Beautiful Revisited" and "Against Dryness" propose a theory of the novel which allowed her to divide twentieth-century novels into the "crystalline" – the kind of novel that is "a small quasi-allegorical object portraying the human condition and not conaining characters in the nineteenth-century sense – and the "journalistic" – a "large shapeless quasi-documentary object, the degenerate descendant of the nineteenth-century novel, telling, with pale conventional characters, some straightforward story enlivened with empirical facts". Neither kind, she believed, addresses the problems about human personality posed by the Enlightenment. More explicitly on the relation between literature and philosophy is an interview with Bryan Magee in Men of Ideas (1978), in which she addresses the possible relation (none, she claimed) between her philosophical views and her fictions.

There was a conference on her work at the Divinity School of the University of Chicago in 1994 which brought together scholars from philosophy, literature, and theology, including Charles Taylor, Martha Nussbaum, and Cora Diamond (the proceedings were subsequently published as Iris Murdoch and the Search for Human Goodness, 1996). But the secondary literature on her is dominated by literature professors and theologians. Though Nussbaum, Taylor, Diamond, and Sabina Lovibond have cited the influence of her essays, her magnum opus Metaphysics as a Guide to Morals has not yet received the notice it deserves from philosophers. It is an attempt to articulate a deep unifying basis for her thoughts on art, morality and reality, an intellectual voyage that begins with a discussion of the powers of art and of different kinds of art (Chapters 1-5), continues with an investigation of the mind, of consciousness, thought, will, and imagination (Chapters 6-11), and ends with an exploration of realities: the political, the religious, and the transcendental (Chapters 12-19). Along the way are interspersed valuable accounts of Schopenhauer, Derrida, Wittgenstein, and Martin Buber. (She was reportedly working on a book on Heidegger when her illness set in.)

Iris Murdoch received numerous honors and awards. She was made Commander of the British Empire in 1976 and Dame of the British Empire in 1987. She was elected a Foreign Honorary Member of the American Academy of Arts and Sciences in 1982. Among her literary awards were: the James Tait Black Memorial Prize, 1973; the Whitbread Prize, 1974; the Booker McConnell Prize, 1978 (for which 6 of her novels had been shortlisted). She was also made a Companion of Literature by the Royal Society of Literature in 1987, and awarded the National Arts Clubs (New York) Medal of Honor for Literature in 1990.

She is survived by her husband of forty-three years, the literary critic, novelist and Oxford professor John Bayley.
First Groundhog Day. (2012). The History Channel website. Retrieved 9:18, February 1, 2012, from http://www.history.com/this-day-in-history/first-groundhog-day.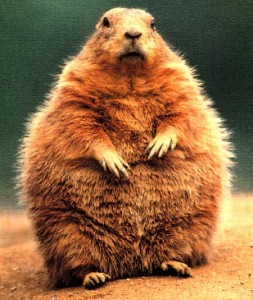 On this day in 1887, Groundhog Day, featuring a rodent meteorologist, is celebrated for the first time at Gobbler's Knob in Punxsutawney, Pennsylvania. According to tradition, if a groundhog comes out of its hole on this day and sees its shadow, there will be six more weeks of winter weather; no shadow means an early spring.
Groundhog Day has its roots in the ancient Christian tradition of Candlemas Day, when clergy would bless and distribute candles needed for winter. The candles represented how long and cold the winter would be. Germans expanded on this concept by selecting an animal–the hedgehog–as a means of predicting weather. Once they came to America, German settlers in Pennsylvania continued the tradition, although they switched from hedgehogs to groundhogs, which were plentiful in the Keystone State.
Groundhogs, also called woodchucks and whose scientific name is Marmota monax, typically weigh 12 to 15 pounds and live six to eight years. They eat vegetables and fruits, whistle when they're frightened or looking for a mate and can climb trees and swim. They go into hibernation in the late fall; during this time, their body temperatures drop significantly, their heartbeats slow from 80 to five beats per minute and they can lose 30 percent of their body fat. In February, male groundhogs emerge from their burrows to look for a mate (not to predict the weather) before going underground again. They come out of hibernation for good in March.
In 1887, a newspaper editor belonging to a group of groundhog hunters from Punxsutawney called the Punxsutawney Groundhog Club declared that Phil, the Punxsutawney groundhog, was America's only true weather-forecasting groundhog. The line of groundhogs that have since been known as Phil might be America's most famous groundhogs, but other towns across North America now have their own weather-predicting rodents, from Birmingham Bill to Staten Island Chuck to Shubenacadie Sam in Canada.
In 1993, the movie Groundhog Day starring Bill Murray popularized the usage of "groundhog day" to mean something that is repeated over and over. Today, tens of thousands of people converge on Gobbler's Knob in Punxsutawney each February 2 to witness Phil's prediction. The Punxsutawney Groundhog Club hosts a three-day celebration featuring entertainment