Part I
Cherokee Leaders 1760-1838
Before embarking upon aspects of the various factions or divisions within the Cherokee Nation, there are several tribal leaders that play key roles in the defense of their nation in the east and those who saw the floodtide of white encroachment, removed west of the Mississippi River to live their lives in peace, at least they hoped they would.
Before America, the Cherokees interacted with Europeans, primarily from Great Britian. In 1730, the British were north of the Cherokee Nation east, but were making forays into the domain. To the south was the Muscogee or Creeks in Georgia and Alabama. Farther south was Spanish held Florida.
West of the Mississppi by 1730, France was gaining territory expanding into Illinois, Ohio and encroaching upon Missouri coming up against Spain in it's vast domain from west of the Mississippi clear to the Pacific.
It was therefore extremely beneficial to England to gain the trust of the Cherokee people because of the geo-political dynamics present in the early years of the 18th century.
Below are some of the principal leaders of the Cherokee Nation who were thrust into the turbulent colonial jockeying for favor and land all of which was detrimental to the Cherokee people. The leaders listed here is taken from Dr. Emmet Starr's "History of the Cherokee". Dr. Starr was himself a Cherokee, a historian of his tribe and a genealogist. His papers can be found in the Research Division at the Oklahoma Historical Society. And, before you ask, no they are not on line.
The earliest record of Principal Chiefs of the nation while in the east are;
Matoy – 1730-1760
Attacullaculla – 1760-1775
Oconostota- 1775-1780
Hanging Maw – 1780
Old Tassell – 1780 -1788
Little Turkey – 1788-1801
Black Fox or Enoli – 1801-1811
Pathkiller – 1811-1827
One must also be aware that there were other tribal chiefs who governed that overlapped the chiefs mentioned above. To fully understand who those persons were and their roles while in the east, it is recommended reading both Starr's work mentioned earlier and a more recent history written by Stan Hoig. As an example, Black Fox and Pathkiller were leaders in the east, but migrated west and were still considered tribal leaders after moving.
Another history about this time period was written by Mary Evelyn Rogers entitled: "A Brief History of the Cherokees". This work was not widely published with slightly over 400 copies being produced by Gateway Press in 1986. The value of Ms. Roger's work is that she places side-by-side by year what was taking place in the Cherokee Nation east, west and during it's brief existence the Cherokees in Texas. Ms. Roger's efforts in examining primary sources along with secondary sources is a valuable resource to understand what was transpiring both east and west. In other words, both Starr's and Hoig's works provide the context of events, Ms. Roger's provides the timeline for those events.
To my knowledge, Ms. Roger's work is not on line either. Thus, for one to conduct research, one must contact the institutions that house these and other resources that will hopefully guide you to find your ancestor(s).
Part II
Earlier I listed some of the principal headmen of the Cherokee Nation east of the Mississippi River. Some of the same leaders migrated west during the early years of the nineteenth century in order to avoid cultural conflict with incessant white settlers. Some of the first chiefs to relocate west into northwest Arkansas are as follows;
The Bowl or Captain Bowles,   1808 – 1813
Takatoka,   1813 – 1818
Tahontiskee,   1818
John Jolly,        1818-1838
John Looney,    1838-1839
John Brown,       Spring 1839
John Looney,       Summer 1839.
Please note that this was extracted from Dr. Emmett Starr's work The History of the Cherokees.
Soon each will be confronted with duplicitious commissioners representing the United States. The most vile of all regarding the loss of tribal homeland at the hands of whites will be Andrew Jackson, president.
by William Welge
April 20, 2011 · Posted in Uncategorized ·
Comments Off

on Civil War Apr 20, 1861: Lee resigns from U.S. Army
Colonel Robert E. Lee resigns from the United States army two days after he was offered command of the Union army and three days after his native state, Virginia, seceded from the Union.
Lee opposed secession, but he was a loyal son of Virginia. His official resignation was only one sentence, but he wrote a longer explanation to his friend and mentor, General Winfield Scott, later that day. Lee had fought under Scott during the Mexican War (1846-48), and he revealed to his former commander the depth of his struggle. Lee spoke with Scott on April 18, and explained that he would have resigned then "but for the struggle it has cost me to separate myself from a service to which I have devoted the best years of my life and all the ability I possess." Lee expressed gratitude for the kindness shown him by all in the army during his 25-year service, but Lee was most grateful to Scott. "To no one, general, have I been as much indebted as to yourself for uniform kindness and consideration…" He concluded with this poignant sentiment: "Save in the defense of my native State, I never desire again to draw my sword."
But draw it he would. Two days later, Lee was appointed commander of Virginia's forces with the rank of major general. He spent the next few months raising troops in Virginia, and in July he was sent to western Virginia to advise Confederate commanders struggling to maintain control over the mountainous region. Lee did little to build his reputation there as the Confederates experienced a series of setbacks, and he returned to Richmond when the Union gained control of the area. The next year, Lee assumed command of the Army of Northern Virginia after General Joseph Johnston was wounded in battle. Lee quickly turned the tables on Union General George B. McClellan, as he would several other commanders of the Army of the Potomac. His brilliance as a battlefield tactician earned him a place among the great military leaders of all time.
Lee resigns from U.S. Army. (2011). The History Channel website. Retrieved 2:22, April 20, 2011, from http://www.history.com/this-day-in-history/lee-resigns-from-us-army.


April 20, 2011 · Posted in Uncategorized ·
Comments Off

on Apr 20, 1999: A massacre at Columbine High School
Two teenage gunmen kill 13 people in a shooting spree at Columbine High School in Littleton, Colorado. At about 11:20 a.m., Dylan Klebold and Eric Harris, dressed in long trench coats, began shooting students outside the school before moving inside to continue their rampage. By the time SWAT team officers finally entered the school at about 3:00 p.m., Klebold and Harris had killed 12 fellow students and a teacher, and had wounded another 23 people. Then, around noon, they turned their guns on themselves and committed suicide.
The awful crime captured the nation's attention, prompting an unprecedented search–much of it based on false information–for a scapegoat on whom to pin the blame. In the days immediately following the shootings, many claimed that Klebold and Harris purposely chose jocks, blacks, and Christians as their victims. In one particular instance, student Cassie Bernall was allegedly asked by one of the gunmen if she believed in God. When Bernall said, "Yes," she was shot to death. Her parents later wrote a book entitled "She Said Yes," and toured the country, honoring their martyred daughter.
Apparently, however, the question was never actually posed to Bernall. In fact, it was asked of another student who had already been wounded by a gunshot. When that victim replied, "Yes," the shooter walked away. Subsequent investigations also determined that Klebold and Harris chose their victims completely at random. Their original plan was for two bombs to explode in the school's cafeteria, forcing the survivors outside and into their line of fire. When the homemade bombs didn't work, Klebold and Harris decided to go into the school to carry out their murderous rampage.
Commentators also railed against the so-called "Trench Coat Mafia" and "goths," and questioned why these groups and cliques were not monitored more closely. However, further investigation revealed that Klebold and Harris were not part of either group.
Columbine High School reopened in the fall of 1999, but the massacre left behind an unmistakable scar on the Littleton community. Mark Manes, the young man who sold a gun to Harris and bought him 100 rounds of ammunition the day before the murders, was sentenced to six years in prison. Carla Hochhalter, the mother of a student who was paralyzed in the attack, killed herself at a gun shop. Several other parents filed suit against the school and the police. Even Dylan Klebold's parents filed notice of their intent to sue, claiming that police should have stopped Harris earlier. A senior at Columbine was arrested after he threatened to "finish the job." And when a carpenter from Chicago erected 15 crosses in a local park on behalf of everyone who died on April 20, parents of the victims tore down the two in memory of Klebold and Harris.
In an effort to show the world "that life goes on," Columbine school board officials voted to replace the library where students were murdered with an atrium. The shootings at Columbine stood as the worst school shooting in U.S. history until April 16, 2007, when 32 people were shot and many others wounded by a student gunman on the VirginiaTech campus in Blacksburg, Virginia.
A massacre at Columbine High School. (2011). The History Channel website. Retrieved 2:10, April 20, 2011, from http://www.history.com/this-day-in-history/a-massacre-at-columbine-high-school.
April 20, 2011 · Posted in Uncategorized ·
Comments Off

on Apr 20, 1777: New York adopts state constitution
The first New York state constitution is formally adopted by the Convention of Representatives of the State of New York, meeting in the upstate town of Kingston, on this day in 1777.
The constitution began by declaring the possibility of reconciliation between Britain and its former American colonies as remote and uncertain, thereby making the creation of a new New York government necessary for the preservation of internal peace, virtue, and good order.
Three governmental branches were created by the new constitution: an executive branch, a judicial branch and a legislative branch. The constitution called for the election of a governor and 24 senators and identified eligible voters as men who were possessed of freeholds of the value of one hundred pounds, over and above all debts charged thereon. The constitution also called for the election of 70 assemblymen for 14 declared counties who were to be elected by male inhabitant of full age, who shall have personally resided within one of the counties of this State for six months immediately preceding the day of election… New York also guaranteed the right to trial by jury, which had been eroded under British rule.
Despite the New Yorkers' stalwart efforts to erect a new government, they were an occupied people. The British had taken Brooklyn Heights on August 27, 1776; lower Manhattan fell soon after and was burned on September 21. The rest of New York City and Westchester County came under British control in October of that year.
New York adopts state constitution. (2011). The History Channel website. Retrieved 1:01, April 20, 2011, from http://www.history.com/this-day-in-history/new-york-adopts-state-constitution.


April 20, 2011 · Posted in Uncategorized ·
Comments Off

on Lou Michel recalls without hesitation the moment on a May day in 1999 when Timothy McVeigh delivered a soliloquy so dark, so chilling that the hair rose on the back of the veteran reporter's neck.
By JULIE DELCOUR World Staff Writer
Published: 4/18/2010  2:23 AM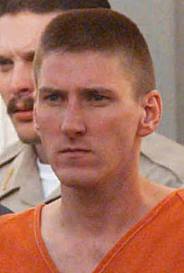 Lou Michel recalls without hesitation the moment on a May day in 1999 when Timothy McVeigh delivered a soliloquy so dark, so chilling that the hair rose on the back of the veteran reporter's neck.
Caught in the act of being himself, nothing else McVeigh would say during a 45-hour confession matched that moment for defining America's worst mass murderer.
"I've heard your stories many times before," McVeigh began, as if speaking directly to the survivors of the Oklahoma City bombing rather than into the tape recorder of his biographer.
"The specific details may be unique, but the truth is you're not the first mother to lose her kid. You're not the first grandparent to lose a granddaughter or a grandson. I'll use the phrase…and it may sound cold but…it's the truth: Get over it."
On what will be the 15th anniversary of the bombing, what sets most Americans — and particularly Oklahomans — apart from McVeigh is not that they've had to move forward from the April 19, 1995, tragedy but that they will never "get over it."
Monday night, MSNBC will air "The McVeigh Tapes: Confessions of an American Terrorist." The two-hour documentary is based on recordings made by Michel and fellow Buffalo (N.Y.) News reporter Dan Herbeck inside prison walls for "American Terrorist: Timothy McVeigh & The Oklahoma City Bombing." Their 2001 book is the only authorized biography of McVeigh, whose actions killed 168 people, including 19 children, and injured 500 others.
The decision to watch the documentary is a matter of personal choice premised on whether the public cares to learn anything more of the story told, for the first time, by the terrorist himself. From that perspective, the documentary is not redundant to the $82 million investigation and federal trial that proved McVeigh's guilt and led to his execution on June 11, 2001.
Rather, it is the first oral blueprint of the worst act of domestic terrorism on U.S. soil, a crime confession delivered as boastfully yet as clinically as if he had planned the perfect vacation rather than mass murder.
"I take full responsibility for all my actions and for who I am. I am not looking in any way, shape or form to blame anything on my parents or my upbringing."
The chilling narrative, as MSNBC's Rachel Maddow observes, is a cautionary tale, instructive during an era when extremist anti-government anger once again is seeping out of that subculture.
McVeigh claims to have been of clear mind when he planned and perpetrated his crime.
"A shrink would conclude, I'm not sure if they use the word psychopath or sociopath … (as having) no respect for human life. Far from that, I have great respect, but I also realize my nature as a human being and that human beings kill. This was something that I saw as a larger good…throughout the history of mankind, people have killed for what they believed was the greater good….Sometimes killing is accepted."
McVeigh's retaliatory act for the government's siege on the Branch Davidian compound in Waco, Texas, which ended April 19, 1993, could have occurred elsewhere. But McVeigh settled on Oklahoma City because it met two criteria: vulnerable but isolated from other buildings to minimize collateral damage and two law enforcement agencies were in the building.
Oklahoma City was not chosen, as many believed, because McVeigh thought a former government spokesman at Waco was housed in the Alfred P. Murrah Federal Building. Instead:
"The building was chosen out of a phone book, looking in the blue pages and looking under law enforcement agencies. If you look under DEA, U.S. Marshal, ATF…If they start giving the same address you know they're all in one building."
McVeigh chose the attack date, he said, because April 19 carried great personal significance. It was the day in 1775 that "the shot heard round the world" was fired sparking the Revolutionary War. It also was the date, after a 51-day standoff, that 76 Branch Davidians died at Waco. McVeigh had visited there only weeks before.
His decision to take action came in the Michigan home of his co-conspirator Terry Nichols as they viewed the siege's end.
"I'm watching flames lick out windows and…tanks ram walls. And…tears started coming down my cheeks….(I) just stood there in stunned silence. 'What is this? What has America become?'… That scene burned into my memory. I'm emotional right now as I talk about it. I felt absolute rage."
McVeigh said that from that time forward, his mission became clear, that he would marshal skills he learned as an Army sergeant in the Gulf War to strike back.
"With Oklahoma City being a counterattack I was only fighting by the rules of engagement that were introduced by the aggressor. Waco started this war. Hopefully, Oklahoma City would end it."
Through computerized recreations, the documentary follows McVeigh in the moments leading up to the 9:02 a.m. bombing.
"You've got this adrenalin pumping but you force yourself to stay calm and not be noticed. I pulled up to the stoplight and lit the main fuse, which was approximately two minutes. You can see the ridiculous nature of someone calling me a coward, with a 7,000-pound bomb fuse burning at my back. I lit the two-minute fuse at the stoplight, and I swear to God that was the longest stoplight I ever sat at in my life. I'm thinking, 'O.K., it's lit. Green, green and then what? A minute, thirty?'
"I pulled up to the building, pulled the parking brake and turned (the truck) off, and then I made sure my door was locked and stepped out, walked across the street. Mission was accomplished. I knew it was accomplished, and it was over."
But it was only beginning for many.
The documentary reveals the horror, the injuries, the loss experienced by survivors of the equivalent of a magnitude 3 earthquake. As with McVeigh, they too get a voice.
Credit union worker Patti Hall describes her crushed body, the 16 surgeries and re-learning how to walk and to talk.
Susan Urbach shows the scars on her face and recalls the 4 feet of stitches she needed after her window shattered in the Journal Record Building across the street from the Murrah.
Jannie Coverdale speaks of her two grandsons lost in the second-floor day care; Aaron would be 20 now, and Elijah, 17.
She speaks of "screaming at God," of wishing that McVeigh would have apologized but that he never did.
"It took me a long time to get over some of that anger….You just don't murder little kids. Sometimes I cry during the day, something is going to remind you of the bombing and then you're… right back where you were on April 19, 1995. We don't ever get too far from there."